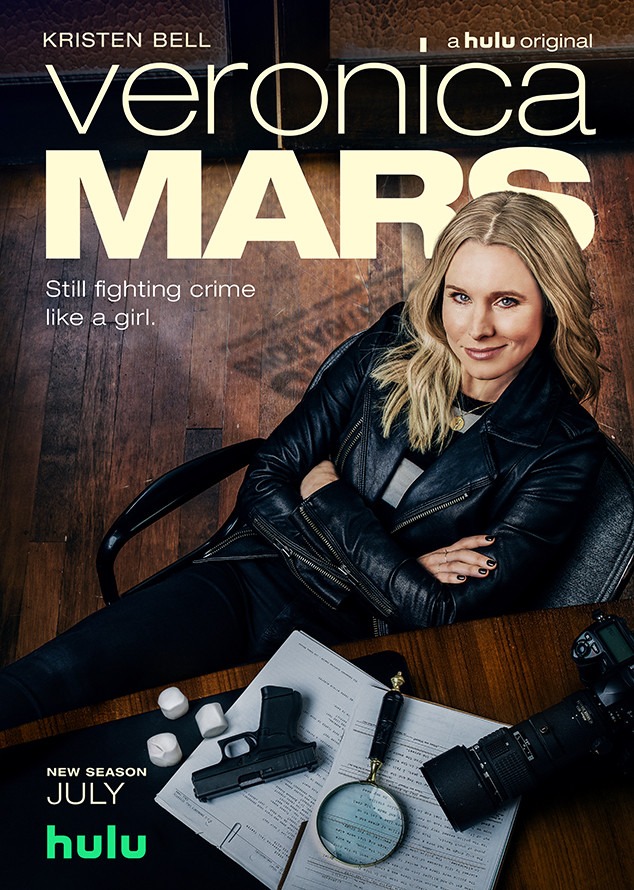 Hulu
After 12 years away from TV, did you expect Veronica Mars to have anything but an explosive return? E! News has your exclusive first look at the new key art and trailer for Hulu's Veronica Mars revival miniseries and yes, explosive was chosen for a particular reason.
"I spent my first 19 years trying to escape my hometown. Made it out, then after a decade away, decided it needed me and I needed it," Veronica Mars (Kristen Bell) says in a voiceover.
Yep, Veronica Mars is back in Neptune (she returned in the movie continuation that fans helped fund in 2014) and working as a private eye. But the death of her best friend, a bus crash and a serial rapist may be small potato mysteries compared to what she's about to tackle now: a serial bomber.
"It's possible that these bombings are part of a campaign to destroy this town," Veronica says.
And the trailer above hints that she may be facing something even greater than a serial killer/bomber: the loss of her dad, Keith Mars (Enrico Colantoni). In one scene he's telling her he might retire, the next he's attempting to diffuse a bomb. Yikes.
Don't worry, there's plenty of Veronica snark, Keith and Veronica banter and LoVe (that's Logan and Veronica) drama in the trailer, including shirtless Jason Dohring.
"What's the destructive gene in your relationship?" Nicole (Kirby Howell-Baptiste) asks Veronica.
"I think it might be me," Veronica says.
Hey, they're story is epic. Doesn't mean it's easy.
There's a sight that fans might not be used to: a gun-toting Veronica Mars. Neptune can be a dangerous town and she's a private eye, it makes sense.
"This will be a controversial season. Let me just say that," Bell told E!'s Erin Lim about the new season.
Meaning?
 
"I am excited for people to watch and I am also probably going to stay off the internet once it airs," she said. "There's some stuff that happens that people will have strong feelings about."
The new season of Veronica Mars will stick to what worked with the original series, but the character has aged. She's not a high school kid anymore.
"It's different when she's an adult," Bell teased. "The world is bigger, it's sort of darker and dirtier, but she still has her moral compass, her sass and her wit. It's still very much a show about the haves and the have nots and Veronica fighting for the underdog. It made me so happy to do it again."
All episodes of Veronica Mars drop on July 26 on Hulu. The first three seasons arrive on July 1.