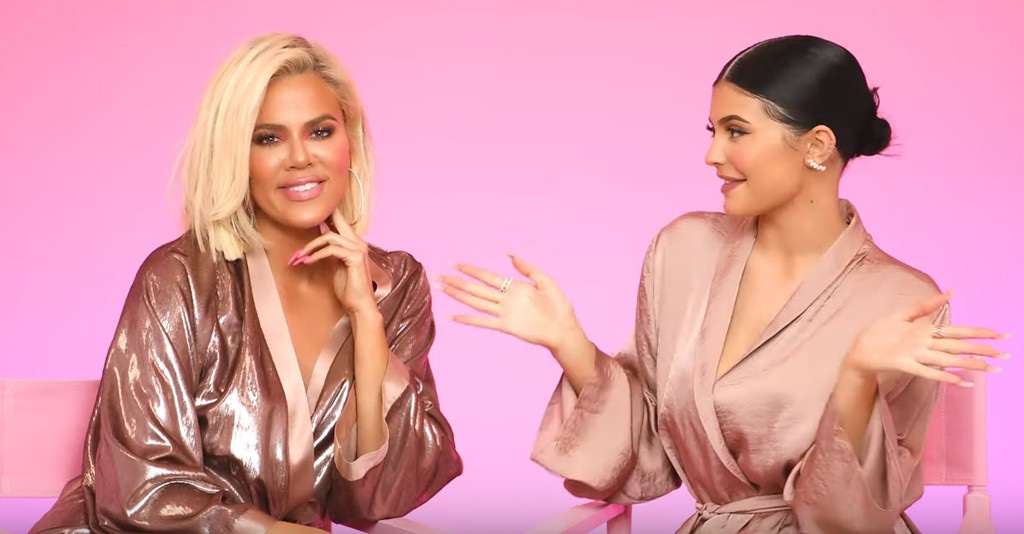 YouTube
Kylie Jenner has Khloe Kardashian spilling secrets!
The Keeping Up With the Kardashians stars team up in a new sister Q&A, published on YouTube Thursday, in celebration of their upcoming Kylie Cosmetics x Koko Kollection Round 3 launch. At the start of the video, Kylie tells Khloe she's going to be asking her "really burning, hard questions." The beauty mogul then kicks off a series of personal questions for her sister, including questions about her first kiss, which Khloe calls "traumatizing."
First up! What movie makes Khloe cry? "Of course, The Notebook, hello!" Khloe shares. "Have you ever just had a day, if you play like Sam Smith or Adele, you just start sobbing? So, sometimes if I want to cry, I turn on The Notebook to get it out...it's sick."
When asked about her first kiss, Khloe says it happened in Newport Beach, Calif.
"We were there for some reason, I don't remember the whole thing," the E! star shares. "It was just some kid on the beach...it was traumatizing, I hated it."
In addition to starring on KUWTK, Khloe is also the co-founder of clothing line Good American, and she also hosts her E! show, Revenge Body. But, if she had to choose another profession, what would Khloe enjoy doing outside of the entertainment world?
"Definitely something with children, I love, love, love kids," Khloe, who is mom to 14-month-old daughter True Thompson, tells her sister. "I don't know, like a teacher."
Kylie agrees, telling Khloe, "I could totally see you as a kindergarten teacher."
Watch the video above to see Khloe answer more of Kylie's "burning" questions, including her beauty must-haves! Plus, find out if they'd eat a cockroach for $1 million!
The Koko Kollection is set to launch on June 14 at 3 p.m. PST on KylieCosmetics.com.