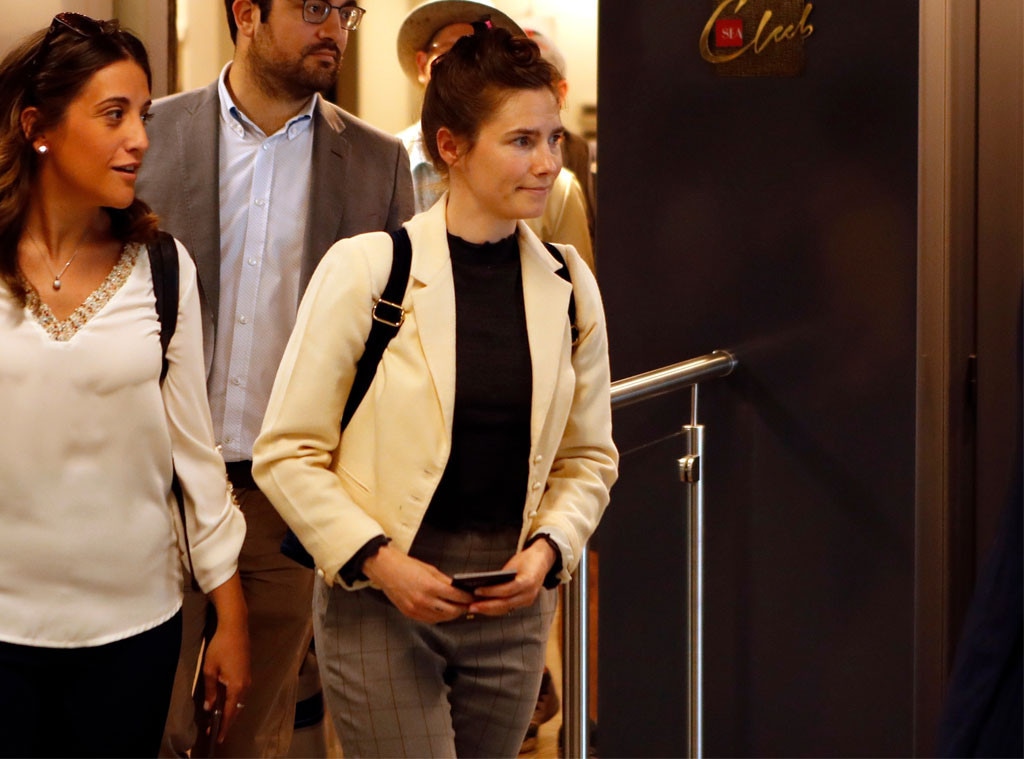 Antonio Calanni/AP/Shutterstock
Amanda Knox has returned to Italy for the first time since she was released from prison there in 2011, following an acquittal over the murder of her roommate.
The 31-year-old criminal justice activist was photographed at Milan's Linate airport on Thursday. On Saturday, Knox is set to speak at a panel session titled "Trial by Media" at the Criminal Justice Festival in the city of Modena. The non-profit legal group the Italy Innocence Project organized the event, after flying from Dublin, CNN reported.
Before embarking on her flight from Seattle, Knox posted on Instagram a photo of herself with her fiancé, author Christopher Robinson.
"Here we go... Wish us, 'Buon viaggio!'" she wrote.
In 2007, the body of British student Meredith Kercher was found stabbed in an apartment she shared with Knox in the Italian town of Perugia. Knox and her-then boyfriend Raffaele Sollecito were arrested and an Italian court found them guilty of murdering her roommate during an alleged drunken sex assault. Knox was sentenced to 26 years in prison and he was given a 25-year sentence.
Following an appeal, the two were found not guilty of murder in 2011 and Knox returned to the United States after serving four years behind bars. Italy's top court later overturned the acquittal, ordered a retrial and upheld the murder convictions. In 2015, after further appeals, the court acquitted both Knox and Sollecito again due to insufficient evidence.
Knox currently also works as a host of the Facebook Watch show The Scarlet Letter Reports and of the AMC podcast The Truth About True Crime with Amanda Knox.
"I'm returning to Italy as a free woman. Meanwhile, another innocent person remains in prison. Check out this week's episode of #thetruthabouttruecrime to hear directly from Jens Soering," Knox wrote on Instagram on Wednesday.