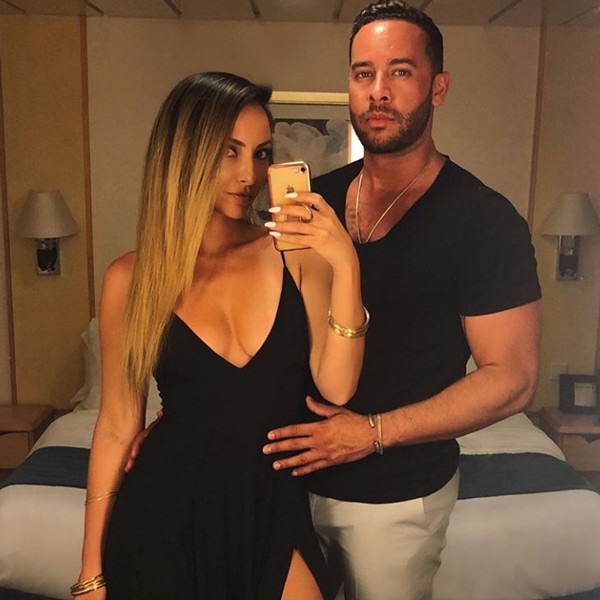 Instagram
Making it official! Jonathan Rivera has finally shared a picture of his new girlfriend's face.
The 90 Day Fiancé star, who called it quits with Fernanda Flores earlier this year, took to Instagram this week to proudly show off his new relationship. Along with a photo of the couple taking a mirror selfie, Jonathan declared his new girlfriend his Woman Crush Wednesday. In recent weeks, Jonathan had been posting photos of his new leading lady, however, her face had been covered up in all of the pictures, seemingly to protect her identity.
The want for privacy might stem from Jonathan's very public breakup with Fernanda.
The duo, who appeared on season six of the reality series, sparked breakup rumors over the holidays in late December when they appeared to celebrate New Year's Eve separately.
In mid-January, Jonathan took to Instagram Live to confirm that he and Fernanda are "separating."
"Every marriage has its problems," he explained. "Every relationship has its issues. It's all about your attitude. As long as you're positive..."
He also added, "I promise you, I didn't give up. I gave 110 percent to my marriage. I reached a point where I said, 'I have to love myself just as much.'"
On May 23, Jonathan shared a picture from his tropical trip to the Cayman Islands with his new girlfriend.
"All I need in this life of sin..," Jonathan captioned the picture, in which both of their faces are covered.
The caption references Beyoncé and Jay-Z's song "Bonnie & Clyde," which includes the lyrics, "All I need in this life of sin is me and my girlfriend."