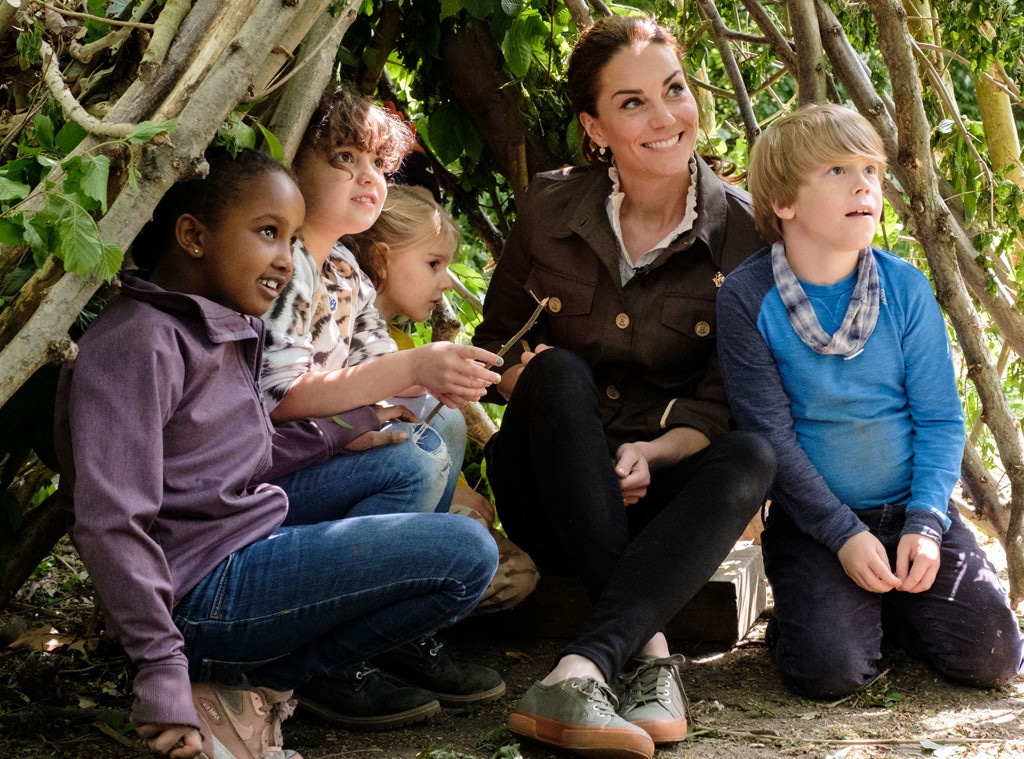 PRESS ASSOCIATION
She's Kate Middleton, TV star!
Catherine, Duchess of Cambridge is making a surprise appearance on Thursday on the popular, long-running BBC kids' show Blue Peter, where she launched a royal garden competition, which encourages kids to design a sculpture that will in September be placed in the Royal Horticultural Society's garden at Wisley in England, inside a specific one inspired by the "Back to Nature" garden she had designed for the Chelsea Flower Show.
On the TV program, Kate played with a group of children, joining them in "pond-dipping," or examining wildlife in a pond.
"We're all ready to do a bit of pond-dipping," host Lindsay Russell says.
"Brilliant," says Kate, who dressed in a Taylor London khaki utility jacket and black pants.
When asked if she has ever pond-dipped before, the duchess says the activity is "massively up my street."
Kate kneels down with the kids and chats with them as they fling small nets into the murky water and catch tadpoles and a newt.
Kate also joined the kids in planting flowers and led a team in a competition to build a den out of branches.
The duchess also talked about her and husband Prince William's own children, Prince George, 5, Princess Charlotte, 4, and Prince Louis, 1.
When asked by Russell whether she and her family often spend time outdoors, Kate said, "Rain or shine, they get dragged outside."
"I see it encourages creativity, confidence, even a short amount of time, ten or 15 minutes outside, makes a huge difference, I think to both physical well-being and mental well-being," the duchess said.
For her participation, Kate was awarded the Blue Peter green badge for her efforts to get families back in nature.
Watch:
Kate Middleton Gives Heartfelt Speech About Kids' Mental Health
In 2017, she and William appeared together on the show and were gifted gold Blue Peter badges in recognition of their work encouraging conversation about children's mental health.