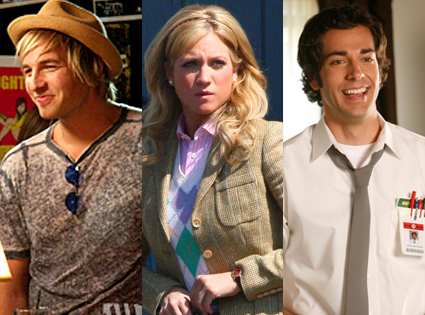 Elizabeth Thorp/WB;Mike Fame Pictures; Greg Gayne NBC
Like many parents-to-be, Josh Schwartz is keeping baby names to himself, thankyouverymuch.
"I don't want to jinx it," the über-producer tells me. "And I don't want to be presumptuous that it's actually going to happen."
He's talking about that much-buzzed-about Gossip Girl spinoff he's been laboring over, which, for the record, is not named Lily, despite widespread reports, and at this point is only one upcoming episode of the original GG. But Josh does have a name for another new project he'll gladly share: Rockville, a web-only series about a rock club that just launched at thewb.com. (You can see the first few episodes there now.)
So what's the scoop on Rockville? The gossip on not-Lily? The future of Chuck? And why is Josh hoping someone will, um, "Tonya Harding" a certain Dancing With the Stars hopeful? Read on for the dish...
How did Rockville come about?
During the strike I was approached about this WB.com website that they were launching and they needed original programming. Years and years ago I had written a pilot, pre-O.C., about the music business called Wall to Wall Records that we shopped but never made it on the air. I've always wanted to do something about the world of music. I spent a lot of my twenties, pre-O.C. especially, at music venues; at Spaceland and Troubadour in L.A. seeing lots and lots of shows, and now I'm married and 32. I sort of look back on that with a large degree of nostalgia, so being able to re-create that time for characters that are just going through that is something that was immensely appealing to me.
And the cast? Ryan Hansen of Veronica Mars is pretty funny in this.
He's hilarious. I actually just cast him in the Gossip Girl spinoff after working with him in this. The whole cast is really great.
What's the skinny on the Gossip spinoff?
We just finished shooting [the Gossip Girl episode that will serve as the spinoff pilot] and I'm really excited. I mean, you know obviously it's going to be out of my hands at a certain point in terms of whether it can move forward, but Brittany Snow is so good.
She did kick ass on Nip/Tuck.
Funny. That's the footage that sealed the deal for me. When I saw her reel, and I saw the Nip/Tuck stuff and saw she could go to that bitch, badass side, I knew we had our Lily because eventually she's going to have to go there. She doesn't start off as that person, but she will become her.
Will the show focus on Lily and Rufus and Allison at all? Or Serena's father?
No, it's Lily and Carol. Brittany and Krysten Ritter have amazing chemistry as these mismatched sisters and Andrew McCarthy plays their father, which is incredible. We also got No Doubt to record a cover of Adam and the Ants' "Stand and Deliver" for the show. They're going on tour and they don't have an album, so this is the only new song that they've done. They performed it on the show and everybody, Gwen [Stefani] and the band, were just super into it.
And we have to talk Chuck. Do you think you'll get a third season?
I'm optimistic. The network loves the show, but we're in an unbelievably, the single most competitive time period on TV. So what can you do? Someone needs to Tonya Harding that Bachelor dancer [on Dancing With the Stars] on behalf of Chuck. No, I'm kidding. I wish her no ill will. She was spurned and deserves nothing but the best. But obviously the time slot is a challenge.
There's a rumor that someone will find out Chuck's secret by season's end. True?
True. We're making bold moves as we come towards the end of the season, and Scott Bakula is amazing. Chevy Chase is so fun and you've never seen him play a character like this before. Tricia Helfer is very, very sexy coming up in a couple of weeks. It's really emotional and action-packed and cool. The last two episodes are epic.
Are you excited for the rest of Chuck's second season? The Gossip spinoff? And what do you think of Rockville? Comment away.