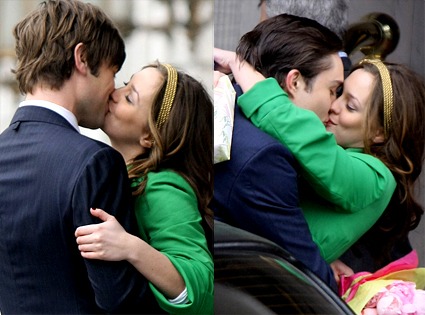 Dara Kushner/INFphoto.com; Dara Kushner/INFphoto.com
Blair Waldorf is a big ol' tramp!
How else would you explain the photos above: same girl, same outfit, same afternoon, same NYC street, sucking face with...two different costars?
As reported yesterday, Leighton Meester (Blair) shot a scene yesterday for Gossip Girl in front of the Sony building in Manhattan and was snapped by photogs kissing on again, off again love interest Ed Westwick (Chuck).
What we didn't know is that she was also photographed smooching Chace Crawford (Nate), the ex-beau she is—spoiler alert!—cozying up to in the next episode of Gossip Girl.
So what is the real story? Is she really kissing both boys? I just checked in with sources and Gossip boss Josh Schwartz himself...
During an interview about Schwartz's new Web-only series Rockville, which launched today right here (we'll have much more scoop on that later), I asked him if the dual paparazzi photos of Blair kissing Chuck and Nate may have been a red herring to throw off fans.
"Hmmm," he said after a long pause. "That would be a great idea!"
An inside source who works on the show tells me: "If she was in the same outfit it was probably to throw off the photogs. But she does kiss both [Nate and Chuck] at some point in the last couple of episodes."
Yee!
Personally, I'd put good money on the Nate photo op being a ruse. (Which would also explain why Leighton seems to be laughing.)
So what can we expect from the Chuck-Blair-Nate love triangle as the season comes to an end? "That will be a big part of the storyline," Schwartz tells me. "It's graduation, so it's all about what is the future for these characters and the show? Where's everyone going to be next year? Chuck, Blair and Nate are obviously a big story we're telling."
Also on tap: "Georgina Sparks (Michelle Trachtenberg) returns, which is always fun," Schwartz says. "She comes back very different from the last time you saw her."
Check back later for more from Schwartz on Rockville, the Gossip Girl spinoff and our beloved Chuck.
In the meantime, do you believe either of the photos above are a trick? And who are you hoping Blair ends up with this season?
Get full episodes of Gossip Girl at Fancast.