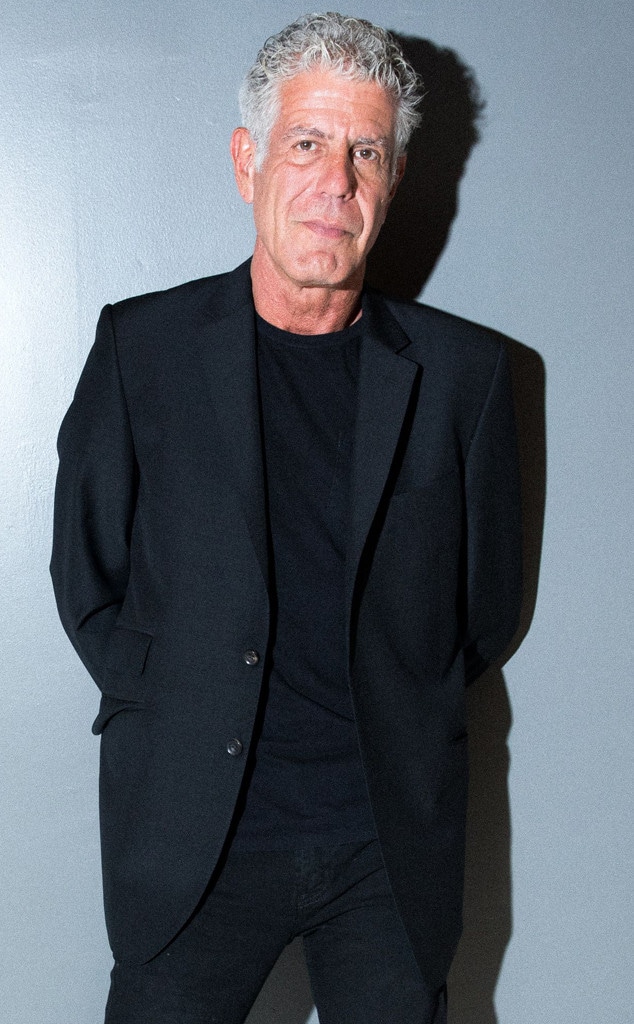 Vladimir Weinstein/BFA/REX/Shutterstock
It's been one year since Anthony Bourdain's tragic death.
On June 8, 2018, the world learned the culinary celebrity had died by suicide at the age of 61. Bourdain hanged himself in the bathroom of his hotel room in France and was found alone and unresponsive by his friend and fellow chef Éric Ripert. He had been in the country filming an episode of Parts Unknown before he took his life. 
After news of the tragedy broke, several celebrities and chefs posted tributes to the late TV star on social media. His girlfriend, Asia Argento, also mourned his death.
"Anthony gave all of himself in everything that he did," she tweeted at the time. "His brilliant, fearless spirit touched and inspired so many, and his generosity knew no bounds. He was my love, my rock, my protector. I am beyond devastated." 
He was cremated one week later.
Bourdain entered the culinary world from humble beginnings. According to the Culinary Institute of America, of which Bourdain was an alum, he started his career by working as a dishwasher in Provincetown, Mass. over a break from Vassar College. He later decided to sharpen his skills by enrolling in the Institute and graduated in 1978. Afterwards, he worked for a number of renowned restaurants, including the Rainbow Room, The Supper Club, Coco Pazzo Teatro and Brasserie Les Halles. 
However, times weren't always easy for Bourdain. In a 2018 interview with Biography.com, he opened up about his battle with addiction, which he eventually overcame.
"I got off of heroin in the 1980s," he recalled. "Friends of mine from the '70s and '80s, they just got off five, six, maybe 10 years ago. And we're the lucky ones. We made it out alive. There are a lot of guys that didn't get that far. But you know, I also don't have that many regrets either."
Nicholas Hunt/Getty Images for Turner
Soon, Bourdain's influence extended beyond the kitchen. He started writing and penned a wildly popular essay for The New Yorker in 1999 called "Don't Eat Before Reading This." He went on to write a number of books, including Kitchen Confidential and Medium Raw: A Bloody Valentine to the World of Food.
Even though his career was on the rise, Bourdain still struggled to find success.
"Oh, man, at the age of 44, I was standing in kitchens, not knowing what it was like to go to sleep without being in mortal terror," he told Biography.com. "I was in horrible, endless, irrevocable debt. I had no health insurance. I didn't pay my taxes. I couldn't pay my rent. It was a nightmare, but it's all been different for about 15 years. If it looks like my life is comfortable, well, that's a very new thing for me."
Then, Bourdain ventured into a different medium—television. In 2002, he started appearing on Food Network's A Cook's Tour. He then worked on Anthony Bourdain: No Reservations from 2005 to 2012 and The Layover from 2011 to 2013. Afterwards, he starred on shows like Anthony Bourdain: Parts Unknown, as well as The Taste. He also worked behind the camera and started producing The Mind of a Chef in 2012.
Over the course of his career, Bourdain received several accolades, including a Peabody Award, a handful of James Beard awards and multiple Emmys. Still, he had his struggles, including his battle with depression.
"I will find myself in an airport, for instance, and I'll order an airport hamburger," he said on a 2016 episode of Parts Unknown. "It's an insignificant thing, it's a small thing, it's a hamburger, but it's not a good one. Suddenly I look at the hamburger and I find myself in a spiral of depression that can last for days."
Bourdain is survived by Argento and his daughter, Ariane Bourdain, whom he shared with his second wife Ottavia Busia. He was first married to Nancy Putkoski from 1985 to 2005.
To look back at his personal and career milestones, see the gallery below.
If you or someone you know needs help, call 988 to reach the Suicide and Crisis Lifeline. You can also call the network, previously known as the National Suicide Prevention Lifeline, at 800-273-8255, text HOME to 741741 or visit SpeakingOfSuicide.com/resources for additional resources.