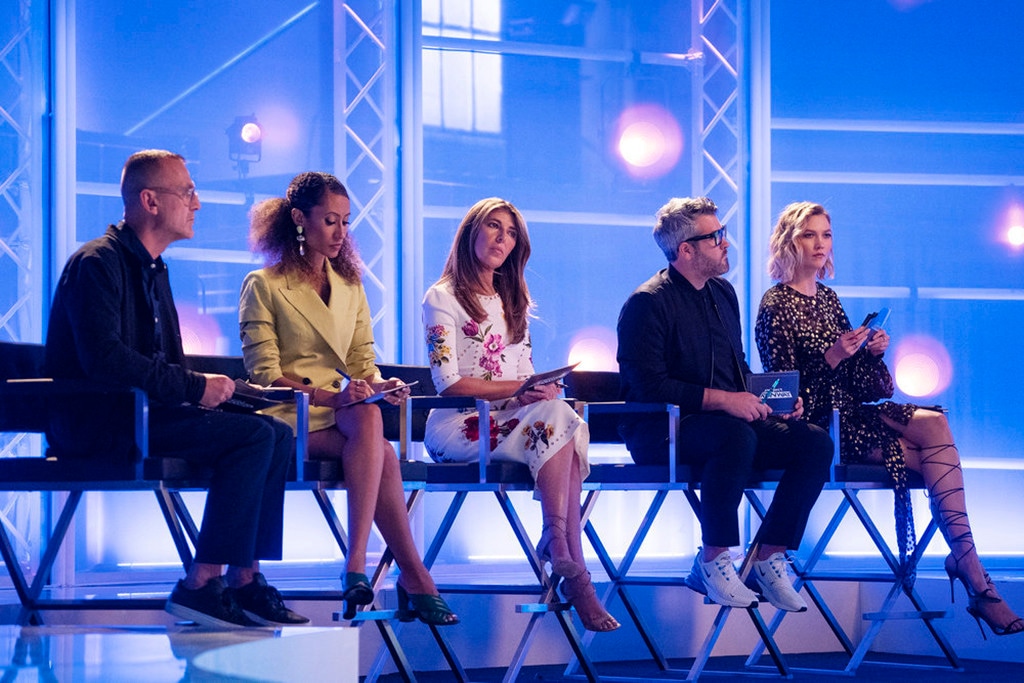 Bravo
In the 15 years that it's been on the air, Project Runway has always been reliable entertainment.
The reality competition show, on which amateur designers compete each week to quickly create looks from scratch with the goal of showing at New York Fashion Week, has always been incredibly watchable, even if sometimes you just fast forward straight to the runway show at the end of every episode. 
Designers came and went, rarely but occasionally making a huge, unforgettable impact, but the true personality of the show was rooted in its host, the very German Heidi Klum, its mentor, the buttoned-up Tim Gunn, and its only constant judge, Nina Garcia. The series originally began on Bravo in 2004 for five seasons, then aired on Lifetime for 11 more seasons. 
When the Weinstein Company, which produced the series, went bankrupt, NBCU reacquired the show, and everything changed. It moved back to Bravo, and Heidi Klum, Tim Gunn, and judge Zac Posen all announced they were leaving. Suddenly, longtime fans were left to question whether Project Runway was even Project Runway without Tim and Heidi. 
As it turns out, it is. And it might be a better Project Runway than ever before. 
Klum was replaced by supermodel Karlie Kloss, while season four winner and celebrated designer Christian Siriano replaced Gunn. Designer Brandon Maxwell (who made a huge splash at the Met Gala with Lady Gaga's four looks) and journalist Elaine Welteroth stepped in as judges alongside Nina Garcia. The show got a brand new, much chicer workroom, a new crop of diverse models (including the show's first trans model ever), and took on a new attitude: Fashion is for everybody. 
As much as we will always miss Heidi Klum and Tim Gunn, their absence hasn't been felt nearly as much as we feared it would be. Siriano in particular is the show's greatest new asset, since he not only knows what it's like to be a Project Runway contestant, but he also knows what it's like to be a working designer who dresses women of all sizes. He can offer advice the contestants have never had access to before—as wonderful and knowledgable as Tim Gunn is—from a place that's much closer to where they all want to be, and where they all could be within a few years. 
He's quick to tell the designers when they're making a mistake, and to remind them what criticisms they've gotten before, and to explain what he would do, and to just serve as a reminder of where this show could take them if they play their cards right. 
Brandon Maxwell and Elaine Welteroth have been such good additions to the judging panel that it almost feels like they've always been there, with Brandon openly reacting to runway looks as they're revealed, and with Elaine visibly getting excited over well done cultural references in the clothes. Nina also seems reinvigorated by the new blood around her, even and maybe especially when her opinion differs from theirs. These judges feel current, and so do their opinions, which was not always the case before, when elimination decisions were often baffling. 
Just like the fashion industry itself, Project Runway has often had issues with size inclusion. More sizes and shapes have been included over the years, but there's always a designer or two who complains about having to dress plus-sized women or "real" non-model women, deeming it unfair, or just something they're not used to doing. 
That didn't change this season, with designers like Nadine and Tessa complaining, but finally they're being called out for it. Nadine was sent home after she used her model's size as an excuse for why she didn't go bigger and bolder, and Tessa made the mistake of reacting poorly to her choice of model right in front of Karlie and Brandon, which Brandon had no time for. 
"Just want to make a note really quick," he said. "Just in life, and in your businesses, when any woman comes to you your job as a designer is to still make her feel good, so I just want to point that out. Just want to say that, so gonna leave you with that." 
With two plus-size models in regular rotation this season, the message has been clear that if you can't dress any one of the models properly, you're going to be sent to the back of the pack and maybe even sent home. The women who wear clothes in average sizes are no longer only brought out for special "real women" challenges, and dressing for size 12 or 14 or 22 is no longer a special challenge in itself, and complaining about dressing any size is not accepted by any of the judges. 
It's about time for that to be the case, but that commitment to giving screentime to that issue along with the fresh new faces and a group of designers from all over the world and the career spectrum has created a show that feels both brand new for 2019 and exactly like the Project Runway we have always loved.
That runway show at the end of every episode is still delightful, and so is that phone call we still make to our mom every Friday to discuss/yell about the varying results. No matter how much the show has changed for the better, we will always have that designer who sends out some kind of see-through polyester fabric nightmare for us to scream about, and for that we will always be thankful. 
Project Runway airs tonight at 9 p.m., and the season 17 finale airs next Thursday at 9 p.m. on Bravo. 
E! and Bravo are both part of the NBC Universal family.