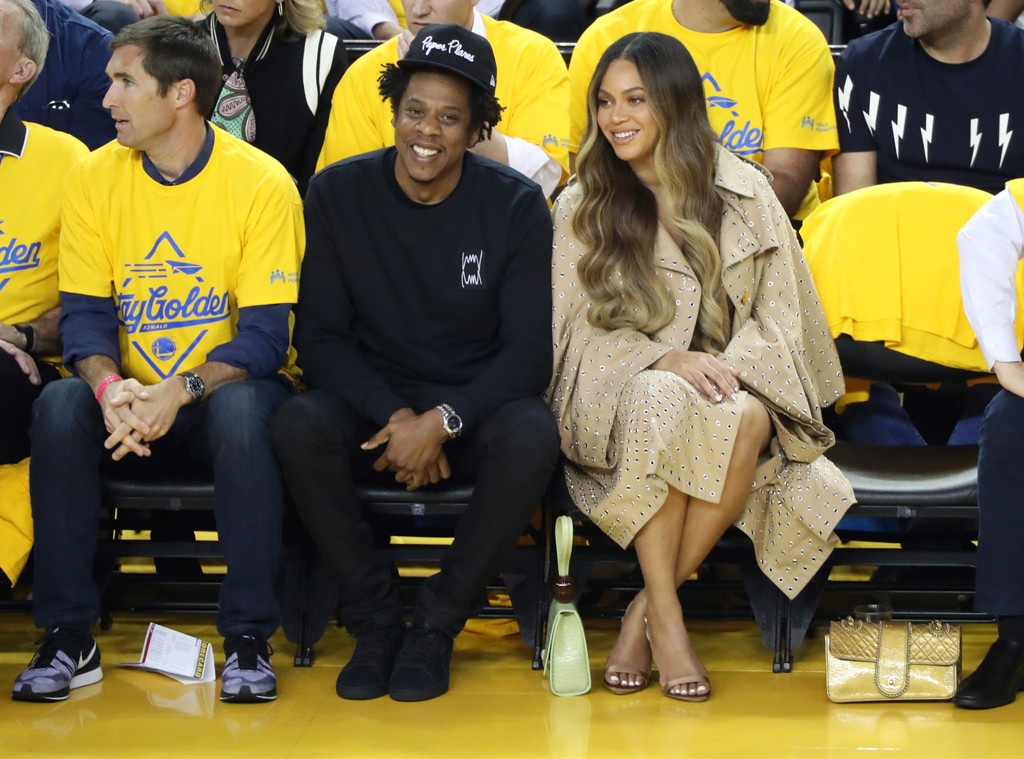 Joe Murphy/NBAE via Getty Images
Beyoncé and Jay-Z are feeling that Golden State of mind on Wednesday evening.
The A-list couple sat courtside at Game 3 of the NBA Finals with the Toronto Raptors facing off against the Golden State Warriors. As of publishing time, the series is currently tied 1-1 and this is the first game of the finals being played in Oakland, Calif.
Bey and Jay arrived at Oracle Arena a few minutes into the first quarter and immediately caused social media to erupt in quite the frenzy. Even the NBA's official Twitter account posted about their arrival.
The "Formation" singer and her husband looked stylish as always as they sat next to Golden State Warriors owner Joe Lacob on the court. Jay-Z wore a black sweatshirt, black pants and a black baseball cap while Bey stunned in a gold dress and gold heels. She accessorized with a by FAR leather clutch purse (retails at $625). 
Although neither one wore jerseys for a specific team, Beyoncé's golden outfit could provide some hints as to who they're both rooting for (it's safe to say they're team Dub Nation.)
Bey and Jay attend a number of basketball games each season. They attended playoff games when Beyoncé's home team the Houston Rockets played against the Warriors. She posted a number of photos on Instagram of her attendance at the game. Last year they also went to other match-ups at Oracle Arena, including when the Warriors played against the New Orleans Pelicans. She glamorously sat courtside with her daughter Blue Ivy at the 2018 NBA All Star Game as well.
Jay-Z used to have a stake in the Brooklyn Nets, but he sold his shares in 2013.
Joe Murphy/NBAE via Getty Images
While Beyoncé and Jay-Z made quite a splash at the game on Wednesday, there's one other basketball-loving celebrity who wasn't there: Drake. The Toronto native is the Raptors' global ambassador and his love for the team has never been more evident. The "God's Plan" rapper received some flak a few weeks ago when he was seen massaging Toronto coach Nick Nurse at one point in the game against the Philadelphia 76ers.
But with the Raptors in the NBA Finals for the first time in franchise history, Drake was not about to turn down a chance to troll the other teams. During Game 1 of the Finals, he specifically called out Warriors star Steph Curry. He did so by wearing a signed Dell Curry jersey to the game. Dell played on the Raptors from 1999-2002 and is Steph's father.
But all's fair in love and basketball because the Warriors apparently played Pusha T's diss track about Drake "The Story of Adidon" as they warmed up before the game.