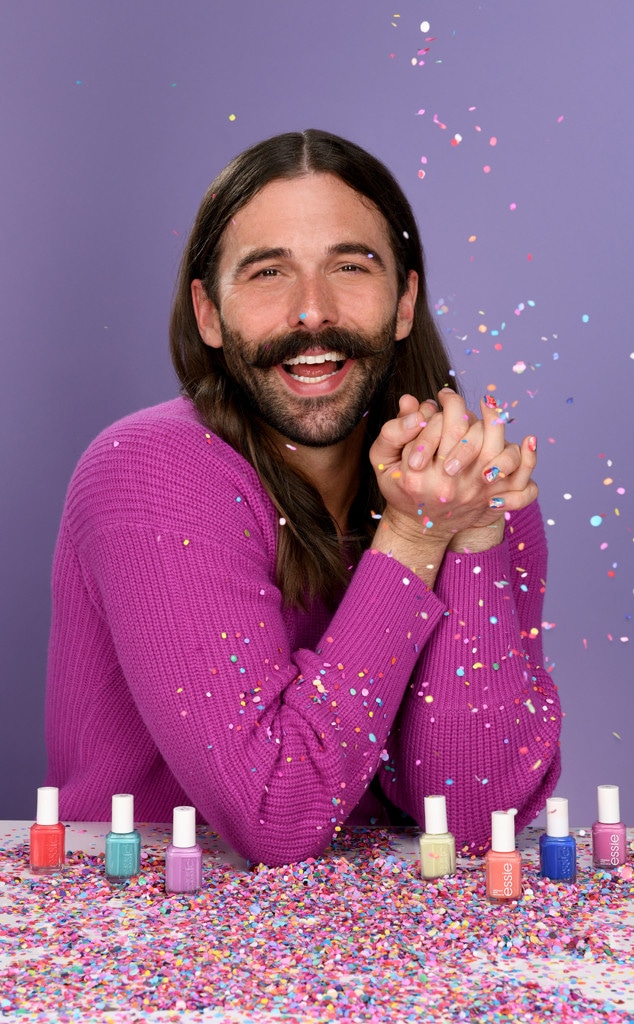 Craig Barritt/Getty Images for Essie
Jonathan Van Ness should be a household name at this point. And if he isn't one in your home, it's time to turn on Netflix and queue up some Queer Eye.
The 32-year-old is known for giving the ultimate glam-ups in Queer Eye and reminding people that brushing your hair or using some gel to "zhuzz" up the style is hardly a bad thing. In fact, it's great! Just like the rest of the Fab Five, Van Ness encourages people to remain authentic to themselves and practice self-love.
With Pride Month well underway, Van Ness is teaming up with nail polish company essie for a special collaboration called essie x Jonathan Van Ness. The purpose of their partnership is to encourage people to express themselves with the help of Pride nails.
Van Ness talked to E! News about what it means to be the face of the partnership as well as his plans for Pride and his ultimate self-care tips.
The Getting Curious podcast host called the essie x Jonathan Van Ness products "really exciting." 
He shared, "I was the first non-woman to work with them and it was really exciting to have someone that is gender non-conforming just up there doing some gorgeous nail polish. I have to take away such gender notions of certain things of really anything I like to do."
Van Ness' specific nail polish design is called "abstract rainbow" and he even provides step-by-step instructions on how to achieve the look on essie's site (you can follow along here). He called it "really gorgeous" and it consists of "gold with a multi-color Pride look."
Aside from the JVN nail polish collaboration, essie will also be offering manicures at The Ali Forney Center's annual PROM event. People will be able to sample other essie products at LGBTQ+ events throughout June as well, such as the NYC Pride Parade and charity event at the Javits Center in New York.
This year's Pride Month and Parade holds extra significance because it marks the 50th anniversary of the Stonewall riots. The Pride Parade in New York is the biggest in the world as thousands upon thousands of people march through the streets of Manhattan in solidarity. 
Van Ness' Pride month is sure to be active, especially because he'll be officiating a lucky wedding at Elysian Hill Brewpub in Seattle (but it wouldn't be the first time he's done that!).
Craig Barritt/Getty Images for Essie
So what do JVN's Pride plans include?
"Really to not get dehydrated and not have too much fun. I'm really busy for Pride this year," he said. "I'm marrying people here, I'm doing fun Essie stuff. I'm really going to be all over the place for Pride, so I just have to drink lots of water and make sure that I get plenty of rest so I can be my bright bubbly self all over the place."
With such a busy schedule, Van Ness is still figuring out how to balance it all. However, he has some positive thoughts about handling it all.
"I like to think that everyone is doing the best that they can," he said. 
He also shared his favorite things to do when it comes to maintaining self-care and feeling relaxed.
Van Ness explained, "I'm really someone who needs a little bit of alone time. I love to entertain and I love to make people laugh but I definitely need at least three nights a week where I can just be at home alone by seven and really have that chance to recharge."
JVN told E! News a bit about his own beauty and grooming routine. While his hair and mustache have become signature looks for him, Van Ness said he can never skip brushing and flossing. Taking off sunscreen is just as important.
"My nighttime routine, I just never miss that," he said. "I always clean off my face and I floss and brush. We got to get flesh out from between our teeth because if you're a meat eater, it's not a good look. "
Van Ness has some ideas about makeovers he would do for the his fellow Fab Five members as well. Although "no one needs a fixing," he does know "exactly what I would do." He said he would give Karamo Brown "every lace front wig known to man." That idea goes back to a certain competition show.
In January, the Fab Five appeared on Lip Sync Battle and all dressed like Beyoncé from her history-making Coachella set. Van Ness and Brown performed Beyonce and Lady Gaga's "Telephone" while Antoni Porowski, Tan France and Bobby Berk danced to Britney Spears' "Work Bitch."
"When we did Lip Sync Battle and he had that wig on, it literally made him funnier, quicker and more compassionate if that's even possible. It just made him like the best version of himself that I've ever met. He's always great but he was like superhero Karamo," he said.
Craig Barritt/Getty Images for Essie
JVN chatted a bit about Meghan Markle and her look when she and Prince Harry introduced their baby Archie Harrison to the world on May 8.
"I thought it was great how she created her own tradition and created something that works for her. I think the lesson that I really take from that and that I would literally want to empower all women to have is to make whatever thing you're going through work for you," he told E! News. "We don't have to conform to tradition or what someone expects from us."
He called Meghan "incredible" and also praised the royals for "only following people that promote positivity and mental health awareness" on their official Sussex Royal Instagram account. 
As for Archie's hair color, JVN thinks it'll be a "melted gingery brown, kind of like paprika."
Much like JVN's Pride Month plans, the future seems to be just as fun-filled and busy. Van Ness is heading on a world comedy tour called "Road to Beijing". Plus, Queer Eye is going international and jetting off to Japan.
Van Ness learned an important lesson about himself when they were all filming in Japan: "95 percent of what I say are colloquialisms that my mom and dad taught me."
He explained he would attempt to use some, but "it did not make sense." On the bright side, the team "became really good friends" with their translator.
"We love her so much," he shared.
Although the hairdresser won't give anything away, he did say, "We had a really good time being there and we all really learned a lot. I think it's going to be very special."
The Illinois native's already impressive list of accomplishments features figure skating, too. He told E! News he's "a sucker for 'Tosca'" when it comes to a skating theme song. 
JVN is very active on social media and often voices his opinions on political matters, which have played a role in his new podcast. He said he is "100%" going to get involved in the 2020 election cycle.
He explained, "I'm definitely going to endorse someone and definitely going to work on registering as many voters as I can. I want to make sure that every vote is counted and make sure that everyone who can vote is registered and has the identification that they need to make sure that voter suppression does not continue to play a role in our voter outcome or in the outcome in our election."