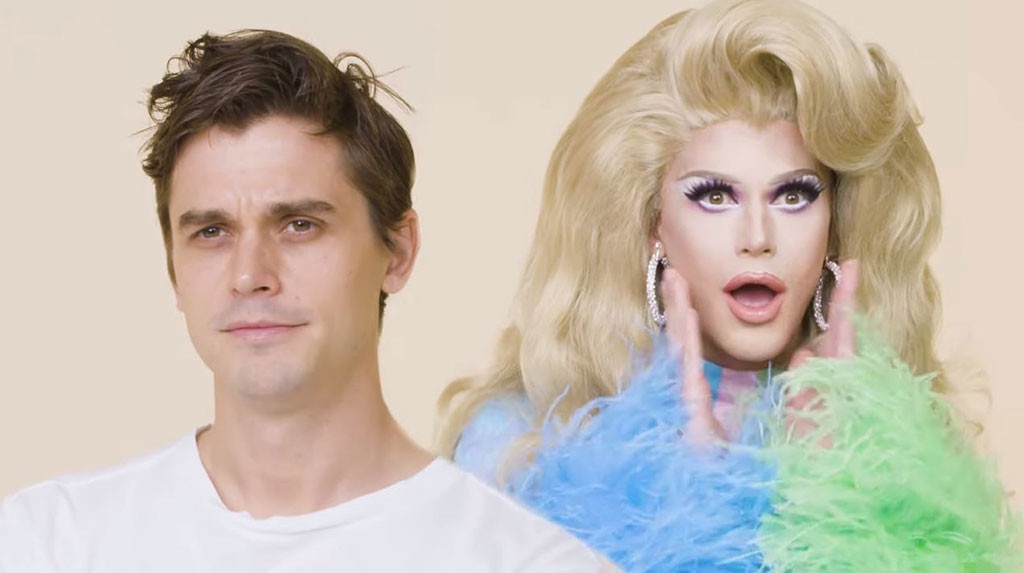 YouTube
Oh, how the tables have turned!
Roles are being reversed on Them's YouTube series "Drag Me," with Antoni Porowski taking a seat in the makeup chair. The chef is known for helping the Queer Eye's Fab Five complete heartwarming makeovers, but this week he is the person getting all done-up by the one and only Miz Cracker. 
Believe it or not, this isn't the star's first time dressing in drag. According to Antoni, he once wore a "pretty terrible" costume when he was 10-years-old for Halloween and later did a brief stint in drag for Lip Sync Battle. But, this time around, he is getting the full treatment, courtesy of RuPaul Drag Race contestant Miz Cracker.
Miz Cracker got the party started by getting Antoni into a wig cap, gluing his eyebrows down and drawing on a fierce eyebrow worthy of a drag queen.
As they worked on achieving the perfect contour and eyeliner, the two chatted about nearly everything under the sun, including their vast knowledge of different languages. Turns out, Antoni speaks Polish pretty darn well, while Miz Cracker can speak the Senegalese language of Wolof, in addition to French. 
Then came the best part: choosing a stunning ensemble. Together, they decided on a pastel green, purple and blue dress that features a mock-neck and tons of feathers all over the skirt and sleeves. Chic!
The final step was the cherry on top of the icing. The Queer Eye star donned a big and beautiful blonde wig that truly completed the ensemble. Once he put on that wig, he was officially transformed into Eva Cado! "I have an ass for the first time in my life," he remarked. "My feminine side is something that's always been internal with how I consider myself an emotionally sensitive person, so to see those stereotypical things come up on the outside, in my outward appearance is like, it feels very naked."
In the words of Jonathan Van Ness: Yasss henny!