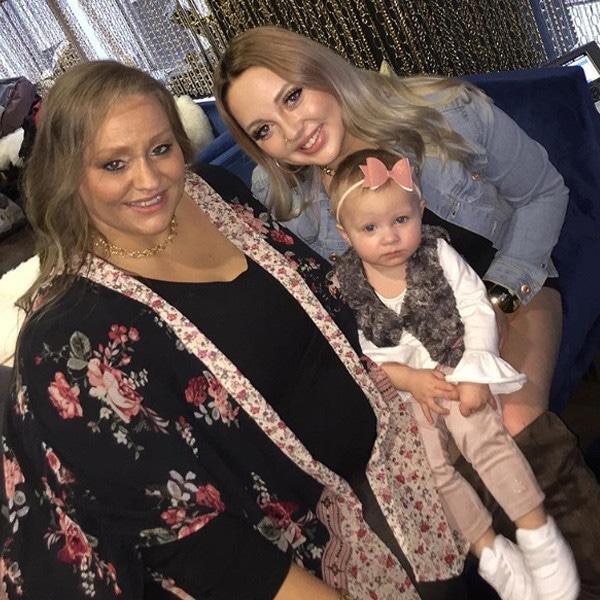 Instagram
When it comes to Jade Cline's relationship with her family, things are very complicated.
Soon after MTV confirmed that the proud mom would be joining the new season of Teen Mom 2, the former Teen Mom: Young + Pregnant star sat down for an open and honest interview with Kailyn Lowry.
During the chat heard on the Coffee Convos podcast, Jade gave fans a glimpse into the rocky relationship with her parents today.
"Both of my parents were just incarcerated this last week," she shared with Kailyn and her co-host Lindsie Chrisley. "They've been strung out for so long. They're like binge addicts."
According to Jade, she finds her mom and step-dad to be unpredictable. In fact, she shared the story of her step-dad showing up at her house unannounced and knocking on her door at 1 a.m.
"I have school in the morning. I have a child and he pretty much steps on all my boundaries," Jade shared. "He says he doesn't give a f--k about what I'm doing. He doesn't care about the stress and anxiety he puts me through."
She continued through tears, "My read dad committed suicide when I was six months old and that's the only dad I ever knew. My real dad never loved me enough to stay and I have a second chance at a father and I feel he never loved me enough to stay clean."
Today, Jade says she is suffering from severe anxiety and "real bad PTSD issues" from things that happened in her childhood.
"Imagine having parents and you're thinking about them every night. Are they okay? Are they dead? Has someone shot her? Where are my parents? Are they going to bang on my door at 4 a.m. asking me for money?" Jade asked the co-hosts and special guests Tyler Baltierra and Catelynn Lowell. "I'm so stressed and I don't think I can function in my normal life right now with everything because of the anxiety."
When Tyler, Catelynn and Kailyn suggested therapy to help get through the difficult times, Jade explained why she was hesitant to seek professional help.
"I feel like I've always been so strong, that it's so shameful for me to have to ask anyone for help," she argued. "I feel like I'm now at the point where my anxiety is affecting me everyday. It's making me someone that I'm not."
Tyler replied, "I think what's shameful is suffering in silence. Nobody deserves to suffer in silence...If I didn't have therapy, I don't even know where I would be."
Despite her challenging circumstances, Jade is determined to give her daughter Khloie the best life possible no matter what her parents do—or don't—do.
"I watched how they lived and I watched my mom do awful things and I've seen so much stuff. I've learned from that. I never want to put my kids through that," she proclaimed. "I never want to put my family through that. I never want to be homeless. We were homeless forever. We lived in people's cars and hotels. I would still go to school and act like nothing is wrong."
Teen Mom OG returns with a brand-new season Monday night at 9 p.m. on MTV.