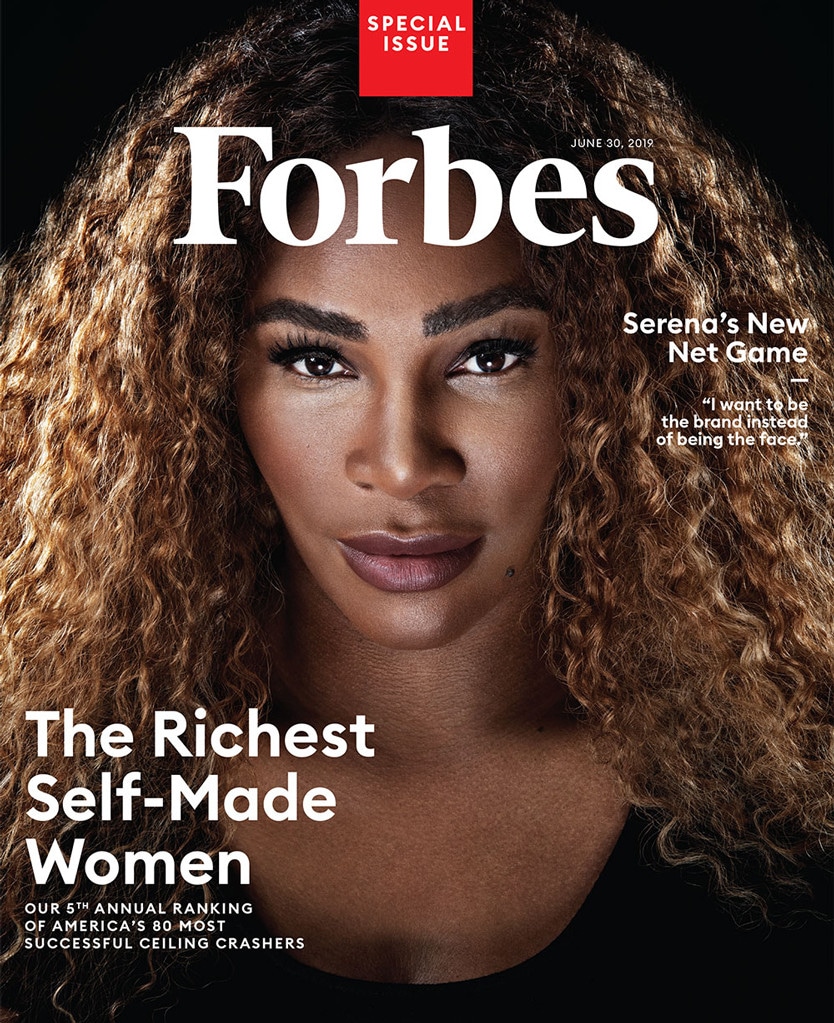 Forbes
Serena Williams continues to make history!
The tennis champion has become the first-ever athlete to make Forbes' list of America's Richest Self-Made Women, which ranks the most successful female entrepreneurs in the country. In addition to being a 23-time Grand Slam winner, Williams—who ranks in at #80 on the list and graces the cover of the Forbes issue—is also a businesswoman, investing in numerous companies via Serena Ventures. The 37-year-old star, who has an estimated net worth of $225 million, has reportedly been investing in 34 startups in recent years.
Of the investments, which are geared toward her personal interests, Williams tells Forbes, "I want to be a part of it. I want to be in the infrastructure. I want to be the brand, instead of just being the face."
The athlete, who makes an estimated $19 million from endorsement deals, goes on to share that she's come to love seed investing.
"It's fun to get in there. I don't gamble. I don't jump off buildings," she says. "I'm the most non-taking-a-chance kind of a person, but I felt like seed was where we wanted to be."
Dave Shopland/BPI/REX/Shutterstock
Daily Harvest, Brandless, Coinbase and Tonal are among the companies Williams has invested in over the years.
And Williams, who married Reddit co-founder Alexis Ohanian in 2017, reveals to Forbes that she turns to her husband for advice.
"I've been really leaning on Alexis," she shares. 
Williams, who also has her own clothing line, took to social media to react to her Forbes cover.
"Be the brand. Starting @ShopSerena and Serena Ventures are just a few steps," she wrote. "Honored to be the first athlete on @Forbes #SelfMadeWomen list."
Among the other stars on America's Richest Self-Made Women list? Kylie Jenner, the youngest female on the list at the age of 21, ranks in at #23 with a $1 billion net worth. Rihanna lands at #37 with $600 million, Taylor Swift shares the #60 spot with Neha Narkhede, both with an estimated net worth of $360 million. Ellen DeGeneres follows closely behind at #63 with $330 million, while Reese Witherspoon lands at #77 with $240 million.
To see the complete list of America's Richest Self-Made Women, head on over to Forbes!