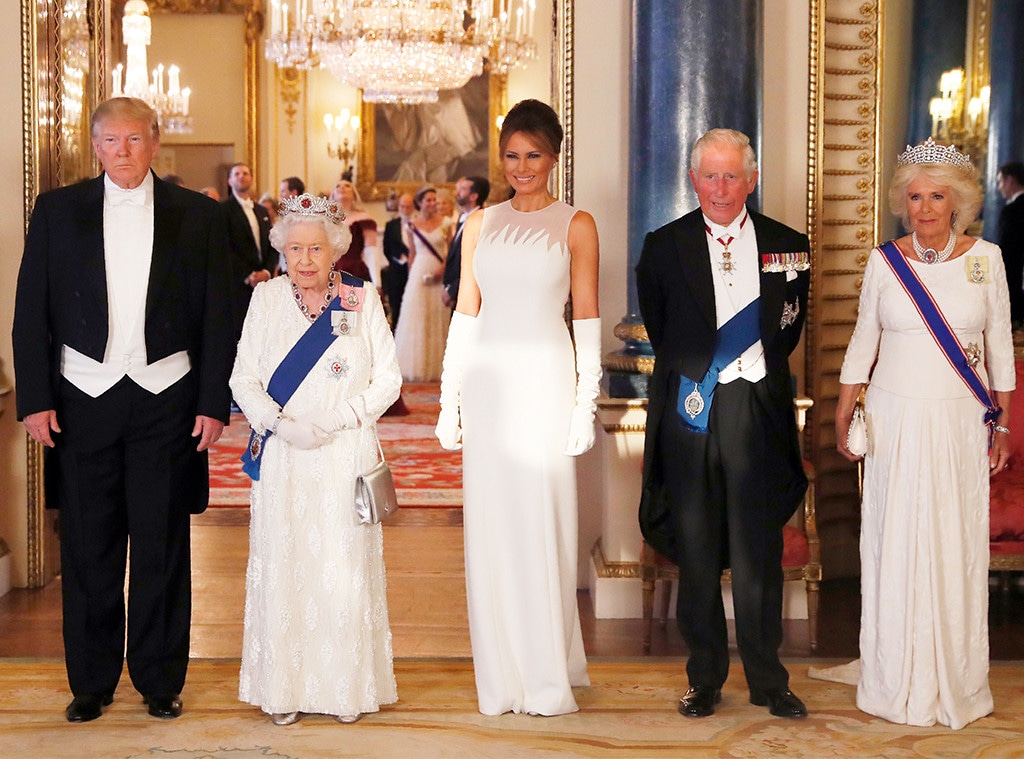 Alastair Grant/PA Wire
President Donald Trump and his wife Melania Trump dined with the royal family and other important British politicians on Monday night at Buckingham Palace.
Queen Elizabeth II hosted a State Banquet at the Palace, which was attended by Kate Middleton, Prince William, Prince Charles, Camilla, Duchess of Cornwall, Prime Minister Theresa May (who has just days left in her term), Treasury Secretary Steven Mnuchin and more. Trump's children Ivanka Trump, her husband Jared Kushner, Donald Trump Jr., Eric Trump, Eric's wife Lara Trump and Tiffany Trump also attended the banquet.
Prince Harry met the First Family earlier in the day at Buckingham Palace, but his wife Meghan Markle stayed behind with their one-month-old son Archie Harrison. There were reports last week that President Trump called Meghan "nasty" although he later denied ever saying such things. Prince Harry did not attend the banquet dinner.
The royals all looked their best on Monday evening at the formal event as many of them wore white dresses. 
The First Lady wore a floor-length Dior Haute Couture ivory gown. Kate Middleton stunned in an Alexander McQueen dress. She also wore some impressive heirlooms as jewelry, including the Queen Mother's sapphire and diamond fringe earrings as well as the Lover's Knot Tiara, which belonged to Prince William and Prince Harry's mother Princess Diana. The Duchess of Cambridge has worn this specific tiara a number of times to various official dinners and banquets.
The tiara itself is over 100-years-old.
The Queen wore an Angela Kelly dress while Camilla had on a Bruce Oldfield dress.
President Trump sat next to Queen Elizabeth and the Duchess of Cornwall at the meal. There were 170 people there in total. According to reports, the meal consisted of steamed filet of halibut, new Windsor lamb, strawberry sable with lemon verbena cream, fresh fruit and coffee and petit fours.
The 93-year-old monarch welcomed the U.S. President in a warm speech and praised the longstanding relationship between the two countries. She said she was "delighted to welcome" President Trump to Buckingham Palace for the banquet.
"American Presidents always remind us of the close and longstanding friendship between the United Kingdom and the United States, and I am so glad that we have another opportunity to demonstrate the immense importance that both our countries attach to our relationship," she said.
Queen Elizabeth said later, "Mr President, as we look to the future, I am confident that our common values and shared interests will continue to unite us. Tonight we celebrate an alliance that has helped to ensure the safety and prosperity of both our peoples for decades, and which I believe will endure for many years to come."
In turn, he reportedly called Queen Elizabeth a "great, great woman."
The feeling seemed to be mutual for the president because earlier on Monday, he tweeted that the "London part of trip is going really well." He also called the Queen and royals "fantastic."
Melania channeled her inner Princess Diana earlier that day as she turned heads in a white Dolce & Gabbana suit with a navy belt and paired it with a matching Herve Pierre hat. The First Lady's outfit evoked some of Diana's favorite looks, which often included white suits with navy trimming.
The president arrived in London on Monday and stopped at the Palace where he had lunch and tea with Queen Elizabeth II. Trump also visited Westminster Abbey. There are also a number of protests scheduled around London pegged to the President's visit.
One major British politician not in attendance at the dinner was Mayor of London Sadiq Khan. Khan told the President in a video for Elle U.K., "Your values and what you stand for are the complete opposite of London's values and the values in this country." According to the New York Times, Khan also compared President Trump's rhetoric to "just one of the most egregious examples of a growing global threat."
To that, President Trump called Khan a "stone cold loser" and likened him to "our dumb and incompetent Mayor of NYC, [Bill] de Blasio, who has also done a terrible job — only half his height."
Take a look at the gallery below to see photos from the elegant evening at Buckingham Palace.
President Trump is scheduled to be in the U.K. for three days.