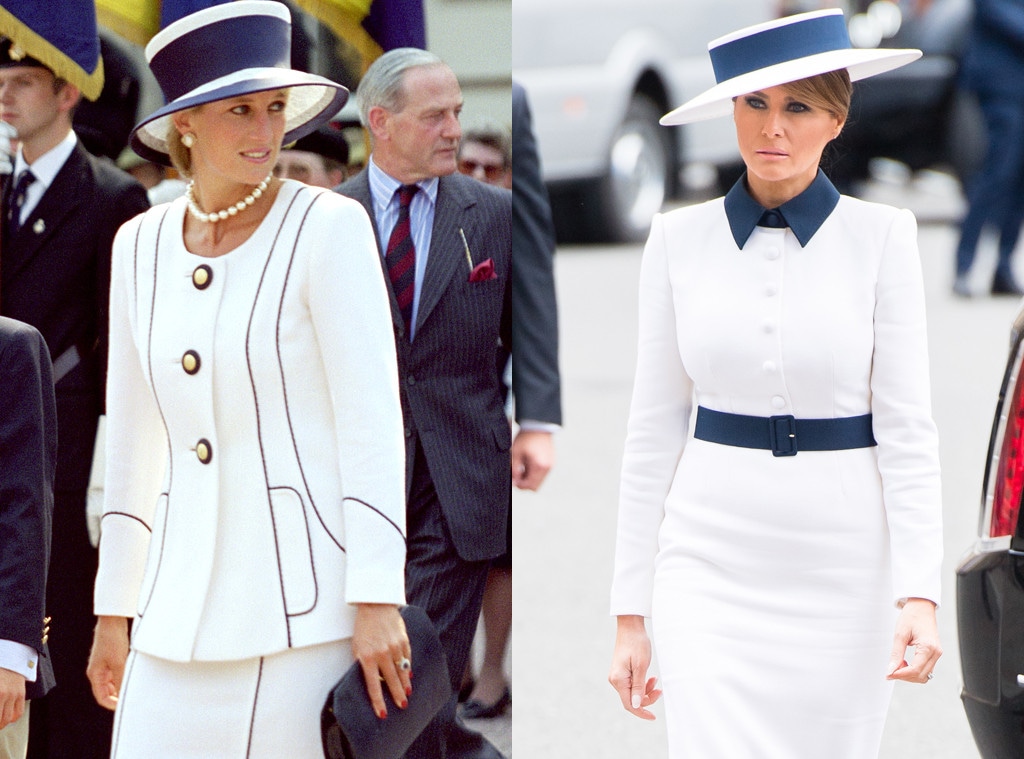 Getty Images
Melania Trump's latest look is looking very regal.
As the First Lady of the United States headed to Buckingham Palace with President Donald Trump, the couple received the royal treatment from Queen Elizabeth ll.
But before the mixing and mingling began, people couldn't help but talk about one woman's fashion.
As Melania stepped out wearing a Dolce & Gabbana suit with a custom hat by Herve Pierre, some recalled a similar outfit from Princess Diana.
Back in the '80s and '90s, Princess Diana was known to wear white and navy skirt suits. And while the looks are nowhere to be exact, we can't help but see some similarities.
For those hoping for more details on the look, the creative director of Herve Pierre shared some details about the hat on Instagram. To match the dress, the designer chose a chalk double face wool crepe with a midnight blue bias silk crepe.
And despite some windy conditions, Melania was able to hold on tight and walk in style.
The president and his wife traveled across the pond on Monday for his state visit to the U.K. When arriving to Buckingham Palace, the couple was greeted by Prince Charles and Camilla, Duchess of Cornwall.
Ivanka Trump and Jared Kushner watched from nearby on the balcony of the palace's White Drawing Room. The president and first lady later enjoyed a private lunch with Her Majesty and met with Prince Harry. 
Over the weekend, President Trump took to social media and assured followers that he never insulted Prince Harry's wife despite an audio recording obtained by The Sun.
"I never called Meghan Markle 'nasty.' Made up by the Fake News Media, and they got caught cold!" he shared on Twitter. "Will @CNN, @nytimes and others apologize? Doubt it!"
The president's state visit to the U.K. marks the third by a U.S. president. George W. Bush and Barack Obama also made the trip during their presidential terms.