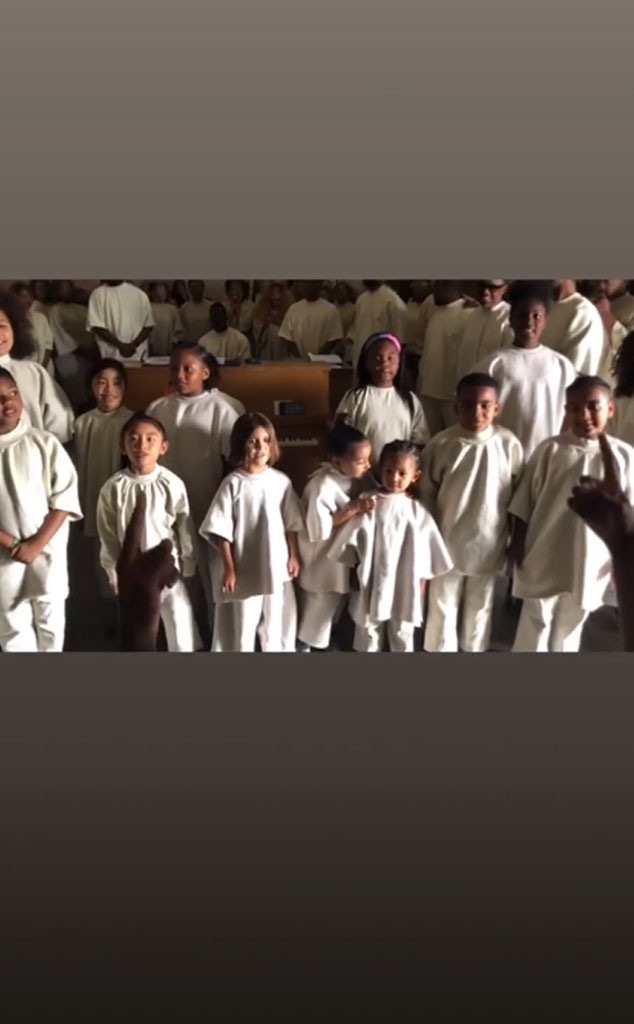 Kim Kardashian/Instagram
This is what big sisters are for, right?
North West proved (once again) on Sunday that she's the ultimate big sister. North's little brother Saint West made his singing debut at Kanye West's star-studded Sunday Service last week and she stood behind him the entire time helping him out with the lyrics.
Their mom Kim Kardashian shared videos on social media of the sweet moment as well as other snippets from the service. She wrote on Twitter, "I forgot to post last weeks Sunday Service . This was Saints first time singing in the choir so North made sure he knew the words."
The kids all crooned Sinéad O'Connor's "Nothing Compares 2U" and showed that truly, nothing compares to Saint singing.
The West children once again had a wonderful time at this week's ceremony and Kim shared, "North is loving it!"
North has carved out a special place for herself at Kanye's Sunday Service. 
In April, the almost-6-year-old (her birthday is June 15!) took center stage at the Sunday Service and helped her dad sing Stevie Wonder's hit "As." She wore an all-orange outfit and pigtail buns and looked like she absolutely loved standing there at the microphone. 
"North really went off at today's Sunday Service!" Kim wrote on April 7.
Kanye's Sunday Service have become quite the phenomenon in recent months. The "Stronger" artist brought them to 2019 Coachella, where the famous rapper was joined by other big artists on a grassy knoll on Easter Sunday. Kid Cudi, Ty Dolla $ign, 2 Chainz, Chance the Rapper, DMX and Teyana Taylor all gathered for the big event in Indio, Calif. on April 21. 
Kim and Kanye's family Khloe Kardashian, Kourtney Kardashian, Kylie Jenner, Travis Scott and Kendall Jenner also attended.
In April, Kim described the service as "a healing experience" for Kanye.
"It's just music; there's no sermon. It's definitely something he believes in—Jesus—and there's a Christian vibe. But there's no preaching. It's just a very spiritual Christian experience," she told Elle. 
The KKW Beauty owner explained to the magazine that it's an interfaith experience. 
"Kourtney's best friends comes all the time and they're Muslim. All my Jewish friends came on Sunday; they loved it," she said. "Everyone that comes understands it's just a really healing experience with an amazing choir, and amazing messages about love to start off your week."
Khloe later echoed Kim's words and told Jimmy Kimmel, "When they come here they feel so free and safe, is what everybody says, and you have a great time. It's a beautiful way to start your week and you feel just love and happy."
Now it's just due time until Chicago and Kim and Kanye's new baby Psalm West make their big Sunday Service debuts!