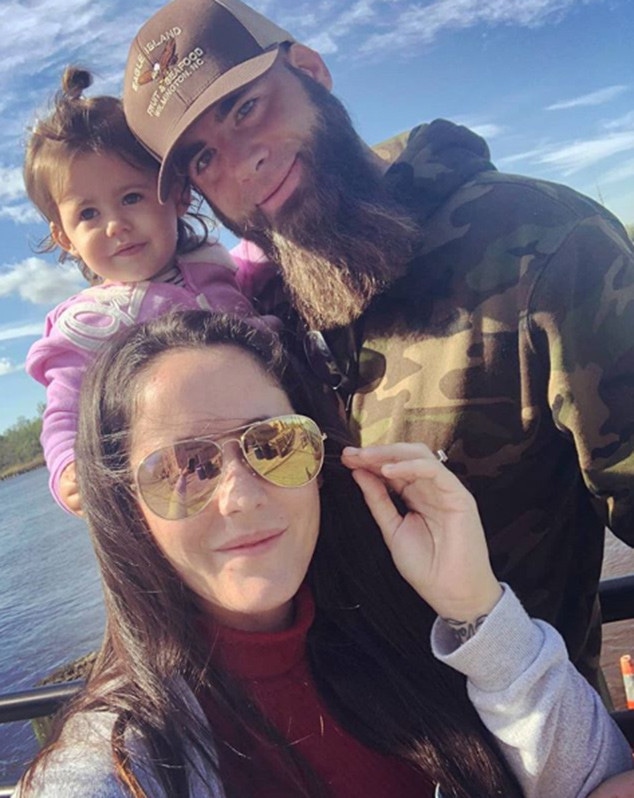 Instagram
Jenelle Evans posted a timely throwback photo on Sunday of her husband David Eason and their daughter Ensley.
The Teen Mom 2 star shared a picture from Facebook's "memories" tab that was uploaded on June 2, 2017. In the picture, David holds Ensley in his arms as he kisses her on the cheek. Jenelle captioned it "#DaddysGirl" at the time. When she shared it on Sunday, she used a heart emoji to describe the picture.
Ensley was just under 6-months-old in the picture.
The 27-year-old's throwback picture comes amid a tense and stressful custody battle for Jenelle and her three kids Jace, 9, Kaiser, 4, and Ensley, 2.
A judge temporarily ruled on May 28 that Jenelle would lose custody of her children. A source told E! News at the time, "Jenelle was stunned that the judge did not give her back the kids. They are all for the time being remaining with their respective caregivers."
Jace and Ensley are currently staying with Jenelle's mom Barbara Evans. Kaiser is with his father Nathan Griffith. David's other daughter Maryssa is with her mother Whitney Johnson.
Barbara told E! News, "Of course I would like for Jenelle to get them all back eventually, but certain things have to happen first."
Jenelle's rep shared with E! News on the day of the temporary ruling, "At this time we are cooperating with the judge and legal team from court. We have no comment at this time and appreciate the concerns regarding our client and her children. We will continue to cooperate with the court and their decisions."
For now, the reality TV star is "focusing on getting her kids back and she is focusing on working on her marriage."
Many of Jenelle's Teen Mom co-stars have spoken out about the custody battle and have shared their feelings about it.
Leah Messer told E! News on May 29, "What happened is sad, but I think it's in the best interest of the children. I want the children in a safe healthy environment. "I feel bad for Jenelle. I've hit rock bottom myself and sometimes that's what it takes to make things right. I truly hope this is a wake up call for her."
Leah also spoke about David and what she would do if she were in Jenelle's shoes. "If [David] was the cause of me losing my children, I would have stepped away from the marriage a while ago. If I lost custody because I didn't protect my children from him, I would make sure the judge knew they were my first priority by leaving him," she said.
She assured her co-star, "Help is out there."
Kailyn Lowry and Lindsie Chrisley told us, "We are treading very lightly when it comes to discussing the Evans/Eason family. We wanted to wait until we had all the details of events to be able to fully give our opinion on the matter."
They added, "We are both hoping for the best for Jenelle and her children. Currently, both of us are blocked on Jenelle's accounts and, as currently as a few weeks ago, still being harassed by David Eason."
Kailyn also revealed at an earlier time that people had been asking her if she would take custody of Ensley. She told TMZ in a video, "I'm not considering it at this time but I hope that the children are...happy and healthy overall."
This all goes back to late April when David allegedly shot and killed Jenelle's dog Nugget after the dog "snapped at" Ensley. The incident helped start an investigation between the Columbus County Sheriff's Office and Columbus County Animal Control where they are looking into the allegations.
Kaiser was removed from Jenelle's home about two weeks after the alleged shooting. Kaiser reportedly told school counselors about what happened, which then got Child Protective Services involved.
A source told E! News recently that Jenelle and David seem to have a bit of a volatile relationship. They said, "David and Jenelle fight often, it makes sense that Kaiser is afraid of [David]."
The source alleged, "Everything that has happened with Jenelle losing the kids is directly connected to David and his behavior." They said that David "made their home a scary place to be."
Additionally, the source said, "As long as Jenelle stays with him, she will not be able to move forward, with her career or with getting the kids back."
To all of that, Jenelle stated, "I'm working on my family at this time and not answering any other comments."