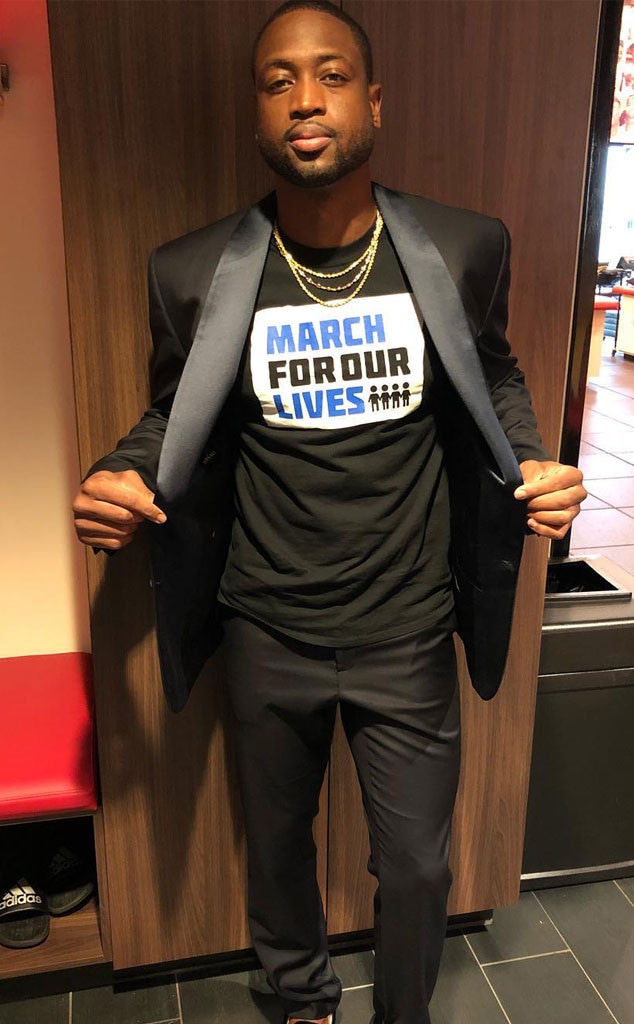 Dwyane Wade/Instagram
Dwyane Wade surprised hundreds of graduating seniors and their families at Marjory Stoneman Douglas High School in Parkland, Fla. on Sunday.
The former Miami Heat star gave a powerful and rousing speech to the class of 2019 where he led them in a chant and also spoke about his first visit to the high school last year about a month after the shooting. 
17 people were killed on Feb. 14, 2018 as a gunman opened fire in the school. Since that tragic day, a number of Stoneman Douglas students have advocated for gun laws and also organized the worldwide protest March for Our Lives, which kicked off on March 24, 2018 in Washington, D.C.
Wade started out his speech by sharing that he thought up a speech and shared it with his wife Gabrielle Union. However, she thought it was merely "fine."
"She said, 'Do you want fine? Or do you want this speech to mean something?'" he said.
According to a series of videos posted on Twitter by Dr. Safeer Bhatti, He discussed coming to the school on their first day back after a break. The 37-year-old visited Stoneman Douglas on March 7, 2018 and spoke to students and posed for photos with many of them.
"I remember thinking to myself, 'I've never heard this kind of silence before in my life.' So, I started thinking about what I heard on the news and everything I read on social media. I immediately started getting butterflies in my stomach," he shared in his graduation speech.
Nathaniel S. Butler/NBAE via Getty Images
Wade continued, "I remember being so nervous to see and meet everybody. What would I say? I mean, I grew up in the inner city of Chicago and I've experienced a lot of awful things, but I've never experienced anything to the magnitude that you guys have just experienced. So, I remember walking in and meeting the staff and actually being surprised that everyone was excited to see me."
He was instructed to head to the cafeteria where he thought, "I have no idea what I'm doing to say."
The students, however, didn't seem to mind. "And then what's going through my mind is 'How do I dare come here like I know what you guys have been going through? How narcissistic of me to think I could come here and make a difference because I am good at my sport,'" he said
Wade added, "I remember walking slowly to the cafeteria. As I as walking in, students starting seeing me. I started seeing smiles, people pulling out their phones, showing their followers on Instagram and Snapchat and some other cool app that I'm just not cool enough to know anything about. I remember thinking, 'Wow.' It was packed. I didn't expect it."
The "looks of joy" and "feeling this insane energy" helped put Wade at ease before he started speaking to the students.
"I grabbed a mic and I started speaking from the heart, and in that moment I realized something: I realized we had so much more in common that I even knew. I realized we all had a responsibility, a responsibility to stand-up and stand tall for the one's that no longer have a voice," he told the graduates.
Wade asserted he will "continue to try to be a leader and a fighter."
He said, "What I love most and appreciated most is that you guys became advocates, you became the faces and the voices for kids all around the world. I am so proud to say the words 'MSD Strong.' Today you will close a chapter of your live and embark on new journeys and memories and it's a time to celebrate. Be proud of everything you've done to make it to this moment." 
Shareif Ziyadat/FilmMagic
Wade retired from the NBA this year and spoke about how that relates to the graduates moving onto a new chapter in their lives.
"Whether it's high school, or a professional basketball career, each chapter in our lives starts and it ends, and it filled with mistakes, and its filled with lessons and its filled with obstacles," he said. "It's filled with success and it's filled with growth. What you do with each of these moments will determine how much greater this new chapter will be."
Wade continued, "I want you to take pride in what you've already accomplished. What has brought to you to these seats today, have joy when you reflect on these lessons you've learned along the way. Stand firm in your believe and in yourself."
He closed out the rousing speech by sharing a call-and-response chant from the movie Red Tails.
"I am going to say 'Nothing's difficult.' You guys say 'Everything is a challenge,'" he instructed. "When I say 'Through adversity', you guys say 'To the stars.'"
It went on, "To the last man, to the last minute, to the last second. I am going to say 'We fight,' you all are going say 'We fight."
They all chanted "we fight" together three times.
"I just had a great conversation with some of the students at Stoneman Douglas High School about some important/impactful things that they have planned," he tweeted that day. "I'm looking forward to being more involved in the change that they WILL create. #MSDStrong"
He told reporters on March 8, "I didn't expect that kind of reaction. I knew it was a tough day for them going back to their first full day. I definitely wanted to bring an element of surprise, an element of joy. The reaction was unbelievable. It was great to see, it was great to feel, it was great to feel that energy, the vibe that carried them throughout the whole day and carried me for the rest of the day as well."
Wade called the students "young future leaders" and hailed them as "very impressive."
Just days after showing up at the school, he revealed he was "dedicating a special exhibit called 'Parkland 17' at Art Walk in Miami."
According to the Herald, the exhibit in Miami's Wynwood neighborhood was up for 17 hours in honor of the 17 victims. There were even phones available for attendees to call their representatives.
Wade paid special tribute to one of the 17 victims, 14-year-old Joaquin "Guac" Oliver, who was reportedly buried in a Wade jersey. The former NBA star wrote Oliver's name on his shoe.
The first night Wade wrote Oliver's name on his shoe, he made the game-winning shot against the Philadelphia 76ers and he credited to the teenager.
"It was like I was playing with angels in the outfield," he shared. "It definitely felt like they we were there."