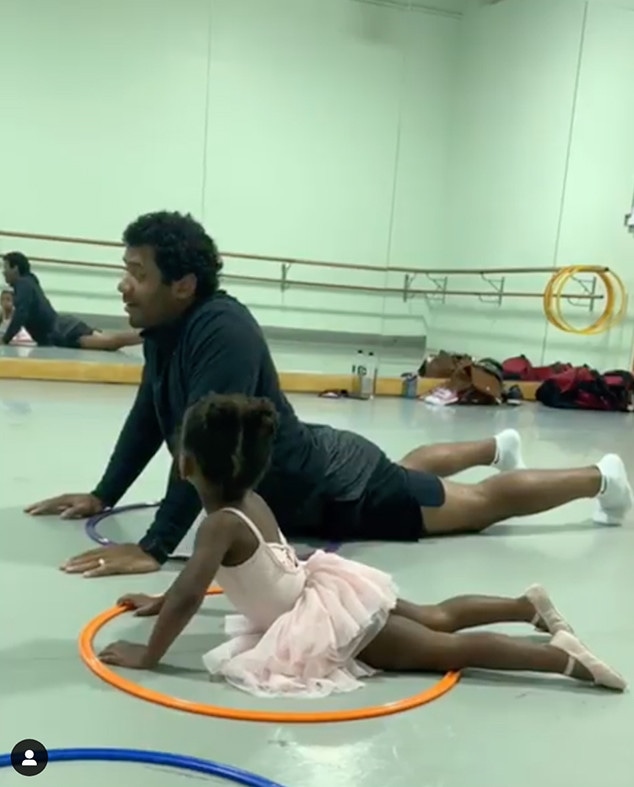 Instagram / Russell Wilson
How sweet!
Russell Wilson and his and wife Ciara's 2-year-old daughter Sienna have been taking parent and me ballet classes together over the past few months.
In a video he posted on Saturday, Wilson is seen holding the hand of the little girl, who is wearing a pale pink tutu, as he and an unidentified woman walk her down a trail of colorful cardboard stars and help her leap over small mats. Russell and Sienna then lay on their stomachs inside plastic hoops, side by side, and perform stretching exercises. He later lifts her up in the air.
"Special Bond. Mornin' Ballet with my baby girl. ❤️ #ShesGotTheMovesLikeCiara #SorryJagger @Ciara," he wrote.
"This just melts my heart. So stinkin cute ❤️," Ciara commented.
Three weeks ago, Ciara posted on her Instagram page another video of Russell and Sienna twirling together at a ballet class.
In addition to Sienna, Russell and Ciara are also parents to Future Zahir, her 5-year-old son with ex Future.
Last weekend, Russell posted photos of him and his boy on a golf course during a family trip to Mexico.
"Birdies & Floaties," he wrote. "Saturday's are for the boys!!!"