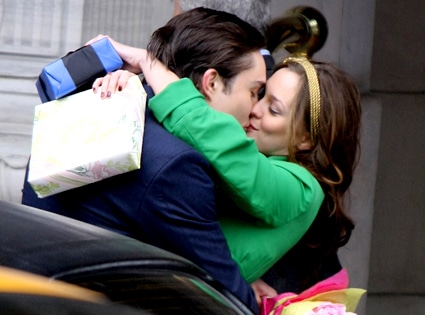 Dara Kushner/INFphoto.com
Gossip Girl fans, this is shaping up to be the best Monday ever.
Not only does the show finally return tonight (thank you, CW!), but the next two episodes are quite honestly better than ever (IMHO), and you'll never guess who was spotted just hours ago making out on a public sidewalk!
OK, so the photo above totally gives it away. But how do they get there? Is it really what it seems? What is the inside scoop?
Here are the juicy details, along with the latest exclusive scoop on Lost (Is Josh Holloway getting killed off?), Desperate Housewives (Is another Housewife dying?), House (more sexy time for House and Cuddy?) and much more...
From Monica in Chicago: Are Chuck and Blair finally really hooking up?
It certainly would seem so! According to looky-loos in NYC, Leighton Meester (Blair) and Ed Westwick (Chuck) spent much of the day today locking lips in front of the Sony offices in Manhattan, shooting an upcoming scene for Gossip Girl. Hol-freaking-ler. Of course, in usual Blair and Chuck fashion, getting to this apparent state of bliss is not easy. Keep reading down to the spoiler section for what lies ahead.
Anne in New York City: Any scoop on Sunday's murderific episode of Desperate Housewives?
We just checked in with Marc Cherry at the Douglas Blasdell Foundation Outreach event, and he told us, "On Sunday, the question will be asked, 'Who's in trouble on Wisteria Lane?' The press is putting out one story, but it's possible that there's another Housewife whose life is on the line." Gulp! As for Cherry's true feelings about Nicollette, Cherry says: "The thing I've said to Nicollette I will say publicly: What a great broad. What fun we have working together. She's a throwback kinda dame."
Melinda from Las Vegas: Thanks for the House scoop last week. Can you tell us anything about the spinoff or any future guest stars?
Executive producer Katie Jacobs tells us, "Right now, nothing is happening" with the spinoff with Michael Weston and David Shore. They're too busy wrapping up the House season. As for mo' guests, looks like we could be seeing mo' music-minded stars à la the forthcoming Mos Def and Meat Loaf. Adds Katie, "Maybe more musicians. It's so interesting. I find musicians just come with this willingness to be so open and vulnerable. It's so much fun."
Michelle in Dublin, Ireland: Friday's ep of Dollhouse was the best one yet. Got any new scoop on that show?
The awesomeness of Friday's episode of Dollhouse can be traced back to writer Tim Minear, who tells us, "Can't wait for you to see episode 12, which I got to write and direct." Holler. Oh, and don't forget to check back Wednesday evening for the dish on the next two eps of Dollhouse from the master himself. (Just to be clear: That's Joss Whedon, not fruit-punch mouth guy from Buffy.)
Mary in Springfield, Ill.: Kristin, we're doing an Idol betting pool at work. Who do you think I should pick?
I'd keep my eye on that Kelly Clarkson from last week's show. She seems like the real deal! As for actual contestants, according to our spies at the Idol taping last week, Adam Lambert and Anoop Desai definitely have the biggest fan followings. Oh, and Idol alum Taylor Hicks has a tip for you: "I think the guys are really strong this year"—and already outnumbering the girls.
Lisa M. in Kirkland, Wash.: Kristin, do you know if Without a Trace is coming back next season?
We won't know for sure until May. Poppy Montgomery told us at the Race for the Cure event on Sunday, "There have been reports [about the end of the show] everywhere. Here's what I do, I read them and I say, 'Oh! Well, no one's said anything to me yet.' So far, so good."
Marie in Newport News, Va.: Hey, when is the next round of Alpha Male Madness?
The Sweet 16 opens on Thursday morning. Good luck to you and all your favorite TV men in round two!
MG in New Windsor, N.Y.: Are you going to be doing your Save One Show poll again this year? I can't wait to vote for Chuck!
Yes! If all goes to plan, this year's installment of Save One Show launches Friday, April 3. We'll be including Reaper, Privileged, Chuck, Life, Terminator and...? Tell us who else needs a little more network love. Email your favorite endangered shows to tvdiva@eonline.com, and we'll be sure to get them on the list! Also, I'm talking to Josh Schwartz tomorrow morning, so if you have questions about Chuck or Gossip Girl, I'll take those too.
Miguel in Los Angeles: Any scoop about The Tudors season three?
Just that this Thursday, March 19, is the day that you Tudors fans have been waiting for. We'll have the entire season-premiere episode available for online viewing, along with scoop from Henry VIII (Jonathan Rhys Meyers) and Anne of Cleves (Joss Stone)!
Bianca in Grand Junction, Colo.: Will there be a ninth season of Scrubs?
Doubtful. In addition to the fact that Donald Faison just joined Cedric the Entertainer's new pilot, Carla herself (Judy Reyes) told us at the Race for the Cure this weekend, "We're all acting as if our lives have to go on. Eight years is an extraordinary run. We're so happy, so blessed. We miss each other terribly, but we gotta keep going."
David M. Russell / The CW
Heath in Redondo Beach, Calif.: What happens with Chuck and Blair!?
Here's what I can tell you:
Chuck is coming to his senses (about luuuhhhving Blair).
Blair is hooking up with Carter Baizen, played by Leighton's real-life boyfriend, Sebastian Stan, who just so happens to play a dead ringer for Chuck Bass on NBC's Kings. Some girls get all the naughty boys with smoldering good looks!
Blair is hooking up with Nate.
You'll be surprised at how much the Blair-Nate repairing does not suck (at least, not in its initial stages). Honest.
Chuck and Blair = So. Not. Over. For proof, see photo above!
Deirdre in Boston: Give us some good gossip on Gossip Girl or I'll cry!
Well, we can't have that now, can we?
Serena is arrested, and you won't believe who calls the cops on her.
Rufus buys an engagement ring!
Prom is coming up, and I ask you, what's a Gossip Girl prom without a little roofie action?
Don in Dallas: Kristin, are they killing off Sawyer on Lost?
Yes, they're killing Sawyer off Lost. Other season finale deaths to expect this year: A depressed McDreamy commits surgical hara-kiri with a scalpel on Grey's Anatomy, Blair uses thallium poison to kill Chuck Bass on Gossip Girl, and Jon Stewart is being written out of The Daily Show With Jon Stewart. (Sorry for the bad joke.) To my own personal knowledge, Josh Holloway is not going anywhere (swear). However, it is possible there is a death I don't know about..
Carlos in Carolina, Puerto Rico: Kristin, I read on IMDB that Kiele Sanchez is back on Lost in April. Is this true? Love you from Puerto Rico!
Back at you, bambino! According to Kiele's reps, "This isn't true," and we won't be getting any return visits from Nikki Fernandez in April's episodes of Lost. Guess those buried-alive deaths actually stick!
Marsden in New Jersey: I'm loving One Tree Hill. Anything good coming up?
You longtime fans will love the finale. Two beloved characters return! Guesses? Also, the dearly departed Q, aka Robbie Jones, tells me that his new ABC pilot, Limelight, starts shooting this week and that someone from Heroes has been added to the cast. Stay tuned for next week's Heroes Redux to find out who.
Karen in San Diego: It sounds like Cristina is going to have a difficult week this week on Grey's Anatomy. Is Owen going to be around to offer her a little support, or are we going to have to wait another week for any moments between these two?
Yep, Sandra Oh gets show off her superduper acting mojo this week, as previewed in this clip. She's the only keeper of Izzie's secret, which she has to deal with the exact same week she gets her first solo surgery. As for Owen, I'm pretty sure you'll get a preview of the future of their relationship based on how he handles this crisis with Cristina...
Decker in Miami: Anything on Ethan and Annie on 90210?
Things aren't looking too hot. Adrianna accidentally spills the beans to Annie that Ethan cheated on her. They end up breaking up, but that doesn't mean Rhonda (Aimee Teegarden) will stick around. Ethan wants to be a single man for a while.
Marcia in Chapel Hill, N.C.: 90210 scoop? Is Brenda really adopting Adrianna's baby?
No, Adrianna and Navid decide to keep the baby and get engaged. I'm also hearing that someone is transferring schools midsemester. And Naomi moves in with the Wilsons.
Erica in Brisbane, Australia: House news!
In case you missed it last week, you should know that House executive producer Katie Jacobs didn't deny that more Huddy sex is on the way and confirmed that House and Cuddy are going to smooch onscreen, right in front of us! "You will see them kiss one more time before the end of the season." Hells yeah.
Chad in Millbrae, Calif.: Is there any way we can keep Neal McDonough on Desperate Housewives even though his character Dave is total psychosauce?
Just asked Marc Cherry that and he tells us, "I will tell you quite honestly that I had a discussion with Neal McDonough today. I can tell you, he is not only a great actor, but what a nice guy." But wait, a discussion about what? What did you decide?! Aaargh! The world's hottest melanin-challenged man must stay.
David in Hollywood, Calif.: Heroes scoop please!
With the Hunter now in charge, Peter and Angela Petrelli are on the run! At the Heroes wrap party at Les Deux last night, Cristine Rose told me, "Peter and I take refuge in a church in the next episode, and then we're going somewhere special in the following one." Cristine adds: "The last five episodes, they're really starting to use me more."
Jessica in Wilkes-Barre, Pa.: Can we get some scoop on CSI: Miami? Are they going to continue the storyline with Eric and Callie?
We hit the Susan G. Komen Race for the Cure in Pasadena on Sunday and breast-cancer research advocate and CSI: Miami star Emily Procter would love to see those two get together permanently: "Have you met Adam [Rodriguez]? He is a love. He is the sweetest—I love him. [The producers] were talking to me recently, and they said they didn't know if [Calleigh and Delko] were going to stay together, or if that was good, and I just said, it's good for me personally, after seven years. I promise to do extra crunches if you let me stay in this relationship." You heard the girl. Let's make it happen.
Bruce in Pasadena, Calif.: Are Samantha Who?'s Samantha and Todd ever going to see the light that they should be together?
In the March 26 episode, Samantha and Todd do go out on a date, but before you get too excited, it's a double date to help out BFF Andrea, who is afraid to go out with her text-only BF Tony Dale (McKinley Freeman) alone. Though Sam doesn't view it as a date date, Todd has grown more uneasy about his real feelings for her. Samantha finally realizes the two need to talk about his feelings for her and her feelings about his feelings for her. Confused? So is she. Without giving the ending away, there is a twist at the end that might just put this pair back at square one.
Ty in Atlanta: Hey! You talked about Dollhouse all the time before we could see it, and now that I watch it every Friday I feel like you completely forgot about it! Can I have some dish? It's definitely my favorite new show in a long time.
The Sierra-centric March 20 episode centers around a documentary on whether the Dollhouse urban legend is real or not. There's some sexy time going on behind the scenes in the house, and she's one of the culprits, but the actives aren't the only ones getting hot and steamy—Echo and Paul finally come face-to-face...
Emily in Tulsa, Okla.: When the H are Angela and Hodgins getting back together on Bones? Seriously, we want a full-fledged reconciliation with some lovin' to spare!
No time soon. As Bones bosses Stephen Nathan and Hart Hanson told us last week, there's nothing coming in the finale. But Hart says, "We've always thought that Angela and Hodgins were a couple that should be together. They're destined to be together, but, boy, it's going to be a long, hard road for them."
Ilene in Chicopee, Mass.: Love the reveal in the last ep that the Supernatural boys can go where angels fear to tread! And speaking of angels, any news on Castiel, Uriel or Anna?
Supernatural's very gracious angel in residence Misha Collins tells me, "We just shot an episode where we meet the man who Castiel possessed—the body that he's in—and that was a lot of fun for me to shoot, playing a different character. I think that's episode 20." Can't wait!
Carolyn: Hi, Kristin, any good Chloe spoilers in the Smallville pipeline?
Thanks to Zatanna (Serinda Swan), Chloe and Lois are going to be switching bodies in "Hex," but there could be more crazy stuff for Allison Mack to come. Cassidy Freeman tells me, "I think it's really interesting what they're doing with Chloe. You have this show that has been on for so long, and you have this character that's not really in the mythos and has had to create her own self. You can do anything with her and that's kind of what they're doing."
Madison in N.Y.: How about a good Smallville spoiler?
How's this? Meteor freaks start dying in Metropolis, but don't be so quick to think Doomsday is the culprit.
Becky: So great that Jim remembered himself on Ghost Whisperer, but what's next? Do they still have two guys playing one character?
According to Ghost Whisperer show runner P.K. Simonds, "We might catch a couple of glimpses" of Kenneth Mitchell, the actor who plays Sam, during the remainder of the season, but that's it. And we'll see David Conrad as Jim, but everyone on the show still perceives him as Sam. "He can't resume [his Jim life] exactly, because Sam Lucas doesn't have a license to practice emergency medicine, but obstacles are also opportunities. He finds a new direction that actually allows him to go after a specific dream he's always had." Like, say, Jim's dream of medical school? Looks like Grandview residents might eventually enjoy Jim's bedside manner via Dr. Sam Lucas...
NBC Photo: Eric Liebowitz
Sam in Miami: I loved the premiere of Kings. Will we see how the world came to be in turmoil?
Yes, but not for some time. Executive producer Michael Green says, "We do see some flashbacks. There's room for more. We stay more in the present because right now we're trying to just build up." Even more intriguing: David may turn to the dark side. "I think no one stays good forever," Green teases.
Johanna: What happens with Bobby and P.J. on My Boys? Who does she chose, Bobby or his brother?
I can tell you that Billy Burke (Jack Newman) won't be sticking around for long, if that gives you a hint. The other boys get some action this season as well, but it may not go over so well. Since Stephanie (Kellee Stewart) is leading a seminar on how to break up with men, Mike offers his services, but it all ends with a slap in the face.
Kaitlyn in Seattle: Any scoop on Jesse McCartney's role on Greek?
Andy (Jesse McCartney) and Rusty are going toe-to-toe. They are both going after the same girl, Jordan, but only one will be victorious! Speaking of stealing women, Evan and Rebecca are spending plenty of quality time together this season, including a late-night break-in to get Rebecca's car out of lockup.
—Additional reporting by Jennifer Godwin, Natalie Abrams, Carrie Borzillo-Vrenna, Megan Masters and Drusilla Moorhouse