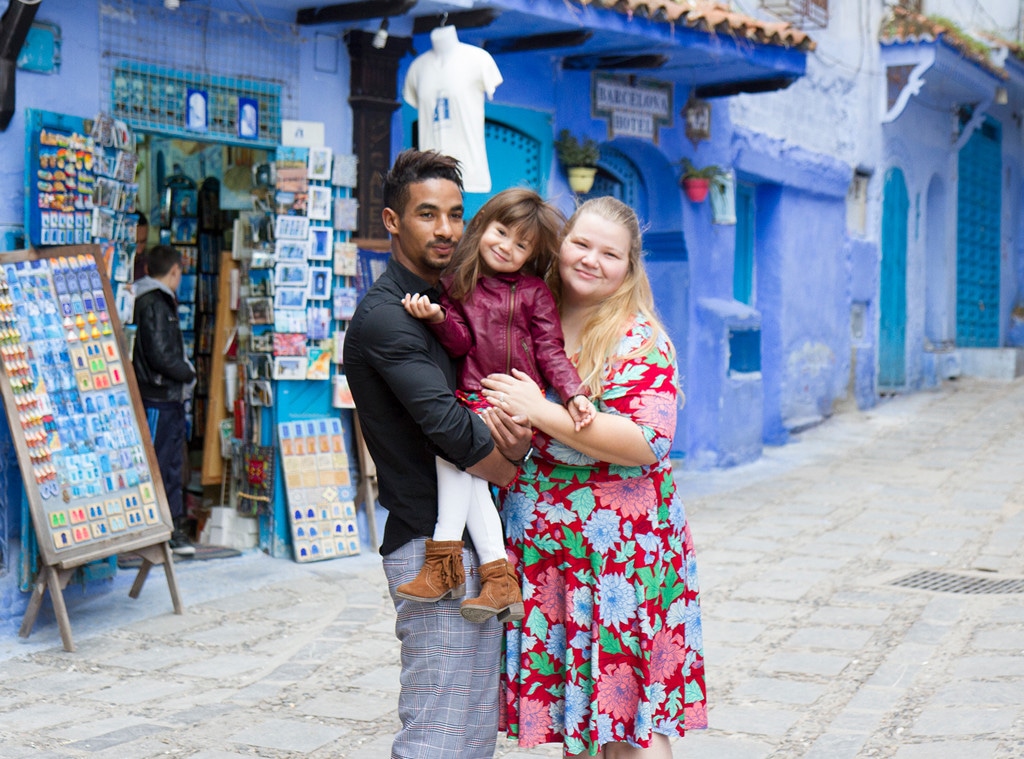 TLC
Impasses, sex therapists and canceled trip—oh my! The couples on 90 Day Fiancé: Happily Ever After? were all over the place in episode six of the hit TLC reality series.
 
For Nicole and Azan, who have yet to actually appear on camera together this season, what was supposed to be a reunion trip…never happened. As Nicole prepared to leave for Grenada with daughter May, she received a phone call that for once wasn't on speaker phone. What happened? Nicole didn't say at first. Her mother, Robbalee, arrived only to find Nicole had disappeared. The trip? Canceled.
 
What happened? Nicole said Azan didn't want to spill any details on camera, and she herself shied away from discussing much in front of them, opting to speak to a producer with the hot mic picking up their conversation. Azan had a "family emergency" but didn't want to say anymore for fear it would make him look bad. All this the day before they were supposed to reunite. Robbalee said Azan is just a scammer, but even after the canceled trip, Nicole won't hear it. Nicole said she's not worried about the trip being canceled, just disappointed.
Here's what else happened:
 
Colt and Larissa
With the court proceedings behind them (for now), Colt wanted to get his relationship with Larissa back on track. However, there's somebody standing in the way: mom Debbie.
 
"My sexual life with Colt is a disaster because I'm not a blow-up doll," Larissa told cameras. "I no longer trust Colt as a human and I have no sexual desires because he called the police against me and I was arrested."
 
The couple visited a sex therapist who urged them to go out on dates together—and get their own space. Back at their shared home, Larissa clashed with Debbie over the in-home slot machine. Seems like this is not going to end well.
Elizabeth and Andrei
The pregnant couple continued to clash over Andrei's lack of job. After encouraging him to ask her dad for a job, Elizabeth fessed up to Andrei that she received money from her dad in order to move out of the house her dad was letting them live in rent free. And in case you forgot, Elizabeth is also employed by her father.
 
Chantel and Pedro
A night out with her friends and a phone call with another pal convinced Chantel that she needed to go to the Dominican Republic in order to save her marriage. There, Pedro's family continued to speak ill of her. When she told him of her plans to come to the Dominican Republic, Pedro became upset with Chantel and told her not to come. She bought the ticket ahead of time and was on her way. When Pedro told his family she was coming, they became very upset and vowed not to speak to her and to treat her how they perceived her family treated Pedro.
Russ and Paola
Back in Miami, Paola said she felt bad about immediately rejecting Russ' idea about moving back to Oklahoma for a job. And Russ said he should've seen that now was not the right time to even approach the subject as Pao was in the thick of her pregnancy. She received a shot to help her avoid the same problem she wan into with her first pregnancy that ended with a miscarriage and opened up about her fears.
 
"I don't think I would be able to go through a miscarriage again. I love this baby so much that it scares me to think something bad is going to happen," Paola said.
Ashley and Jay
Ashley's trip to New York came to a close and she made her way back home to Jay, who was still upset about her adventures in the Big Apple. However, Ashley determined she wants to work on the relationship with Jay, but is still not 100 percent sure she made the right decision.
 
90 Day Fiancé: Happily Ever After? airs Sundays, 8 p.m. on TLC. 90 Day Fiancé: The Other Way premieres Monday, June 3 at 9 p.m. also on TLC.