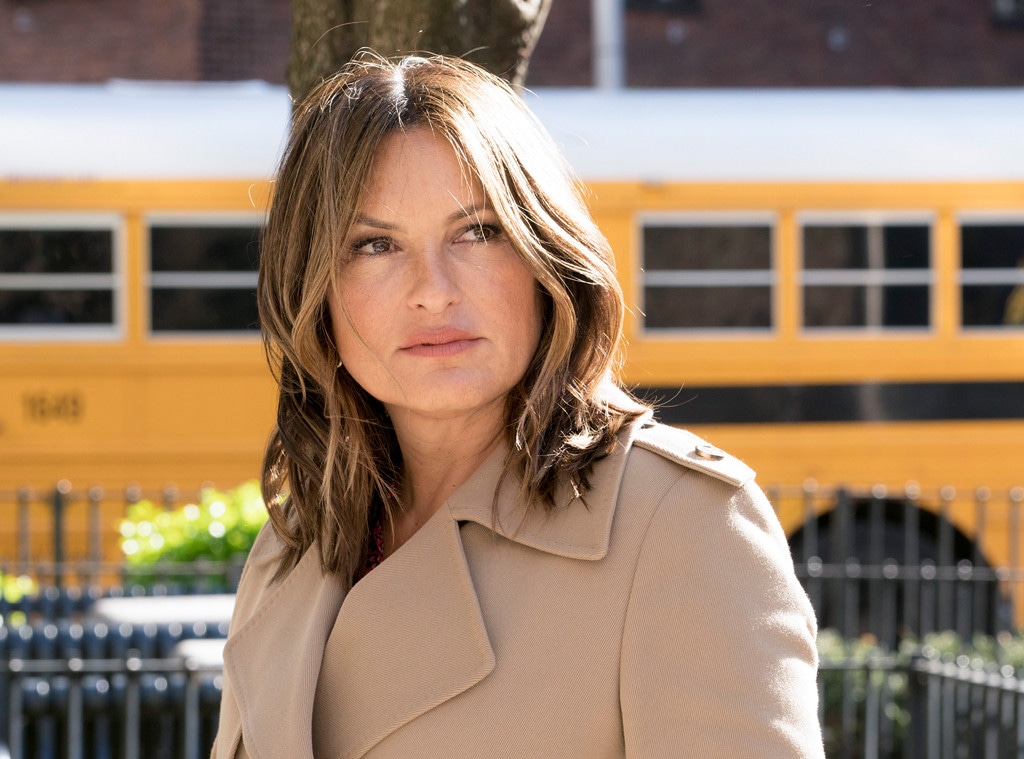 NBC
It's been nearly a decade since Law & Order: SVU had an out member of the LGBTQ community as part of its series regular cast. Time for that to change.
With the historic season 21 on the horizon—and an empty assistant district attorney spot to fill—it's time SVU introduced a new LGBTQ character. The ADA role is the perfect place for that.
In 2015, Peter Scanavino and then-series star Raúl Esparza both told E! News it was time for the series to have a character from the LGBTQ community and Scanavino said he'd be more than OK with it being his then-new character, Detective Dominick "Sonny" Carisi.
"I think it would be cool because it would kind of against type, you know what I mean? And I think it would be interesting," Scanavino said during a set visit in 2015.
However, that never happened. It still could, but it probably won't.
Outgoing showrunner Michael Chernuchin oversaw the show for seasons 19 and 20 and told E! News writers were discussing LBGTQ representation on the show.
"Let's put it that way. We have a core group of people, I don't think we need any new people on the show. But we deal with those subjects on a weekly basis; it's just that not one of our characters is a member of that community," Chernuchin told E! News in March 2018.
Under Chernuchin, the show eventually introduced Sandrine Holt as Lisa Abernathy, a psychologist who consults on cases for the Manhattan district attorney's office. The character was a gay mom of two kids. She only appeared in three episodes of season 20.
Introducing an ADA who is a member of the LGBTQ community would prevent the disappearing act that tends to happen with a recurring character.
Philip Winchester's ADA Stone replaced Esparza's ADA Barba in season 19, but Stone was not long for the world of SVU. The character departed in the season 20 finale, leaving the door open for returning showrunner Warren Leight to introduce a new face to the squad. And Leight is the perfect person to introduce an LGBTQ character to the elite squad of detectives.
During his previous tenure on the show (season 13-17), Leight revitalized the long-running drama by focusing on what makes the characters tick, both in and out of the squad room. Under his guidance, Mariska Hargitay's Olivia Benson grew in her position at work and outside of police work. She started dating, she adopted a baby.
"She has a personal life. This notion that she had to be unhappy seemed wrong to me. And the show had been on for so long, that if that was the initial conceit, her character needed to age out of that…I had this with Chris Noth on [Law & Order: Criminal Intent]. The rakish bachelor at 35 is one thing, at 50 it doesn't look as good. So, the show had been on so long that you couldn't keep people frozen. They needed to mature and evolve," Leight told E! News on set of the season 17 finale in 2016.
At the time of his exit, Hargitay told E! News Leight took the show to new heights.
"Really, when he came, I knew he was brilliant, a genius, but after 12 years I thought, 'Where are you going to go with it?' And where he's gone with this has just been absolutely remarkable," she said. "These sort of personal notes that he so beautifully weaves in—I just think he's such a beautiful writer. So empathetic, and he and I connect so much because we're both so [Laughs.] emotional as people. He pitches me stories and wells up. He's a very beautiful, empathetic and deeply talented writer."
Yes, SVU has had LGBTQ characters come and go since BD Wong played Dr. George Huang, but many of them were victims with an emphasis on go. Now it's beyond time SVU had a series regular character who was also a member of the LGBTQ community. The wealth of storylines that could be explored are endless, especially when a character's personal life is considered. Representation matters, especially now that SVU, one of the world's most popular TV shows, is entering its record-breaking 21st season.
Law & Order: SVU returns with its historic season 21 on Thursdays at 10 p.m. this fall on NBC.
(E! and NBC are both part of the NBCUniversal family.)