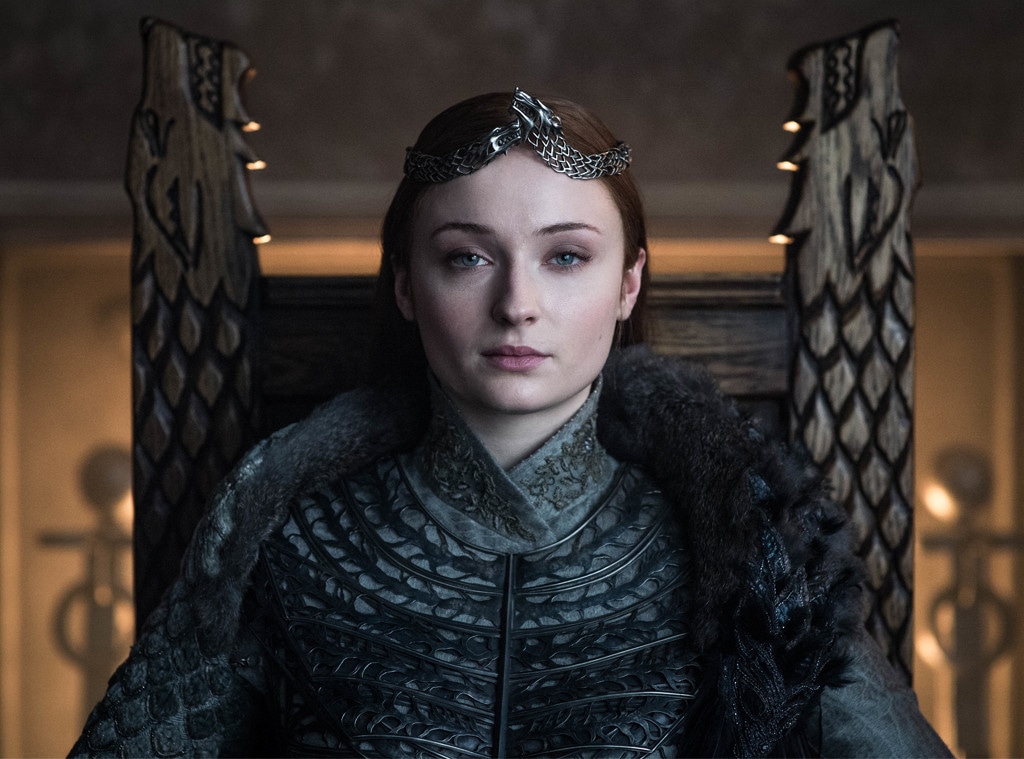 Helen Sloan/HBO
Like Kit Harington before her, Sophie Turner is ruling out any Game of Thrones spinoffs. Despite what happened to her character Sansa Stark, Turner is closing the book on her time in Westeros.
"I think it's time to say goodbye to Sansa. I'm ready-ish, to say goodbye to her. I think my watch has ended. It's been 10 years of my life and the best 10 years of my life by far," Turner told Sky News while promoting her new X-Men movie Dark Phoenix.
Game of Thrones ended with Turner's Sansa Stark taking the North out of the Seven Kingdoms and becoming Queen in the North once and for all. Meanwhile, Harington's Jon Snow went north of the wall to live with the Wildling and Maisie Williams' Arya Stark set sail to explore what's west of Westeros. Isaac Hempstead-Wright's Bran Stark became king.
"I feel like if I played her again it would be just be more trauma," Turner said about Sansa, noting she was left in a good place.
Turner and Williams previously joked with E! News they'd be on board for a spinoff about the Stark sisters.
"Oh, I would sign up for that!" Williams told us.
"I would sign up for that, I wouldn't sign up for any other spinoff…I wouldn't sign up for any other spinoff unless Maisie was in it," Turner said.
"Nice, me neither," Williams said.
"And no one else," Turner added.
A Game of Thrones prequel is in the works at HBO with Naomi Watts set as star and network honcho Casey Bloys said there won't be any spinoffs with characters from the main series.
"Nope, nope, nope. No," he told THR when asked about the spinoff possibility. "Part of it is, I do want this show—this Game of Thrones, [D.B. Weiss and David Benioff]'s show—to be its own thing. I don't want to take characters from this world that they did beautifully and put them off into another world with someone else creating it. I want to let it be the artistic piece they've got. That's one of the reasons why I'm not trying to do the same show over. [George R.R. Martin] has a massive, massive world; there are so many ways in. That's why we're trying to do things that feel distinct—and to not try and redo the same show. That's probably one of the reasons why, right now, a sequel or picking up any of the other characters doesn't make sense for us."
Over the years, especially in the last season, Game of Thrones went to great lengths to keep the secrets of the show. The show used fake names for cast members, blocked cameras and sent scripts in a special way. Turner told Sky it's nice not to have to keep secrets.
"But now I miss it. As soon as it finishes, now I'm like, 'I wish I was still keeping those secrets. I wish I had snipers at my head—HBO snipers,'" Turner said.