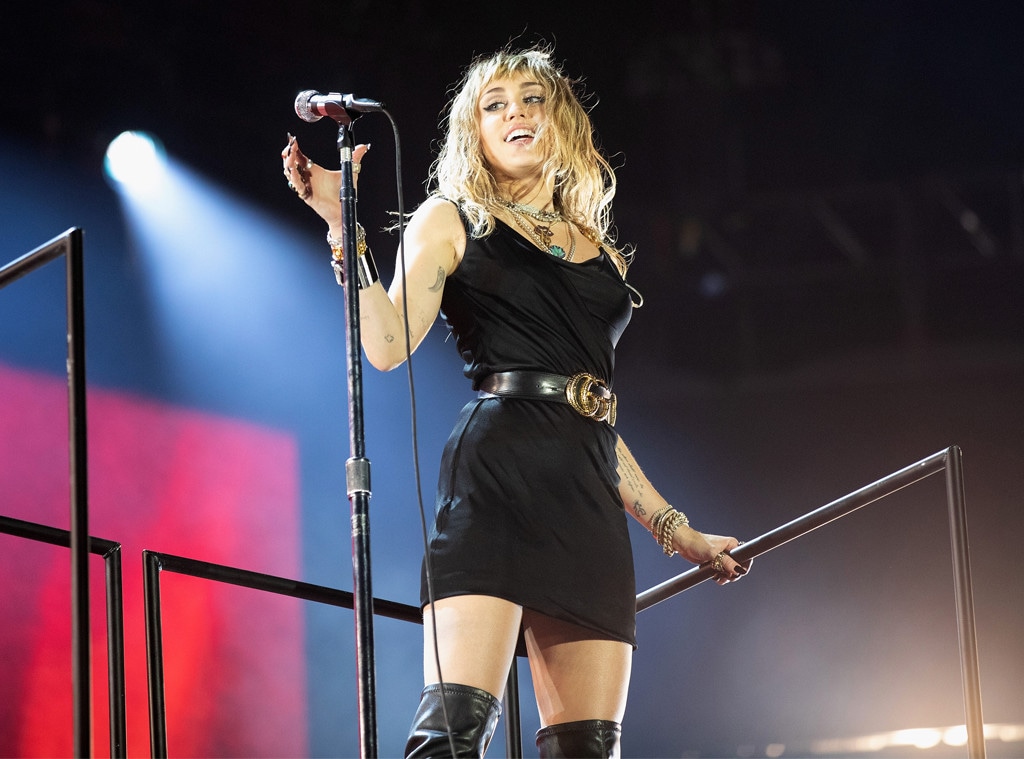 Jo Hale/Redferns
She is here!
Miley Cyrus is back with new music! The 26-year-old singer has just dropped her EP, She Is Coming, featuring six new tracks. The EP starts out with the song "Mother's Daughter," followed by "Unholy" and her song with Ghostface Killah, "D.R.E.A.M." The fourth track on the EP is "Cattitude," featuring RuPaul. This track is followed by songs "Party Up the Street," which Cyrus worked on with Swae Lee and Mike WiLL Made-It, and "The Most."
Prior to the EP's release, Cyrus had been teasing her new songs on social media and in interviews.
"I've been working on [the EP] since last year, kind of early last year," Cyrus said on Capital Breakfast with Roman Kemp. "I kind of had the record turned in and done. I've been working with Andrew Wyatt from Miike Snow, Mike WiLL who I've worked with a ton obviously in the past."
Cyrus went on to talk about her collaboration with Mark Ronson on "Nothing Breaks Like a Heart."
"Me and Mark created such a good connection when we did 'Nothing Breaks Like a Heart' that then, everything kind of changed for me," she explained. "We went in and started even personalizing the record even more."
Cyrus said that the "biggest compliment" she's received about the record so far is that it's "something that they didn't know they needed" because they "didn't know it existed."
The superstar called the EP a "combination" of places she's been in her life, from traveling to experiences, and things she's learned along the way.
Now that She Is Coming has arrived, let's decode the lyrics to Cyrus' new songs.
"Mother's Daughter": Shout-out to Tish Cyrus—In her first track, the singer sends the message, "Don't f--k with my freedom." Cyrus continues with the powerful lyrics, "I came back to get me some/I'm nasty, I'm evil/Must be something in the water or that I'm my mother's daughter."
"My mama always told me that I'd make it/That I'd make it, so I made it," Cyrus later sings. "I put my back into and my heart in it/So I did it, yeah, I did it."
"Unholy": Cyrus wants people to "let me do me" in this second track. "Wake up in the middle of a breakdown/Have sex on the table with the takeout," Cyrus sings. "I'm sick of the faking, the using, the taking, the people calling me obscene/You hate me, you love me, you just wanna touch me/I'm only trying to get some peace, so let me do me."
"D.R.E.A.M.": Cyrus gets even more personal on this third track, referencing her relationship with drugs. "Always last to leave the party/Drugs rule everything around me," Cyrus sings. "Wake up with new tattoos on my body/Drugs rule everything around me/Hit the ghost, raise a toast, pop the molly/All the girls in my room look like Dolly."
"Cattitude": Days before the release of the EP, Cyrus debuted some of her new music at BBC Radio 1's Big Weekend show. During her performance, Cyrus introduced her fans to new track "Cattitude," as well as "D.R.E.A.M." and "Mother's Daughter."
In "Cattitude," Cyrus references Nicki Minaj and Cardi B, rapping, "I love you Nicki, but I listen to Cardi."
While the lyric raised eyebrows, Cyrus made it clear on Capital Breakfast with Roman Kemp that she's not throwing shade at the artists.
"They're both queens," Cyrus said. "And anytime you want to feel powerful and strong, that's my go-to, Cardi and Nicki."
The song also opens with a fun RuPaul cameo. As fans will recall, Cyrus appeared on the season 11 premiere of RuPaul's Drag Race earlier this year.
"Party Up the Street": Cyrus and Swae Lee are giving their fans a new summer anthem with this new collab. "Party up the street, even though there is no place to park/Party up the street, and you know what happens after dark," Cyrus and Swae Lee sing on the track. "The way that you movin' your body, I want money/Soon as I put it on you, you wanna guard me/We didn't come this close for nothing/We didn't come this far for nothing."
"The Most": Cyrus appears to reference her relationship with husband Liam Hemsworth in this last song. "Oh, and even in my darkest days, even in my lowest place/You love me the most," Cyrus sings. "And even when I can't stay, even when I run away/You love me the most."
She Is Coming is available now.