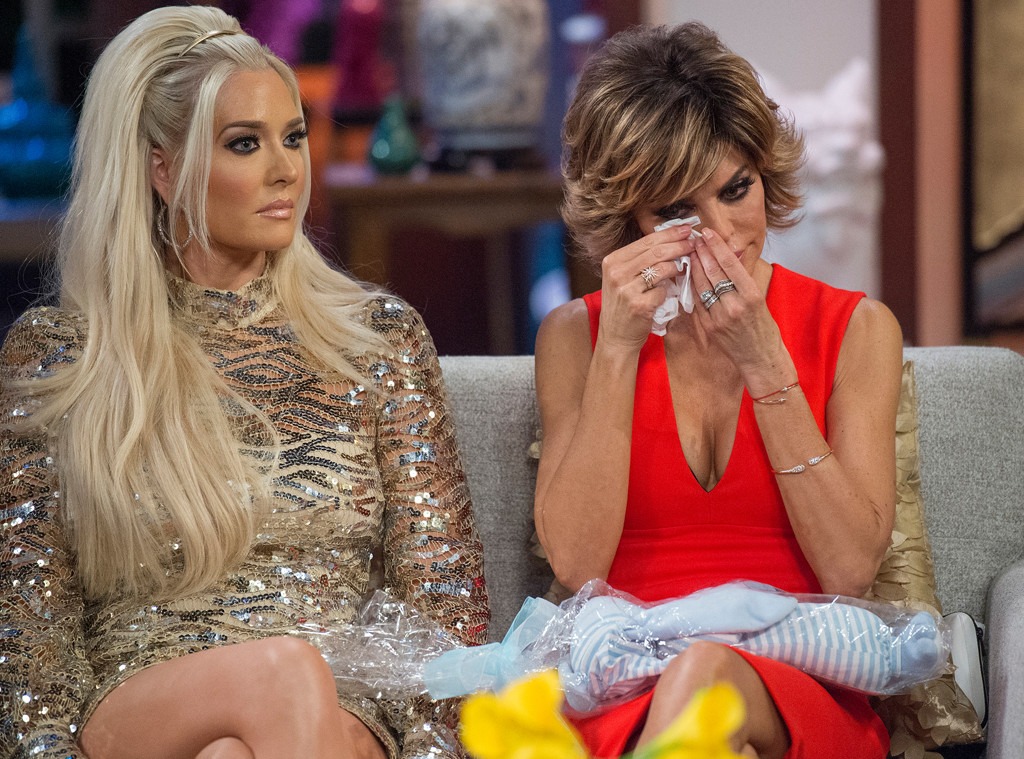 Bravo
Denise Richards did something some thought impossible: She helped end the Bunnygate feud between Lisa Rinna and Kim Richards on The Real Housewives of Beverly Hills.
At Farrahween, Kyle Richards' daughter's Halloween-birthday party, Lisa and Kim crossed paths for the first time in roughly two years (save for that dinner seen earlier this season).
"I knew sooner or later I'd run into her somewhere, but I didn't quite expect it to be here, and I know that I had just been doing my own thing. I knew she was there, but didn't care," Lisa said on The Real Housewives of Beverly Hills aftershow.
Lisa was dressed as her costar, Erika Jayne, and was committed to the character. In a group photo, Lisa, "as Erika," said Kim giving the bunny back to Lisa was a "c—ty." "I was like f—k no, I'm not taking a picture of you. I wouldn't take a picture with anybody…I was really over the top at this point," Lisa said.
And once Lisa dropped the c-word, things took a turn, to the surprise of Denise.
"To me, I was like, it's the ice breaker, let's laugh about that s—t moment that we both had on camera," Denise said.
"'Cause it wasn't just my moment, it was her moment too. That was a s—t moment for both of us," Lisa said referring to The Real Housewives of Beverly Hills season seven reunion where Kim returned the bunny Lisa gifted to Kim's grandson.
"Once I said it, I had such a rush of adrenaline, it was such a great f—king feeling, I gotta tell ya. I said it and I walked on," Lisa said about finally confronting the elephant—or bunny—in the room at the Halloween party.
After Kim started to make a stink about the situation, Denise defended her pal and pointed out it's not about the costume, it's about a stuffed animal that hurt everyone's feelings. After that, Kim and Lisa had a meeting of the minds—out of character—and seemed to put it all behind them, bunny and all.
"We did in that moment," Lisa said.
The two women apologized to each other and ended the conversation with a hug.
"I feel like she too wanted to move forward. Like, who wants to carry this baggage around?" Lisa asked.
"It seems like sometimes a lot of people do. Some people seem to hold on to grudges here," Denise laughed.
With the help of Denise Richards and an Erika Jayne costume, Lisa and Kim mended fences. Bunnygate is over. For now.
"I'm very happy because we walked off arm and arm for f—k's sake," Lisa said.
The Real Housewives of Beverly Hills airs Tuesdays, 9 p.m. on Bravo.
(E! and Bravo are both part of the NBCUniversal family.)