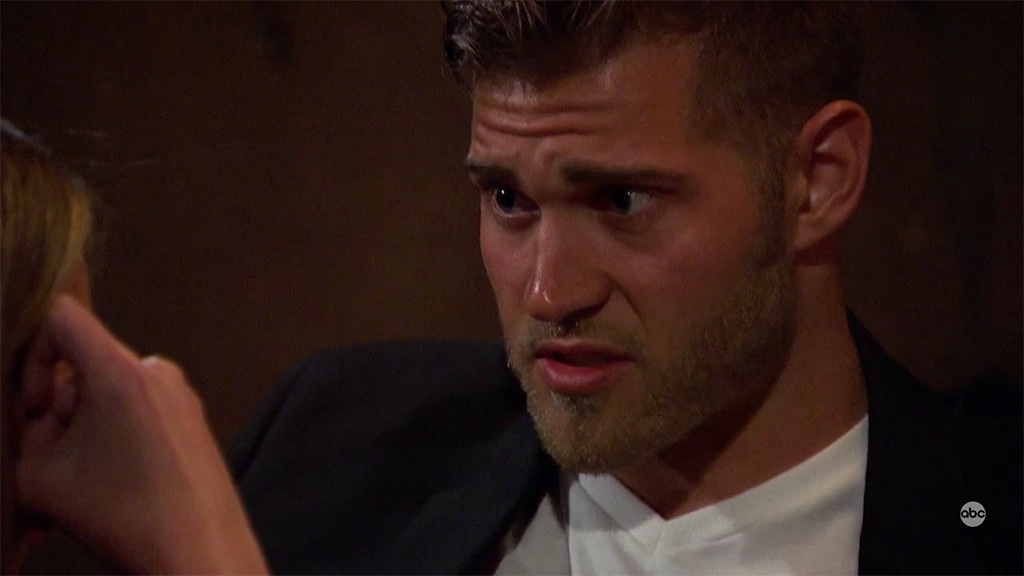 ABC
Luke P. learned an important lesson on last night's episode of The Bachelorette. 
Never, ever say to a woman in the middle of a speech: "Can I just cut you off for a second?" 
Also don't forget you're on a reality show where the whole point is that the woman of your dreams is dating like 18 other guys, because if you do, and that woman is Hannah Brown, you might just get knocked down a few pegs. 
Hannah pulled Luke aside to tell him she was "irritated" with him during the post-date cocktail party, because he couldn't seem to wrap his mind around the fact that other relationships existed and just be satisfied with the fact that their relationship was working. 
Onscreen, Luke began to panic, and offscreen, the internet praised Hannah for her handling of Luke's overly intense confidence. 
Luke has now spoken out on Instagram about his behavior, and at the very least, he's acknowledging that he's got some flaws as a man. 
"I just want to address the elephant in the room here really quick," he began his post. "First I want you to know how hard it has been for me to watch myself this season so far. Regardless of what is aired AND IF [Hannah] and I are together or not my behavior in all situations has been and will continue to be exposed. I have learned a lot and I am continuing to learn about my flaws as a man. I'm the first to admit I am far from perfect. This journey has given me a great opportunity to grow and mature as a man, and for that I am grateful." 
You can read the full post below. 
Luke and Hannah's little moment of reckoning came in an episode filled with drama. Hannah had to go to the hospital after passing out, Cam did his best to continue to Always Be super annoying, and Tyler G. mysteriously had to leave. 
Meanwhile, the rest of the guys (inadvertently) did their best to climb up our ladder of winners and losers. Jed is still at the top, but who's at the very bottom? Bet you can totally guess. 
The Bachelorette airs Mondays at 8 p.m. on ABC.