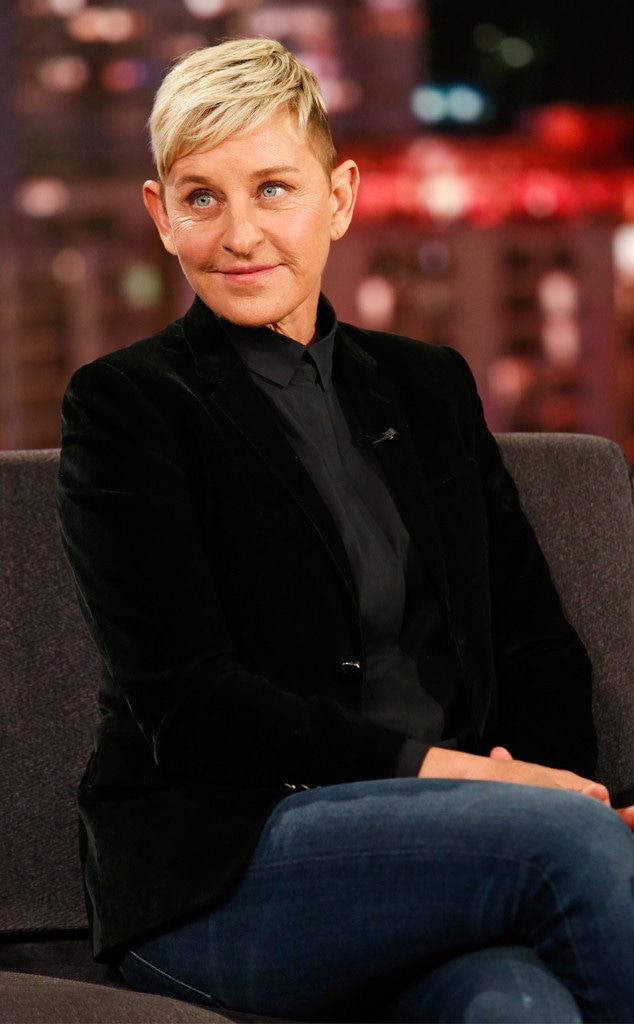 Randy Holmes/ABC via Getty Images
Ellen DeGeneres opened up about some very personal moments from her past during her interview with David Letterman on his Netflix show My Next Guest Needs No Introduction.
Her interview with Letterman broached all types of subjects, but there were a few that really shined a new light on the Ellen host. The comedienne spoke to the former late night host about some highs and lows in her careers, her wife Portia de Rossi ("she's fantastic") and coming to terms with her sexuality.
In anticipation of DeGeneres' full interview with Letterman, which airs May 31, these are three of the biggest revelations we've learned thus far.
She was sexually assaulted by her stepfather when she was a teenager. At one point in their discussion, the Finding Dory star recalled a "horrible, horrible story" and why she's here talking about it all these years later.
"I'm angry at myself because I was too weak to stand up—I was 15 or 1," she revealed. "I mean, it's a really horrible, horrible story and the only reason I'm actually gonna go into detail about it is because I want other girls to not, you know, ever let someone do that."
It first occurred after her mother was diagnosed with breast cancer and had to have one of her breasts removed. 
"They had a very, very sexual relationship, which was also very uncomfortable for me," DeGeneres said. "And he told me when she was out of town that he'd felt a lump in her breast and needed to feel my breasts because he didn't want to upset her, but he needed to feel mine."
GP Images/Getty Images for TINEPUBLIC
She continued, "Again, 'cause I didn't know about bodies, I don't know that breasts are all different. Anyway, he convinced me that he needs to feel my breasts and then he tries to do it again another time, and then another time, he tried to break my door down, and I kicked the window out and ran 'cause I knew it was gonna do–it was gonna go more to something."
DeGeneres explained she didn't want to tell her mother because "I was protecting her and I knew that that would ruin her happiness."
The 61-year-old waited a few years to tell her mom and when she finally did, her mom "didn't believe me." DeGeneres' mom and this man ended up staying together for another 18 years, which made DeGeneres feel "really angry."
"What most women do is, we just don't feel like we have a voice. And that's the only reason that this is the first time I've ever talked about this to anyone other than my friends. We just don't feel like we're worthy, or we're scared to have a voice and we're scared to say 'no,'" she said.
DeGeneres told Letterman that now was the time for women to "have a voice" and "have power."
She asserted, "It angers me when victims aren't believed because we just don't make stuff up." 
Her female best friend kissed her in high school. DeGeneres talked to Letterman about her high school relationships and how she dated men but also had some other secret trysts with her best friend. 
"I had boyfriends and I liked them," she told Letterman. But one day, "out of nowhere," her best friend professed her love to DeGeneres and told her she wanted to kiss her. 
DeGeneres said, "Once we kissed, that felt completely different than the boys I'd been with." 
She shared that she "didn't understand it" at first when she uttered the word "gay" out loud to describe herself. After coming out publicly, she said that "no one wanted to hire" her and she felt, "If you are different, stay quiet."
That was similar to an anecdote she told Ryan Seacrest in 2017.
"It felt horrible because I had worked so hard to be truthful and to come to terms of my shame of hiding something that I knew wasn't wrong … It was a hard balance," she said. "What's more appealing than anything is honesty."
Christopher Polk/Getty Images for People's Choice Awards
An astrologer gave her hints about a revived career later in life. According to DeGeneres, she went to Ojai after her first show got cancelled where she met the animator creating Finding Dory. Not long after that, she met an astrologer who told her, "When you're 45-years-old, you're going to start a brand new job."
The astrologer told her this "brand new job" would last 20 years and subsequently make her "more famous" and help her "make more money." 
Spooky (or, coincidentally, depending on whether or not you believe in astrology) enough, DeGeneres was 45 when she started her talk show. 
"I talk to her every year now," DeGeneres explained. "She's always right.
DeGeneres herself even seems perplexed and fascinated by the alignment of the astrologer's claims to reality. She added, "I don't understand it. I believe our intention creates reality."
Perhaps the astrologer was correct once again because DeGeneres recently announced that she signed on for three more years of her hit show, The Ellen DeGeneres Show.
David Letterman's show My Next Guest Needs No Introduction also features interviews with Kanye West, Tiffany Haddish, Lewis Hamilton and Melinda Gates. It premieres on Netflix May 31.