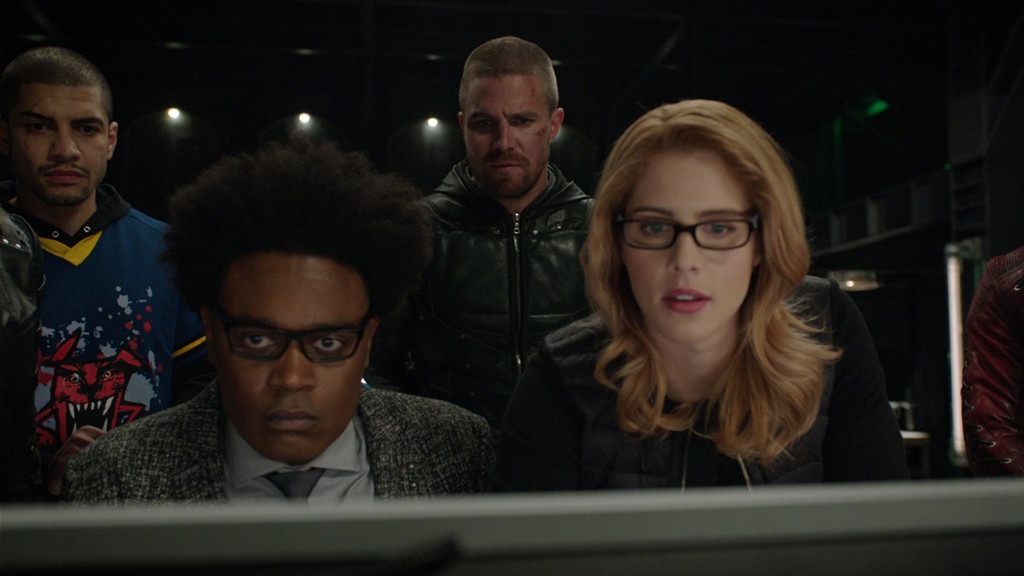 The CW
We have likely seen the last of Felicity Smoak. 
After it was announced that season eight would be Arrow's last, Emily Bett Rickards announced that she would be leaving at the end of season seven, and we'd be saying goodbye to Felicity just a few episodes later. 
The season seven finale sent Felicity into hiding in the present day, in a cabin where we know she'll raise her and Oliver's daughter into the Mia we all know and love. In the future, Felicity stepped back from her work as a vigilante, visited Oliver's grave which listed his death in 2019 (hello, 2019 crossover), then had the Monitor take her to wherever Oliver is, from whence she can never return. 
Even as the Monitor claimed she could never return, the door remains open for Rickards to come back in the final season, as showrunner Beth Schwartz told us ahead of the finale. 
"We would welcome her to come back whenever works for her," Schwartz told us. "I'm not saying anything, but definitely it would be great to have her back at some point next season." 
In a recent interview with Collider, Rickards says she has no plans to return. 
"I feel like Felicity has done her time," she told the site. "I don't know if anybody is going to like what I'm saying, but I feel like Felicity has done her time. We knew this was coming for a while--for over a year--so the whole thing is exactly what we wanted to happen. I trust the writers, and that's in their hands." 
In fact, she plans to take a break from TV in general. 
"I think I'm going to take a break for a while and do a little bit of theater, coming up in New York," she said. "And then after that, I'm hoping to continue doing theater for a little bit longer. My friends are a bunch of creative geniuses, so no matter what, that's the way I'm going right now. I'll never say no to doing TV again. For now, life has changed dramatically already." 
She's currently starring in the movie Funny Story, about a well-intentioned father who inadvertently wreaks havoc on the life of his estranged daughter. 
Stephen Amell, on the other hand, recently made an appearance at a convention and said he'd be happy to come back as Oliver Queen on another Arrowverse show in the future...which makes sense, since he's the title character and the superhero who started it all (in this 'verse, anyway). 
"I owe so much to them," he said at MegaCon 2019. "So if five years from now, they're wrapping up Show X and they were like, 'You know what would be the cherry on top of the sundae? Would you come back?' What am I going to say? No?"
"If it's a sh--ty idea I'd say no," he continued. "You do what you can. I owe a lot to people, so if they need something from me, they can always have it." 
Rickards is, of course, not the first star to leave a show before its ending, and if she does change her mind and decide to make an appearance in the final season, she'll join the below list of stars who made cameos as their former shows came to an end. 
Arrow will return to The CW in October, and will end in January.