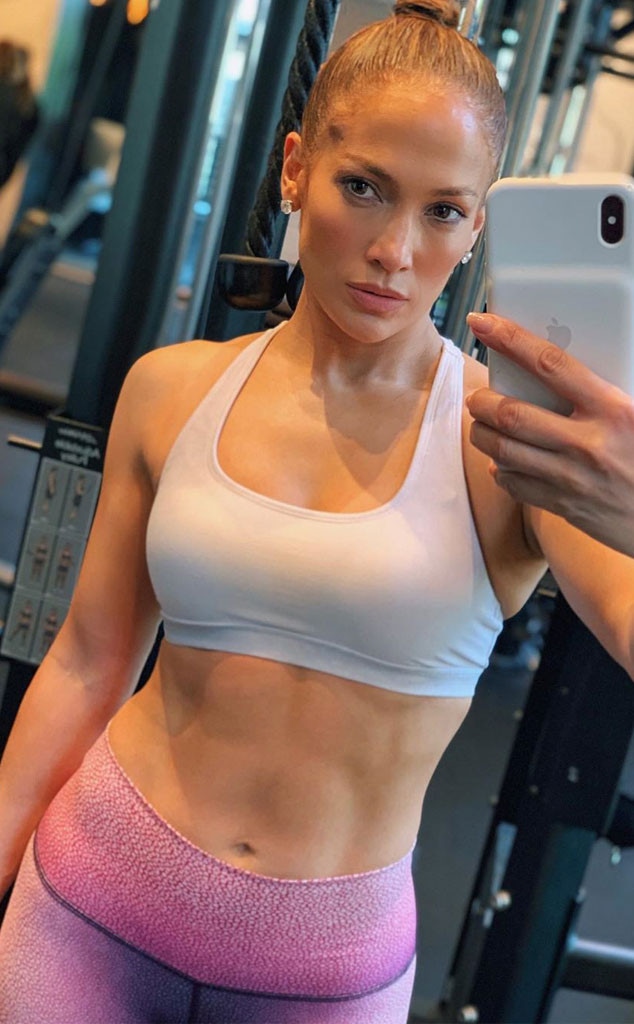 Instagram
Jennifer Lopez is once again proving that she's simply unstoppable.
The multi-talented artist is only a few weeks from launching her It's My Party tour, which kicks off on June 7 at The Forum in Inglewood, Calif. She turns 50 the day before the last show of her tour, which ends in Miami.
Per usual, J.Lo has been hitting the gym and putting the rest of us to shame with her well-toned body that she regularly (and understandably) flaunts on social media.
On Saturday, the 49-year-old posted a selfie on Instagram that showed her at some point during her workout. The "Dinero" singer wore a white sports bra and pink pants and her six-pack abs were on full display.
"Getting it in right before rehearsals. Almost tour time," she captioned the selfie.
J.Lo also shared some videos of her workout on her Instagram Story that show her doing some arm and upper-body exercises with what's likely very heavy weights.
She wrote on one video, "Calling in sore tomorrow."
She added in another slide, "Gotta work before we party."
In March, the Second Act star made jaws drop around social media when she added a picture of herself in a hot pink bikini. While the bathing suit itself was impressive, her rock solid core was the real focal point of the picture.
It turns out that the bikini was just J.Lo "on set and in character" for her role in the upcoming film Hustlers, which also stars Cardi B, Lili Reinhart, Constance Wu, Julia Stiles and KeKe Palmer.
No one is a bigger fan of J.Lo's accomplishments than her fiancé Alex Rodriguez. The lovebirds got engaged March 9 during a romantic getaway to the Bahamas, but he's been cheering her on since day one.
In April, A-Rod gushed about J.Lo's "superpower" that makes her all the more special to him. He told the New York Times in an interview, "I've never met anyone who's more honest. She's so authentic and genuine."
He went on, "It was strange to see someone of such magnitude be so normal, be such a great mother and partner and friend. How can you be like this and then go perform in front of 80,000 people? But that's her superpower."