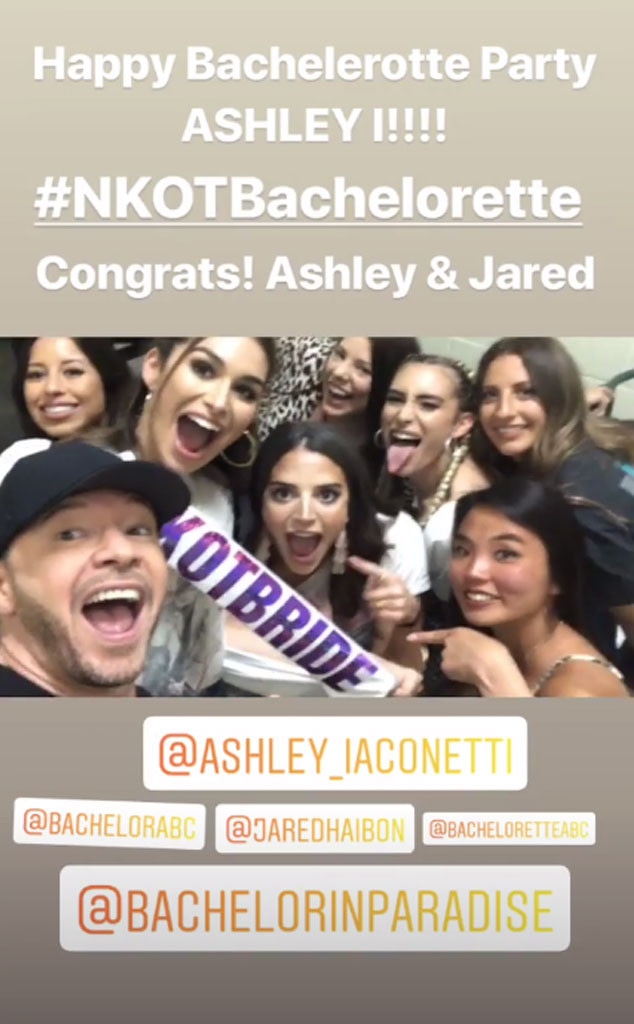 Instagram
Step by Step, Ashley Iaconetti is getting closer to her dream wedding to her love Jared Haibon.
Ashley (a.k.a. Ashley I. in Bachelor Nation circles) celebrated her upcoming nuptials with some girlfriends over the weekend for her bachelorette party. The evening was dubbed her #NKOTbachelorette and she even wore a sash that said NKOTBRIDE.
The Bachelor in Paradise star hopped on a party bus with her friends and the big group attended the New Kids On The Block concert at the Honda Center in Anaheim, Calif. on Friday night. Donnie Wahlberg, one of the lead members of the band, took pictures and videos with Ashley and her bachelorette party at the concert. 
"Happy Bachelorette Party ASHLEY!!!!!" he wrote on his Instagram Story above a Boomerang of the group. "#NKOTBachelorette congrats Ashley & Jared!"
Wahlberg also tagged Jared, The Bachelor, The Bachelorette and Bachelor in Paradise's official Instagram pages.
Wahlberg's wife Jenny McCarthy also shared a photo alongside the bride-to-be. Ashley commented, "This is so special!!!! [Heart emoji] u!! So glad you're here tonight!!!"
Ashley and Jared sure have a love story for the ages. After much will-they-or-won't-they on Bachelor in Paradise (not to mention many tears), the two of them finally announced they were dating in May 2018. They say good things come to those who wait, which means Ashley and Jared have many a great thing to look forward to.
A few weeks after going public with their relationship, which comprised of a 44-minute video called "The Story of Us," Jared got down on one knee and proposed back where it all began: the Paradise beach.
Amy Plumb for iHeartRadio
"The Story of Us" was just the beginning for these two when it came to YouTube TV shows and specials. Jared and Ashley as well as Bachelor Nation alums Nick Viall, Tanner Tolbert and Jade Roper are all starring in a new YouTube series produced by KineticContentTV called "What Now?"
The first two episodes of the show came out on May 21 and delve into some big moments for all the couples involved (and Nick). 
For starters, Jared moves into Ashley's apartment that she shares with her sister Lauren Iaconetti and he has to adjust to not having as much space as he thought he would.
"It's very female. It's very sparkly. It's very glam," he said at one point.
Meanwhile, Tanner and Jade are making a big move from Kansas City to Orange County, much to the delight of Nick, Ashley and Jared.
Ashley and Jared recently opened up to E! News about their relationship and its progression from friends to nearly newlyweds. It's just a few more months before they exchange vows!
According to Jared, their feelings weren't always in sync when it came to starting a relationship. He explained to E! News exclusively, "We did develop a friendship on the show even though it was this weird one where she had romantic feelings for me and I had more friendship feelings, but there was this rapport and chemistry that we had where we loved hanging out with each other."
He added, "I saw her at this charity event in Virginia a couple months after Paradise and seeing her in her element, planning this event and really just working it the entire weekend, I knew that there could be something more between us."
Jared also discussed what he thinks makes he and Ashley so different from other franchise relationships.
"I think we're different than any other Bachelor couple in that we had developed this strong friendship over the years before becoming boyfriend and girlfriend, where a lot of other couples that come from the franchise they become boyfriend/girlfriend and then fiancées very quickly after that," he explained.
"Ashley and I got to see each other outside, in our lifestyles and how one another would fit in that—friends groups, careers, places we want to live, things of that nature. We got to cultivate that friendship before we started dating."