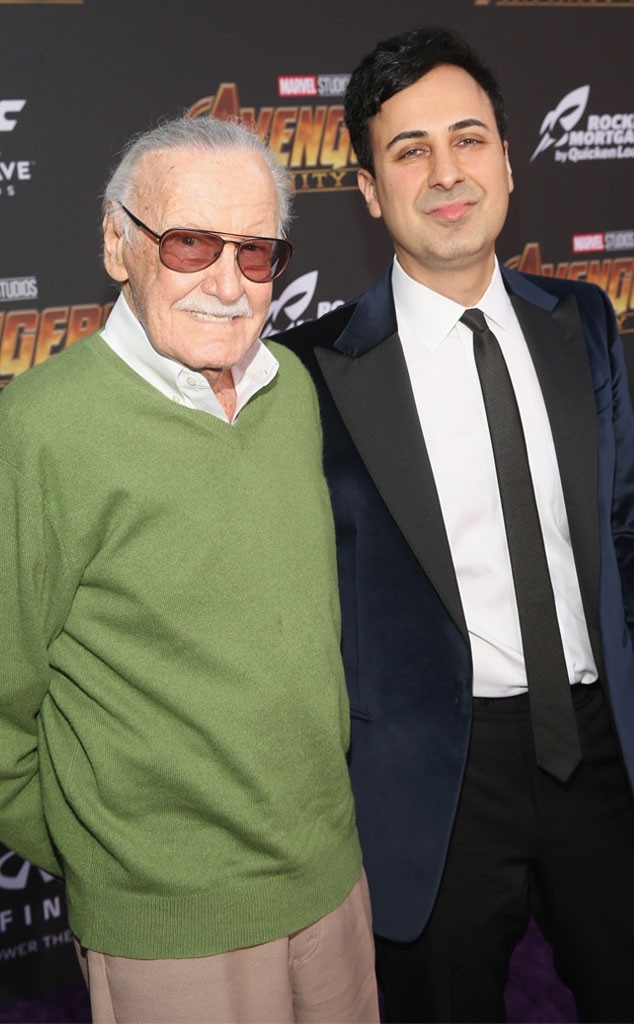 Jesse Grant/Getty Images for Disney
Stan Lee's former business partner Keya Morgan was arrested in Arizona this weekend for alleged elder abuse.
"This morning, Scottsdale and Phoenix Police Department in collaboration with LAPD Commercial Crimes Detectives arrested Keya Morgan on an outstanding Arrest Warrant issued by the Los Angeles County District Attorney's Office," read an LAPD statement to E! News. "Morgan will go before a judge and eventually extradited to Los Angeles to face charges."
"Mr. Stan Lee, the 95-year old Marvel Comic Book creator/icon who passed away on November 12, 2018 from pre-existing medical conditions, had been the victim in an elder abuse estate investigation that began in March 2018," the statement said. "Mr. Lee had a large estate worth over an estimated $50 million with no clear protection from opportunists who could insert themselves into his life and take control of it. Allegations of financial elder abuse came to the forefront involving former associate/business manager, Suspect-Keya Morgan, (a.k.a., Keyarash Mazhari)."
Morgan has not commented on his arrest.
"It had been revealed that no one had clear legal authority to act on Mr. Lee's behalf; yet, Morgan exerted his control and influence over Lee," the LAPD statement said.
The police said that Morgan is accused of stealing over $262,000 from Lee from his autograph sessions, and also faces allegations of false imprisonment stemming from a time he allegedly removed him from his residence to a secured condominium.
"Fortunately, Lee was removed from Morgan's control on June 11, 2018 when Morgan was arrested by LAPD, Commercial Crimes Division detectives for generating false 911 calls on May 30th and May 31st 2108," the LAPD statement said. "In both instances, Morgan was using this tactic to further deceive Lee into believing he was in danger and needed to be moved from his home to a more secured condominium where Morgan had more control over Lee.
Morgan was charged with one felony count of false imprisonment of an elder or dependent adult, three felony counts of grant theft of more than $100,000 from an elder or dependent adult and one misdemeanor count of abuse of an elder or dependent adult. He was jailed in Arizona and bail was set at $300,000.
Morgan's attorney Alex Kessel had said in a press statement after the initial charges, "He has never abused or taken advantage of Mr. Lee in any way. We expect him to be completely exonerated of all charges."
Morgan already has a fraught relationship with the late Lee's family. In August 2018, Lee was granted a restraining order against Morgan for three years. According to the Los Angeles Times, Morgan was required to stay at least 100 yards away from Lee and his family. Two months prior, Morgan was arrested for allegedly filing a false police report.
He tweeted afterwards, "For over 10 years I have shown nothing but love, respect & kindness to Stan Lee, & his wife, a fact he has repeated countless time. I have NEVER EVER abused my dear friend."
The paper also reported that Morgan was also convicted for threatening to kill someone in 2017 amid an argument between his mother and a property manager, citing court records. He was sentenced to probation and required to attend anger management counseling, the outlet said.