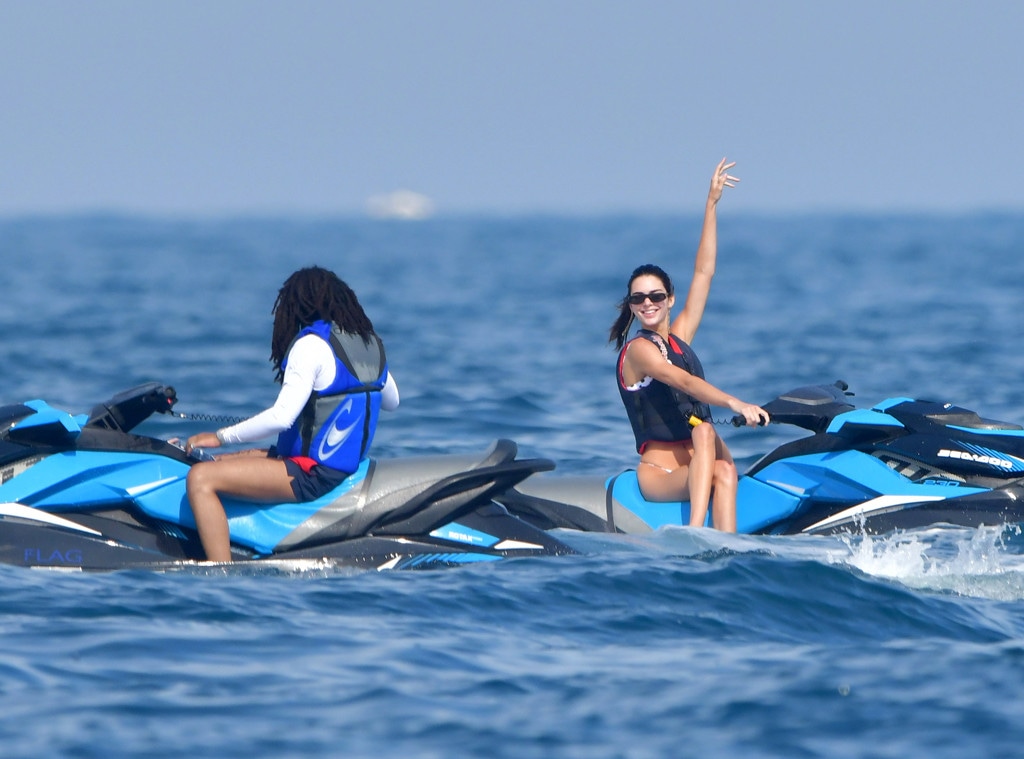 EliotPress / MEGA
Life's a beach and Kendall Jenner is just playing on the water.
The 23-year-old model spent part of her Saturday hanging out on a yacht and jet skiing in Monaco with some of her famous friends, including Bella Hadid and Luka Sabbat.
Kendall looked like she was having the time of her life out on the waves as she raced around the crystal-clear blue water of the Mediterranean Sea. In one picture, Kendall raised her hands up in the air with a huge smile on her face as she rode next to Sabbat.
Who could blame her? With the sun shining down on the French waters, blue skies and friends all around, it seems like there's no better way to spend a weekend.
Sabbat stars in the film The Dead Don't Die, which premiered at Cannes. He has quickly become a fixture in the Kardashian-Jenner friend group and has even accompanied Kourtney Kardashian and her kids on some trips.
The Keeping Up with the Kardashians star, Bella and Sabbat all turned heads during the 2019 Cannes Film Festival with a handful of unforgettable style moments on the red carpet and at other events. 
Their jaunt to Monaco is only about one hour away from Cannes by car. It's perfect timing, too, because Sunday happens to be the Formula 1 race, the 2019 Monaco Grand Prix.
On Thursday, Kendall stunned in a hot pink tulle dress designed by Giambattista Valli and H&M, which she wore to the amFAR gala. She shared photos of herself on social media in the dress with the sunset in the background, making it look all the more picturesque. Her sister Khloe Kardashian commented on her photos, "How are you this perfect?"
Kim Kardashian, who just celebrated her 5-year wedding anniversary with her husband Kanye West, added, "Wow."
Kendall's ultra-glamorous outings and fun in the sun come just days after news broke that she and her boyfriend Ben Simmons broke up after one year together.
A source explained to E! News what ultimately caused the two of them to split up.
"Ben and Kendall split recently before the Met Gala. They are still on fine terms and have been in touch," they said.
The long distance relationship of Kendall being in Los Angeles with Simmons in Philadelphia was also "getting to be a lot."
The source said Kendall "cares about Ben and always wants to end her relationships on good terms." Her prioritizing her career has always been a big part of their relationship, too.
"Kendall knew she had several out of the country trips coming up and thought it would be best if they took some space," the source said. "It's been hard for them with the time differences and both of their schedules but there is a chance they will get back together."
That echoes what another source told E! News last summer when they first started dating and then took some time to "cool off."
"They both have busy careers and it is what it is. Kendall isn't looking for anything serious. She had fun with Ben, but wasn't ever fully committed or looking for a long-term, exclusive relationship," the source explained to E! News at the time.
In honor of Kendall still looking as stunning as ever in the south of France, take a look at the photos below for her best style moments at Cannes.