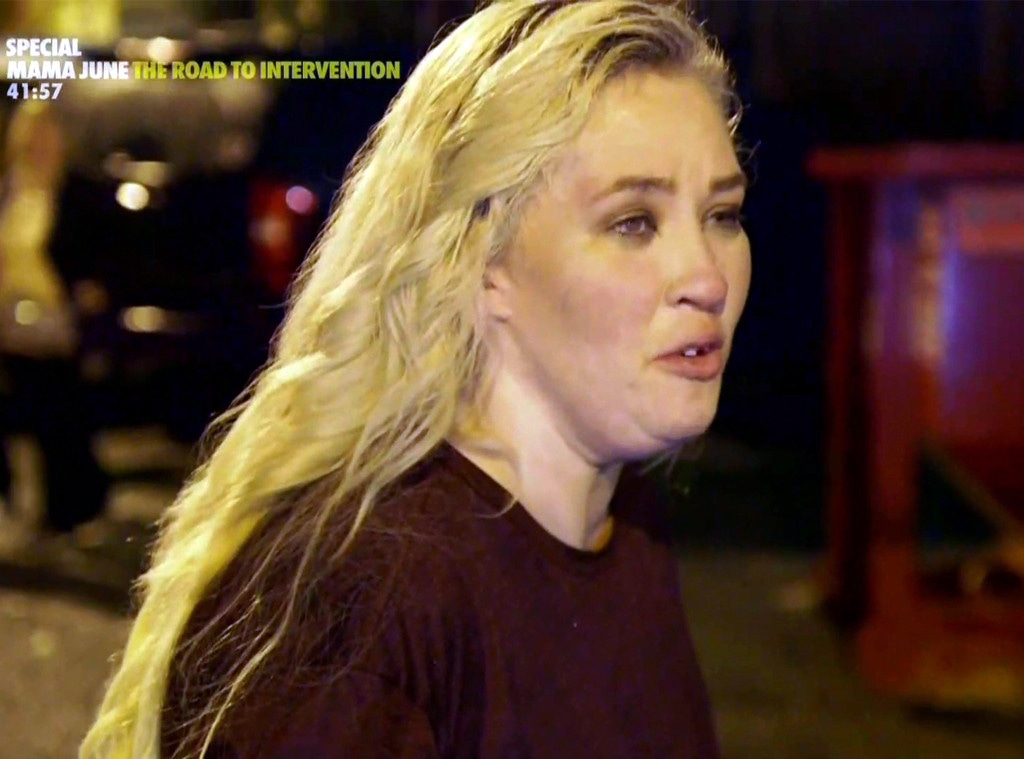 We TV
Mama June is in a state of crisis. 
On tonight's penultimate episode of Mama June From Not to Hot: The Road to Intervention, those closest to the Shannon family matriarch come together to shed new light on her recent scandals. In March, June was arrested for alleged possession of a controlled substance and drug paraphernalia. Her longtime boyfriend, Eugene Doak, was also arrested on the same charges, in addition to third-degree domestic violence.
In the candid discussion, June's sister Jo "Doe Doe" Shannon, her daughter Lauryn "Pumpkin" Shannon, her ex Mike "Sugar Bear" Thompson and his wife Jennifer Lamb share their perspectives on why Mama June is in dire need of an intervention. 
"I was kind of surprised because I didn't know June to do something like this. Looking at her on TV you could something ain't right," Sugar Bear said of June's legal drama. "We're concerned about what's happening to [June's daughter] Alana. She may have to come stay with us 'cause her mom sure can't take care of her right now."
It's then revealed that Pumpkin has temporary custody of the 13-year-old, which Jennifer said they plan to fight "tooth and nail." 
Mama June's health is also a concern of her loved ones, who say she is gaining weight and "falling apart right in front of our eyes." In previously unaired footage from the season, Mama June breaks down in tears after Geno accuses her of feigning her health issues for "sympathy." 
"I've lost myself completely and I know that," Mama June told the camera while being treated in the hospital. I've lost who I was about. I don't want to get up out of bed. I don't want to get my hair done. I don't want to do my nails."
"June feels like she hates herself and I don't want to lose her," Doe Doe added.
In another scene, paramedics tell June they suspect she's suffering mini-strokes. A heated argument breaks out between June and Geno, who refuses to go to the hospital with her. "If you have a stroke I'll come to your funeral," he told her at the time. 
The conversation then pivots toward the family's intervention, which they organized with the help of Dr. Ish Major. Viewers will see it go down on next week's finale, but Pumpkin and Doe Doe reflected on the "intense" meeting that appears to even get violent in the sneak peeks shown.
"I think the intervention took a lot out of us. It was rough," Pumpkin recalled, as executive producer Adam Freeman told the cameras, "June is not in her total right frame of mind, which means she's unpredictable. If she bolts and we let her out of our sight, we don't know when we'll see her again."
See the drama unfold in the clip above. 
Mama June From Not To Hot: The Road To Intervention airs Friday nights at 9 p.m. on WE tv. Catch the season finale on May 31 at p.m.