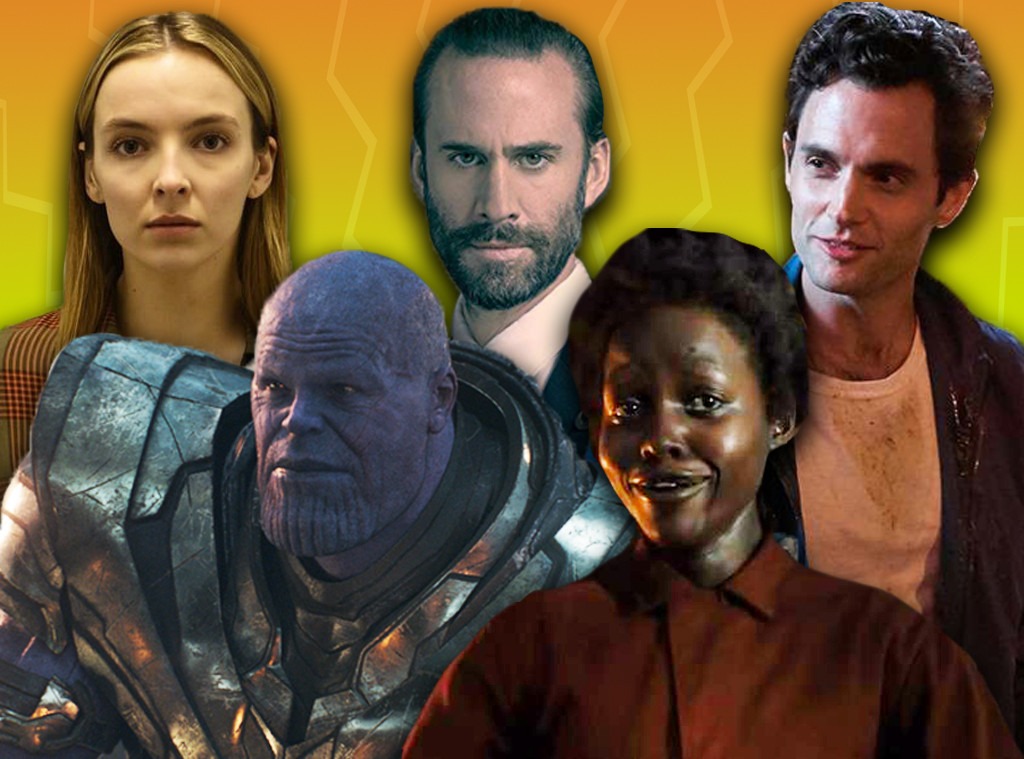 BBC America, Hulu, Walt Disney Studios, Universal Pictures, A+E Studios
The 2019 MTV Movie & TV Awards are quickly approaching and that means it's time to get your vote on!
This year, the show will be hosted by Zachary Levi AKA the superhero and star of Shazam! and he's sure to bring both star power and humor when he takes the stage. He will be joined by killer performers throughout the night including Lizzo and Macklemore. 
When the show begins on Monday, June 17, stars from some of this year's biggest movies and TV shows are sure to be in attendance since this year's nominees feature movies like Avengers: Endgame, To All the Boys I've Loved Before and Lady Gaga is nominated for her performance in A Star Is Born.
Plus, there are TV shows like Game of Thrones and Riverdale in the running so you aren't going to want to miss it.
One of our favorite categories this year however has to be Best Villain. There are a lot of thrilling, haunting and downright evil characters in the category and we don't know who will win.
Since, Best Villain is one of the best categories, and voting for the actual award is now closed, we want to get a little sneak peak of who you want to win by doing our own poll, so get ready to show your allegiance to your favorite baddie in a matter of moments.
The question we have for you is, which villain is so bad they're good...at least in your mind.
Are you a TV villain fan for example? If so, Jodie Comer is up for her role as Villanelle on Killing Eve and she could really run away with it.
She's so smart and yet so dangerous that we can't help but love-hate her. Plus, the series itself has already been nominated for an Emmy and Golden Globe in the past and Comer's co-star, Sandra Oh won a Golden Globe for her role.
What about Joseph Finnes as Commander Fred Waterford on The Handmaid's Tale? Over the past two seasons he's shown that he is violent and cruel and completely on board with the Gilead hierarchy AKA he sucks.
Of course, Penn Badgley's Joe Goldberg on You had to be up for this award too. He is a crazy stalker that is charming, which is the worst kind.
When it comes to movie villains there are two names on the list and they are both very scary.
Josh Brolin, who played Thanos in Avengers: Endgame for example is the ultimate bad guy. He wants to take over the world, kill all the good guys and never look back, so ya, he's a super villain.
Lastly, we have Lupita Nyong'o as Red in Us. Coming from the brilliant mind of Jordan Peele, Us is truly terrifying and Nyong'o's character is the creepiest doppelganger of them all.
Vote for your favorite villain below and make sure to tune in to see if your favorite MTV Movie & TV Awards nominees take home the coveted popcorn trophy at this year's show, which airs on Monday, June 17 at 9 p.m. on MTV.
2019 MTV Movie & TV Awards Best Villain