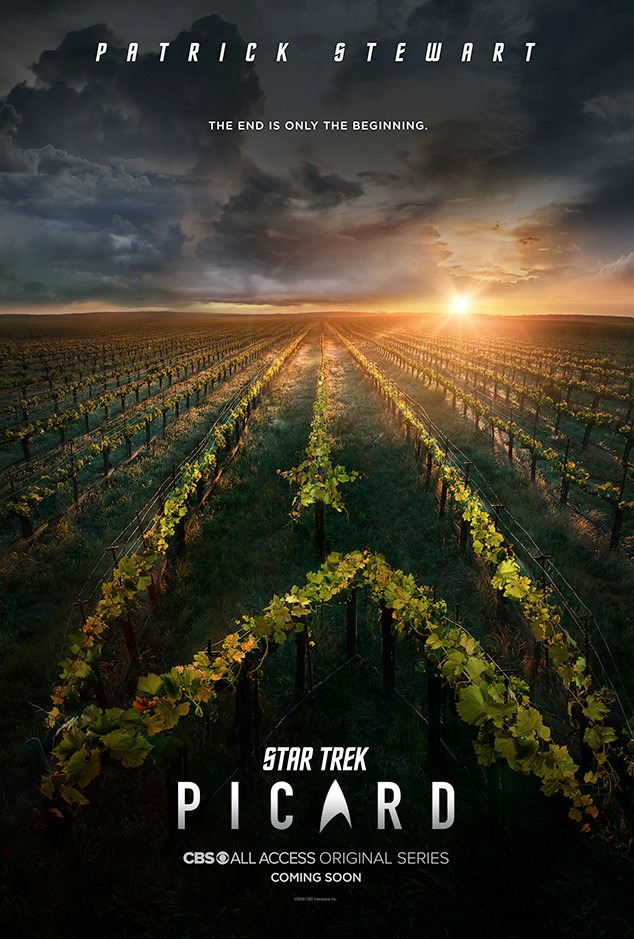 CBBS
Look who's back in the Star Trek saddle. E! News has a sneak peek at Patrick Stewart's new series, Star Trek: Picard, below.
The new poster art gives a hint at what Captain Jean-Luc Picard has been up to since he was last seen as the character on screen in 2002's Star Trek: Nemesis.
"Fifteen years ago, today, you led us out of the darkness. You commanded the greatest rescue armada in history. Then, the unimaginable: What did that cost you? Your faith? Your faith in us? Your faith in yourself? Tell us, why did you leave Starfleet, admiral?" a voiceover says in the trailer.
Viewers will find out when show premieres later in 2019. "The end is only the beginning," the show's tagline reads. In a press release, CBS All Access notes the series will "follow this iconic character into the next chapter of his life."
Joining Stewart in the series is Alison Pill, Michelle Hurd, Evan Evagora, Isa Briones, Santiago Cabrera and Harry Treadaway. Star Trek: The Next Generation star Jonathan Frakes took to Twitter and shared a picture with Stewart, hinting at his involvement in the series.
"I will always be very proud to have been a part of Star Trek: The Next Generation, but when we wrapped that final movie in the spring of 2002, I truly felt my time with Star Trek had run its natural course.  It is, therefore, an unexpected but delightful surprise to find myself excited and invigorated to be returning to Jean-Luc Picard and to explore new dimensions within him. Seeking out new life for him, when I thought that life was over," Stewart wrote on Instagram when the series was announced.
"During these past years, it has been humbling to hear stories about how The Next Generation brought people comfort, saw them through difficult periods in their lives or how the example of Jean-Luc inspired so many to follow in his footsteps, pursuing science, exploration and leadership. I feel I'm ready to return to him for the same reason—to research and experience what comforting and reforming light he might shine on these often very dark times. I look forward to working with our brilliant creative team as we endeavor to bring a fresh, unexpected and pertinent story to life once more.," he concluded.
Alex Kurtzman, Michael Chabon, Akiva Goldsman, James Duff, Patrick Stewart, Heather Kadin, Rod Roddenberry and Trevor Roth serve as executive producers on Star Trek: Picard. Aaron Baiers is co-executive producer and Kirsten Beyer as supervising producer. Hanelle Culpepper will direct the first two episodes.
No official premiere date for Star Trek: Picard has been announced.