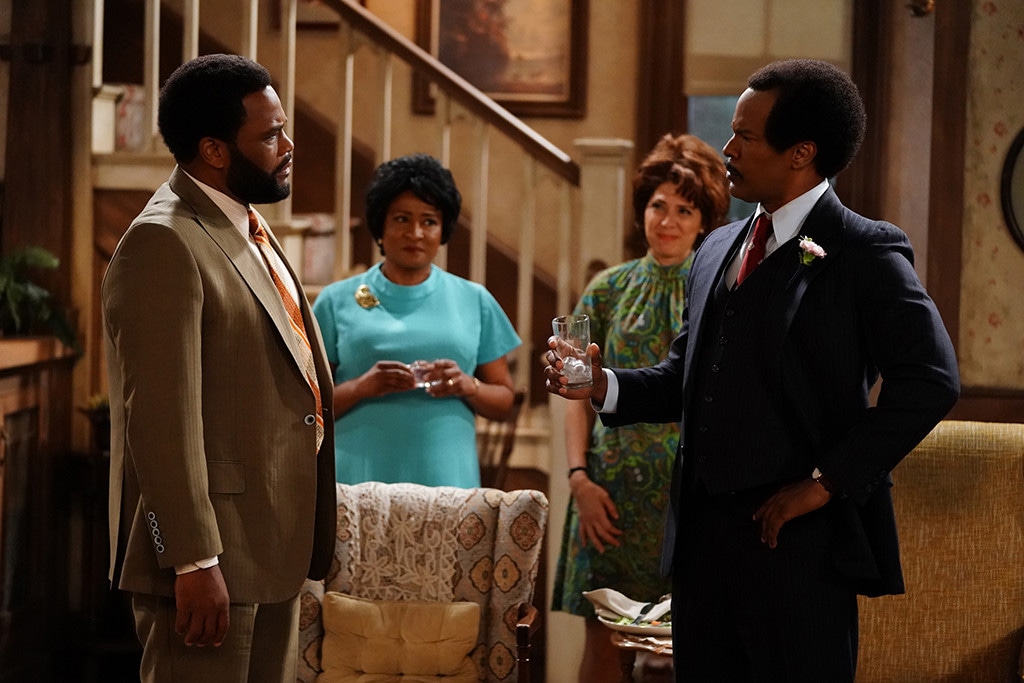 ABC
Well that was just pure TV fun.
Jimmy Kimmel and Norman Lear just recreated two episodes of All in the Family and The Jeffersons live with a whole bunch of stars, and as Lear explained at the beginning of the evening, the point was to explore how many of the same issues that were important back in 1973 are still relevant today. 
"We hope tonight will make you laugh, provoke discussion, and encourage action. There is so much more work we must do in this country we love so much," he said. 
All in the Family's episode found Archie (Woody Harrelson) coming to terms with his black neighbors, and The Jeffersons dealt with Louise's hesitation to hire a maid. 
The whole thing turned out to be extremely delightful, and made only more delightful by the fact that it was very much live, which Jaime Foxx proved when he completely screwed up a line and broke character to address it. Or maybe it's more accurate to say he addressed it in character as George Jefferson. 
"It's live," he said after spouting a bunch of nonsense instead of the line he was supposed to say. "Everyone sitting at home just think their TV messed up." 
He took a second to walk in a little circle and did a little dance while everyone else tried desperately not to laugh, and it was a moment of pure joy, with reactions captured here in GIF form. 
First, Jamie stood still while Marisa Tomei as Edith just silently laughed behind him.
Then we got Woody Harrelson as Archie Bunker and Ellie Kemper as Gloria losing it. 
Jamie Foxx, as George, walked around in a circle. 
And then he finally laughed before launching back into the correct line. 
The whole thing can be seen in the tweet below. 
Wanda Sykes, Kerry Washington, Anthony Anderson, Sean Hayes, Ike Barinholtz, Amber Stevens West, Steven Tobolowsky, Jackee Harry, Will Ferrell, and Florence the Maid herself, Marla Gibbs, all also appeared during the hour and a half-long special
Plus, Jennifer Hudson gave the performance of a lifetime of the iconic Jeffersons theme song, and this was all enough to have us demanding more of these. At least one a year, if not more. Bring back all the old shows! Have Jennifer Hudson perform all the theme songs! Have Oscar winners mess up all the lines! 
What a truly delightful event.