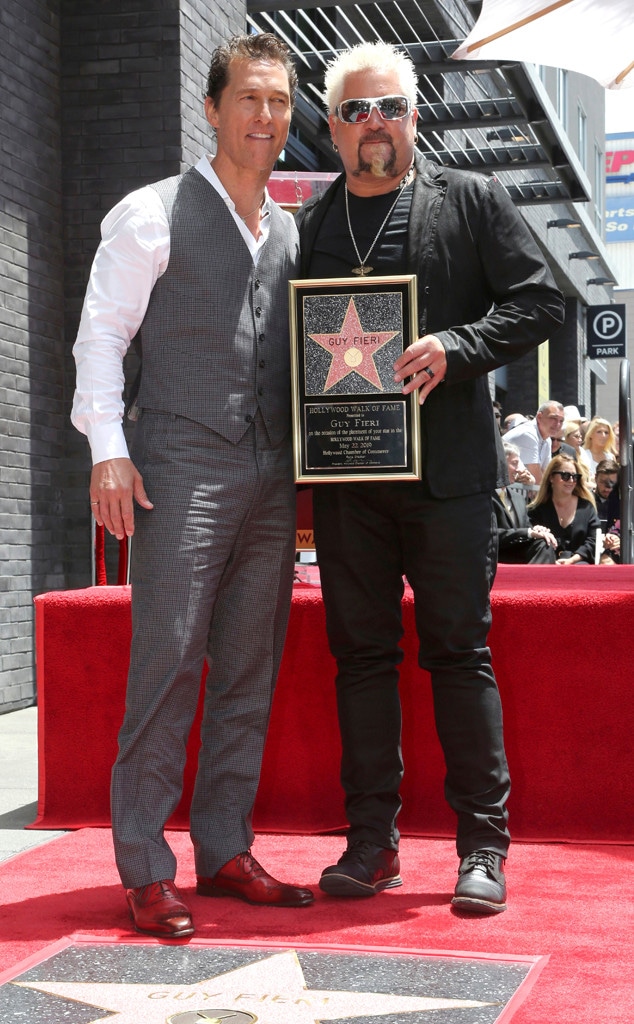 Willy Sanjuan/Invision/AP/REX/Shutterstock
Alright, alright, alright!
It is the moment that people have long been waiting for: Guy Fieri is getting his star on the Hollywood Walk of Fame. The famed Diners, Drive-ins and Dives host has been a mainstay on famous food shows over the years for good reason and his new achievement is a testament to his prowess.
However, while the star plaque and his numerous accolades can attest to his culinary knowledge, there is nothing quite like the joy of being praised by your peers. So, Matthew McConaughey joined Fieri on Hollywood Boulevard, where he is sharing how their relationship flourished because of their shared love for all things food. 
"Fifteen or so years ago I was living in an air-stream, traveling across America... I lived on the road and I came across this show Diners, Drive-Ins and Drives, and it quickly became my favorite show," the Interstellar star shares. "One day on the road I get the number of the host, Guy Fieri, and I call him up and I say, 'Listen, hey man, it's Matthew McConaughey."
And that phone call sparked a friendship that will go down in history as one of the most surprising, yet endearing friendships. Plus, it helped the True Detective star expand his palate. He jokes, "I gotta say thank you, because the Subway sandwiches, although I like them, they were getting a bit old."
After zigzagging across the greater United States, McConaughey says he eventually found himself back in good ole' Los Angeles, at which point he finally met his "mobile concierge" in person. "This is when I met a conscientious Guy Fieri; Guy Fieri who cared about family, who cared about faith. This is when I met a guy who I could tell right away, could out-hustle a lot of people with equal talent; out-work them. This is when I met a guy who was not a food snob, and I want to give an applause to that, because that can happen, thank you for that," the 49-year-old praises. "This is a guy I met who was also curious and was dealing with some newfound fame and wanted to talk about how best to navigate it."
He shares, "We cooked a lot of food. We ate a lot of food. We drank a lot of spirits. We talked about life, and we talked about being authentic to who you are and that's the night that I met you, Guy Fieri."
Matthew ends his speech by sharing that in the almost fifteen years since they became friends and moved up the ranks of show-business, Guy Fieri has "always remained exactly who he was," which is a rare quality. He concludes, "Authenticity, we talked about it the first night we met, and in a business where you can be anyone you want to be, you've been you the whole time, and that ain't easy. Congratulations, and congratulations on getting your star on the Hollywood Walk of Fame, brother."
Nicely said!