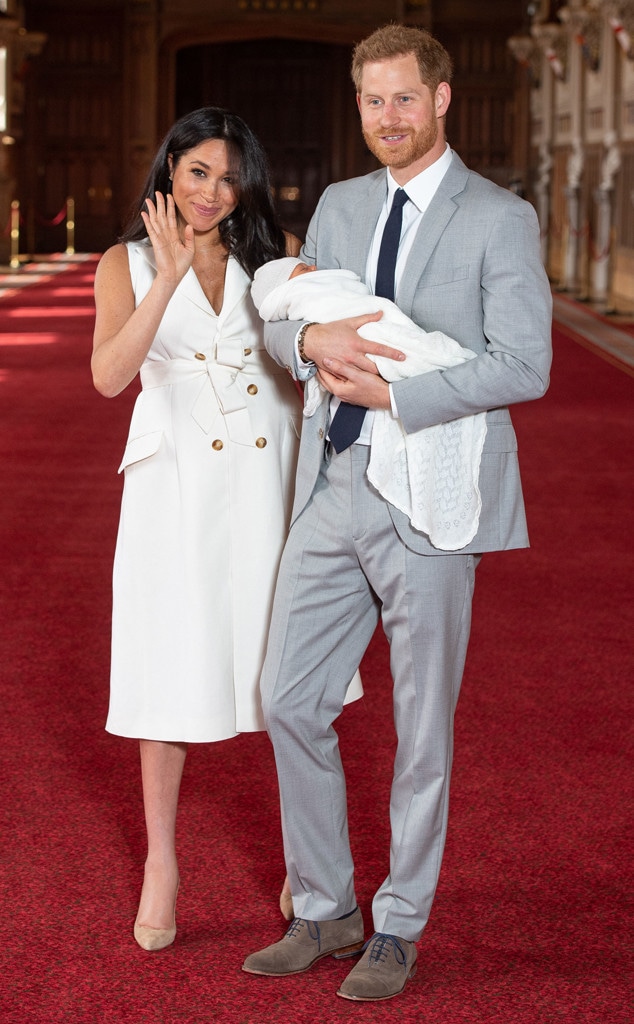 Dominic Lipinski/PA Wire
Meghan Markle and Prince Harry's wedding last year had all the royal bells and whistles, from the bride's designer dress, the A-list guest list and wall-to-wall television coverage to the 14th-century chapel where the ceremony took place and the presence of a higher power, Her Majesty, Queen Elizabeth II.
But at the same time, it was the most American royal wedding the United Kingdom had ever seen.
The Most Rev. Michael Bruce Curry from Chicago delivered a sermon that quoted Martin Luther King Jr. A local gospel group sang "Stand by Me." Etta James' version of "This Little Light of Mine" played during the recessional. They didn't serve some musty fruit cake, but rather an elderflower-lemon confection from a London bakery, the owner of which hails from the bride's home state of California.
Even Meghan having a baby shower in New York ("what is a baby shower?" you can just hear Maggie Smith asking) and getting married on a Saturday, rather than the traditional Friday, was downright Yankee of her.
At the end of the day it was a melding of family traditions, as the best weddings are, combining the bride's African-American heritage and Hollywood-infused tastes with centuries of British royal pomp and protocol from the groom's side. 
Why wouldn't their baby reflect this cultural amalgamation as well?
Harry and Meghan's son is the first member of Britain's royal family to be born to an American mother, as well as the first with any black heritage, and to be sure the Duchess of Sussex won't be checking any of that at the nursery door. But there will be a balance.
Dominic Lipinski - WPA Pool/Getty Images
For starters, the new parents went with an adorable, ever-so-Anglo-Saxon name, Archie Harrison Mountbatten-Windsor—Archie of Germanic origin meaning "very brave" and Harrison a common patronymic English surname literally meaning "son of Harry." The hyphenated last name has been the family surname passed down through the male line since the queen, of the House of Windsor, married Prince Philip, who adopted the name Mountbatten from his maternal grandparents ahead of his wedding in 1947. (Before that, he was just Prince Philip of Greece and Denmark.)
Mountbatten-Windsor wasn't really used, however, until 2003 when Prince Edward and the queen decided that his children's names would be styled as being the offspring of an earl, his title given at marriage being Earl of Wessex. His daughter Lady Louise, not being Her Royal Highness, was given the surname, though it's generally shortened to just Lady Louise Windsor. Also not an HRH, her little brother, James, Viscount Severn (the title given to the eldest son of an earl) was born James Alexander Philip Theo Mountbatten-Windsor.
Nothing confusing about any of that.
Master Archie has no title at the moment, either, something that would have been hashed out with the queen beforehand. 
Per a decree dating back to the queen's grandfather, King George V, only the eldest son of the Prince of Wales' eldest son would automatically be designated His Royal Highness and be a prince (was would the sovereign's children and grandchildren from the male line). Taking the temperature of the moment, the queen amended that rule to make it so that all of the children of the eldest son (Prince William) of the Prince of Wales (Prince Charles) would get an HRH and be a prince or princess.
William's firstborn turned out to be a boy, Prince George, but the queen's tweak ensured that George's little sister would be Princess Charlotte.
So, being the younger son of the Prince of Wales, none of that was on the table for Harry's children. He and Meghan could have worked out a title for Archie with the queen, but in the interest of normalcy, they have decided to go with the ol' first-middle-last combination that tends to suit most other children.
It has already been pointed out that, once Charles becomes king, Archie could take up the HRH designation and be a prince, because then he'll be a grandson of the sovereign through the male line. Also, as the eldest son of the Duke of Sussex, Archie is currently entitled to be Earl of Dunbarton (the next-level title under duke that Harry was given right before his wedding; Harry is also Baron Kilkeel, for that matter).
But his parents are passing on all of it for now.
theroyalfamily via Instagram
So, with Archie of the Riverdale Andrews having the less complicated lineage at the moment, indeed, why dabble with titles at such a tender age?
At least the baby himself is blissfully unaware of all of this. So far, life has been one endless loop of being swaddled, cooed at, fed, changed, photographed and loved (mixed in with a little bit of sleeping). 
His earliest visitors included grandma Doria Ragland, who was in town for his birth, and his great-grandparents the queen and Duke of Edinburgh.
Doria "is effervescent and free-spirited … And I personally think that's how Meghan learned to shine from within," actress Janina Gavankar told Gayle King for the recent CBS News special Meghan & Harry Plus One.
Ragland has since returned home to Los Angeles—she was photographed walking her dog on Tuesday—and perhaps the next time she sees her first grandchild, it'll be on U.S. soil. It involves a lot more detailed planning for Harry and Meghan to leave the country, but the former actress, who was born and raised in California, has maintained close ties to her roots.
"For Meghan, it's just as important for Archie to learn about her family history as it is for him to learn about his royal ancestors," a source told Us Weekly, "so she plans to go on a trip to L.A. with him once she's comfortable taking him on a plane."
Meghan's maternal grandparents (Doria's side does seem to be the only one in play right now) moved to L.A. from Cleveland when her mom, who was born in 1956, was a baby. Alvin Ragland, Meghan's grandfather, dabbled in real estate before opening his own antiques shop in downtown Los Angeles. He and Doria's mother, Jeanette, divorced and Alvin remarried; he has another son, Joffrey, from his second marriage. Jeanette also had two children, Joseph Jr. and Saundra, before marrying Alvin. 
According to Andrew Morton's Meghan: A Hollywood Princess, the Duchess of Sussex has ancestors on her mother's side who were slaves; the family name comes from William Ragland, a slave-owner whose family was from Cornwall, in the southwest of England, and the first Ragland in Meghan's bloodline was Richard Ragland, born in 1830 in Jonesboro, Ga.
But who said Harry's family tree had to be the only one with tangled branches? Meghan also has royal lineage on the Markle side; according to Morton, you can trace back 25 generations to King Robert I of Scotland (or Robert the Bruce), who reigned in the 1300s.
When it comes to Archie, however, his parents will probably start with photos, family heirlooms and stories fit for kids when it comes time to teach him who he is and where he comes from.
He'll learn about all the complicated stuff soon enough, but luckily there are plenty of marvelous, fairy-tale caliber anecdotes to share—and connections on both sides of the pond to make him feel at home.
"No one in royal history has had an American mother, it will be fairly interesting to see what happens," royals expert Kelly Lynch told Time in October after Meghan's pregnancy was announced. But when it's born, "the child will be fully British."
By default, at least.
Meghan, however, remains an American citizen. She moved to England in 2017 and has only been married to Harry for a year—which is why she's still there on a visa. It takes two years of marriage before she can apply to be a permanent resident, and after she is granted that status she can apply to become a naturalized citizen (the palace hasn't said whether she'll retain her American passport as well).
No royal scepter has been used to cut through the red tape; rather, Meghan is waiting her turn just like any other aspiring forever-resident of Britain.
"I can also say she intends to become a UK citizen and will go through the process of that, which some of you may know takes a number of years," Harry's communications secretary Jason Knauf told the BBC in December 2017.
Among the requirements for obtaining a UK marriage or family of a settled person visa, which has to be renewed after two and a half years: a combined income of at least £18,600 a year or liquid savings above £16,000 (fine there); marrying a British citizen within six months after moving there (they just made it); and the ability to pass an English-speaking test (as an American, she was exempt). 
So, in a year, because she's married to a Brit, Meghan will be eligible to apply for "indefinite leave to remain" status, which sounds like a Brexit-themed nightmare but is basically just permission to stay permanently. Then she must retain that status for 12 months (and not have been out of the U.K. for more than 90 days during those 12 months) before applying for citizenship (which overall, when you're married to a U.K. citizen, comes with a three-year residency requirement).
Meanwhile, "I think Archie will definitely have dual nationality," royal biographer Ingrid Seward said on Meghan & Harry Plus One.
According to the State Department, a child born outside the United States to at least one American parent can acquire U.S. citizenship, so long as that parent spent at least five years living in America prior to the birth, at least two of them after the age of 14. 
Check.
Harry has already done the very royal thing by already going back to work since becoming a father on May 6, but Meghan will be enjoying some maternity leave. It's unclear how much she plans to take, but her next announced appearance isn't until October, when she and Harry plan to attend the One Young World Summit in London.
In the meantime, the sky is pretty much the limit for the Duke and Duchess of Sussex and their young family, relatively speaking. 
The same expectations of loyalty to the crown and a certain brand of decorum will be passed on to Archie as they've been to his father and all of his royal aunts, uncles and cousins, no matter how near or far they are from the throne.
But as seventh in line, and with an utterly modern mom, one who isn't historically steeped in upper-crust British traditions, Archie could write his own ticket as never before.
Meghan had to jump through plenty of hoops to whittle her old life down to its more eligible attributes for Harry's family—she shuttered her lifestyle blog and closed the book on her career, putting an end to the fleeting hope that she might be the first working-actress royal. But just because she's a full-timer now, like her husband, doesn't mean she's up for raising her son purely according to the well-worn royal template. 
Already, she and Harry chose not to introduce Archie to the world in front of the hospital where he was born; instead, the location, Portland Hospital in London, wasn't revealed until his birth certificate was made public almost two weeks later.
And perhaps the Duchess of Sussex won't want to send her 8-year-old off to boarding school, as was the expected next step at the time for Harry and William, but would rather he just attend a posh day school—as she did, in L.A. And when it's time for Archie to go to university, why not study at one of America's fine temples of higher education, such as his mother's alma mater, Northwestern?
Going to college in the U.S. wouldn't be unheard for the royal family: the just-married Lady Gabriella Kingston (née Windsor), whose wedding Harry attended on Saturday, graduated from Brown, in Rhode Island, before getting a Master of Philosophy degree at Oxford.
Of course, we're getting a little ahead of ourselves. Archie hasn't even been to America yet. But we do know that he'll be a worldly lad as soon as his parents feel he's up to crossing oceans.
Harry and Meghan are reportedly considering spending a good amount of time working in Africa, and a two-week tour of the continent is being planned for when Archie is about 6 months old—which will be a record for a royal baby. Prince George was almost 9 months old when William and Kate Middleton took him to Australia and New Zealand in 2014, and William was about the same age when Princess Diana and Prince Charles took him Down Under for six weeks.
"They hope to take the baby with them but will make a decision nearer the time," a source told London's Sunday Times. "Potentially, Meghan and the baby could do some, if not all, of the trip."
From mom, Archie is going to learn all about healthy living, the importance of a hand-written note and how to make the perfect roast chicken—and perhaps he'll grow into a little yogi, a practice he can take with him to any country. 
"Parenting is difficult in the beginning, but I feel like they got this," makeup artist Daniel Martin, a longtime friend of Meghan's, said on Meghan & Harry Plus One. "They're ready for this... there's just gonna be so much love for that baby." And "I'm sure the baby's gonna be raised, like... definitely clean and green."
Moreover, both Meghan and Harry will be making sure that any child of theirs sees how other people live and is aware of those less fortunate—a value instilled in them early by their own mothers. And if the less enlightened of the world try to make an issue of him being biracial, Archie will have his mother and grandmother's invaluable perspective to learn from.
"While my mixed heritage may have created a grey area surrounding my self-identification, keeping me with a foot on both sides of the fence, I have come to embrace that," Meghan wrote in a 2015 essay for Elle UK. "To say who I am, to share where I'm from, to voice my pride in being a strong, confident mixed-race woman. That when asked to choose my ethnicity in a questionnaire as in my seventh grade class, or these days to check 'Other', I simply say: 'Sorry, world, this is not Lost and I am not one of The Others. I am enough exactly as I am.'"
Archie has been born into two worlds, and his mom and dad will be doing their best to ensure he experiences the best of both.