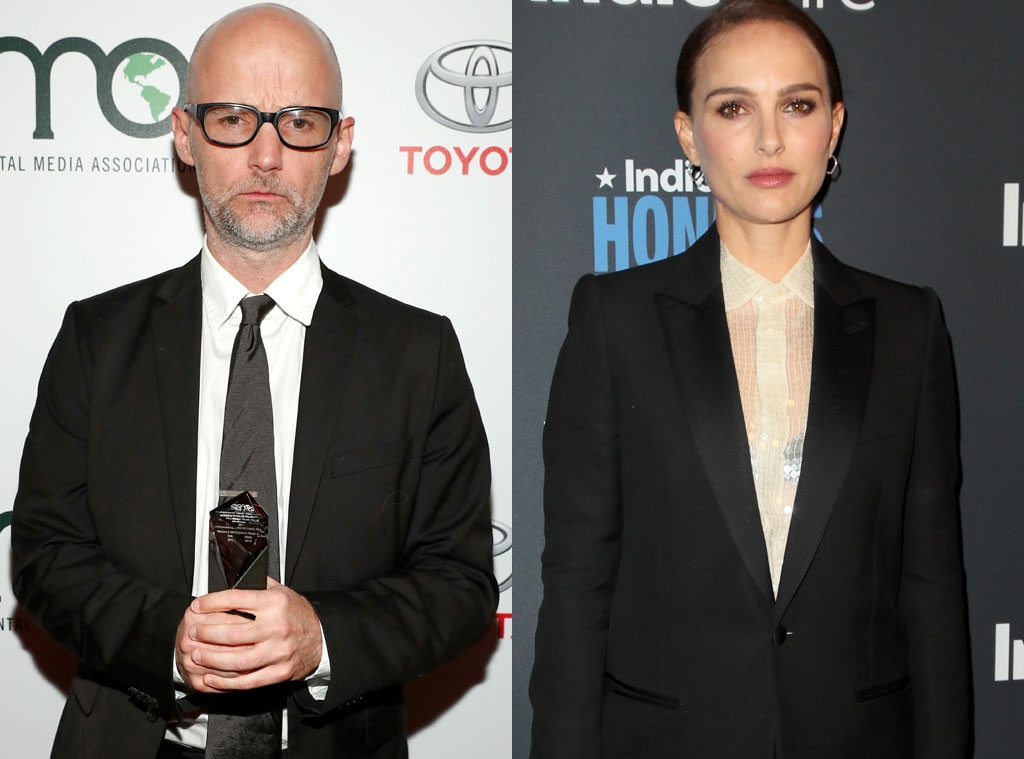 Rich Polk/Getty Images for Environmental Media Association; David Livingston/Getty Images
UPDATE: Moby has responded to Natalie Portman's romance denial in a post on Instagram.
Alongside a photo of a shirtless Moby with his arm around Portman, the musician wrote, "I recently read a gossip piece wherein Natalie Portman said that we'd never dated. This confused me, as we did, in fact, date. And after briefly dating in 1999 we remained friends for years."
"I like Natalie, and I respect her intelligence and activism. But, to be honest, I can't figure out why she would actively misrepresent the truth about our(albeit brief)involvement," Moby continued. "The story as laid out in my book Then It Fell Apart is accurate, with lots of corroborating photo evidence, etc."
He concluded the message by writing, "Ps I completely respect Natalie's possible regret in dating me(to be fair, I would probably regret dating me, too), but it doesn't alter the actual facts of our brief romantic history."
_______
Natalie Portman is setting the record straight on her rumored relationship with the singer Moby.
In his tell-all memoir, the singer claimed to engage in a brief but romantic fling with the young star after meeting her backstage at one of his shows. "I was a bald binge drinker and Natalie Portman was a beautiful movie star. But here she was in my dressing room, flirting with me," he described in an excerpt of the book It Felt Apart. 
He goes on to say that their romance ended when Portman revealed that she met another man, which he described as a moment of sweet relief. Moby recalled, "I thought that I was going to have to tell her that my panic was too egregious for me to be in a real relationship, but one night on the phone she informed me that she'd met somebody else. I was relieved that I'd never have to tell her how damaged I was." 
However, the V For Vendetta star is now saying that Moby's story is littered with "factual errors and inventions." 
Not only is the actress accusing the singer of lying about their interactions, she also alleges that he lied about their ages, which portrays Moby in a harsher light. Portman clarifies to Harpers Bazaar UK, "He said I was 20; I definitely wasn't. I was a teenager. I had just turned 18."
Moreover, she believes that he intentionally lied about the nature of their interactions as a way to "sell his book" and that she would've preferred that he or his publishers fact-checked the story. "That he used this story to sell his book was very disturbing to me," she adds. 
Watch:
Tyler Henry Connects Moby With His Late Father
One thing that Moby didn't appear to lie about was how they met. She did meet him after one of his shows and they did hangout numerous times, but Portman asserts that there was no romantic relationship in the slightest. She explains, "When we met after the show, he said, 'let's be friends.' He was on tour and I was working, shooting a film, so we only hung out a handful of times before I realized that this was an older man who was interested in me in a way that felt inappropriate." 
Portman says that even at the time she knew he was a "much older man being creepy with me," which is quite the contrary to Moby's claim that she essentially initiated a relationship. 
E! News has reached out to representatives for Moby for comment.