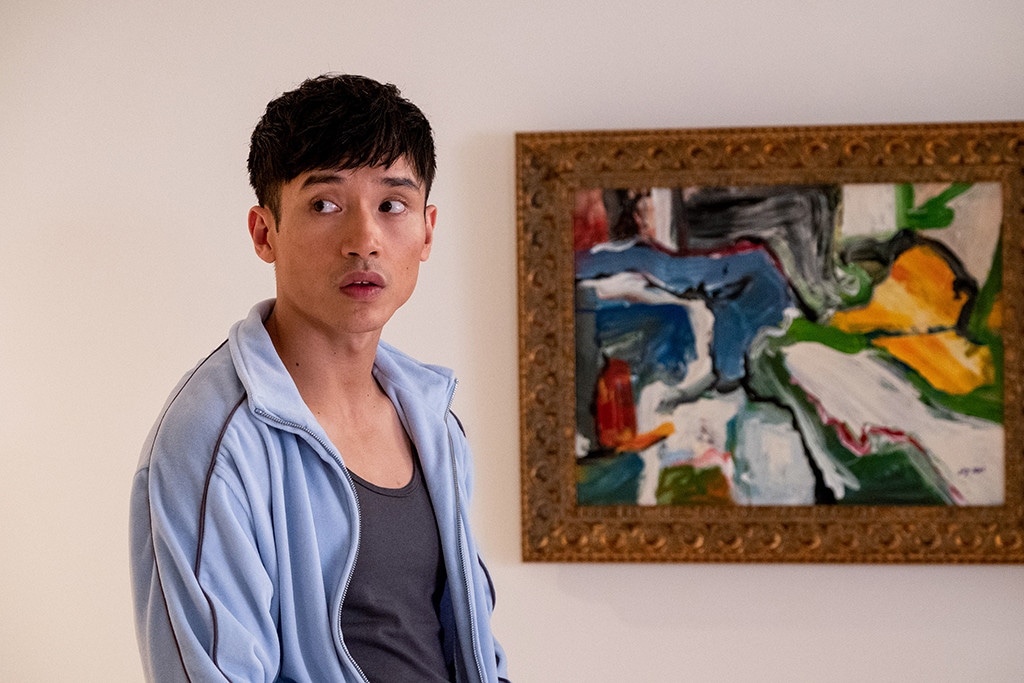 NBC
Playing dead has been good for Manny Jacinto. As Jason Mendoza, a lovable, doofy airhead, Jacinto is known for stealing scenes in NBC's acclaimed comedy The Good Place. That's not putting down his role of security guard in Untold Stories of the ER, but now Jacinto is getting the chance to shine on screen in ways he never dreamed of—and getting recognized off screen as a result.
"I think, and I think it's kind of the same with the rest of the cast, especially the babies of the cast, [the biggest change] is being recognized more," Jacinto told E! News.
Take a recent airport encounter Jacinto had. He was flying in to Los Angeles from Vancouver and he was flagged to go for further security inspection.
"[The guard] pats me down, he's all serious and checking to see for whatever I have," Jacinto said. "And he's all making sure he's being very thorough, and at the end of it he smiles at me and he's like, 'By the way I really love you in The Good Place.' And he lets me go. It's just—it's really weird you know?"
"You don't know who watches the show and who doesn't. I think at this point it's always safe to assume that nobody watches the show because…I don't want to be that guy who's like, 'Oh yeah, you know who I am, just let me through.'…I'll—hopefully—never be that guy. But yeah, that's the biggest difference right now, is kind of the lack of privacy and kind of having to keep the blinders up," he continued.
And that attention isn't just from TSA agents. Do a search for Manny Jacinto on Twitter and you'll find tweets like, "Manny Jacinto is a blessing to mankind" and "Manny Jacinto is the cutest boy alive and y'all Insta models could never compare." In an interview with Tan France, the Queer Eye star deemed Jacinto the "most attractive man on TV." Jacinto laughed it off in the interview, but that doesn't change the fact that he has inspired a lot of, well, thirst.
"Like I said with Tan, it's 'fake news man'…You know, don't believe everything that everybody says…For me, it's very flattering but at the same time, yeah. I don't know, I've never been used to being, for lack of a better word, like gawked at, or given all these compliments from strangers. It's nice, but also very uncomfortable whenever I have to go through a barrage of compliments from—especially [The Good Place] writers. I think the writers really like pushing that button of making me feel uncomfortable. I think you'll actually see examples of those further on this season. They kind of—they push that, that agenda," he said.
Aside from the jokes about his looks, Jacinto couldn't reveal too much about the new season.
"I think It'll really hit the heartstrings. I mean last season's finale was definitely kind of hitting people in the feels, but I think this season, we've kind of headed in that kind of sort of direction," he said. "I feel like our show is very much out there and whimsical, and all the special effects, but I think in these later seasons we're kind of getting down to the emotions and really trying to get people invested in these characters and what they've gone through."
The Good Place's Jason Mendoza is a specific type of character. He worships former Jaguars player Blake Bortles, wanted to be an EDM DJ, died during a botched robbery—he suffocated after locking himself in a safe—and was always quick to use a Molotov cocktail. Alive, he wasn't a great person. Dead? He's learning to be better, but keeping his childlike personality. That's Jacinto's favorite part about the character.
"I feel like it's his sense of wonder, you know? Just like how he's a big kid. And I think as I've been playing him, I've almost kind of learned to take his viewpoint in life and apply it to my own because I, myself as Manny…I'm always very calculated, I plan things out. Whereas Jason is very spontaneous and he kind of just goes with the flow, and I feel like as I've played him more and more, he's kind of leaked into my personal life in that sense, in a good way…Carrying that sense of being a kid as you get older is a bit harder, and I feel like Jason has blessed me with that idea, to keep things like that," Jacinto said about his new life outlook.
To get into the character, Jacinto said the costumes, which are primarily tracksuits, help him. Jacinto said his whole body changes when he comes Jason.
"It was one of the first things I realized when I would get into Jason…I used to be a dancer—and I still am, I still dance—so to get into Jason, my body kind of changes. I tend to hunch more and have pretty bad posture and I tend to play with my fingers a little bit kind of just like—I don't know what it is, but it just came out. You'll notice it…When I'm just listening in scenes, I'll just be playing with my fingers, and it's kind of just like an innocent kid that wants to do good posture, that's what I translate it as."
As he mentioned, Jacinto is a trained dancer. He received a civil engineering degree, but once he got into acting, he said he never set out to be the comedy guy. But now there, he's conscious of one thing: He doesn't want to get typecast. In addition to the fourth season of The Good Place, Jacinto will appear in the action flick Top Gun: Maverick opposite Tom Cruise.
"I was telling some of my reps I love Jason, and he's dear to my heart and will always be with me, but I also need to play something else. And it's weird because before The Good Place, when I was working up In Canada, all my roles were drama and very intense deep-seated roles and had nothing to do with comedy or sitcoms. So, it was actually very surprising for my reps and for my friends and family to be like, 'You're funny? Are you sure they got the right person?' It was very shocking to them and it also speaks a lot of how much confidence my team and friends and family have with me so… it worked out," Jacinto laughed.
It sure did work out.
The Good Place will return to NBC at 9 p.m. on Thursdays this fall.
(E! and NBC are both part of the NBCUniversal family.)