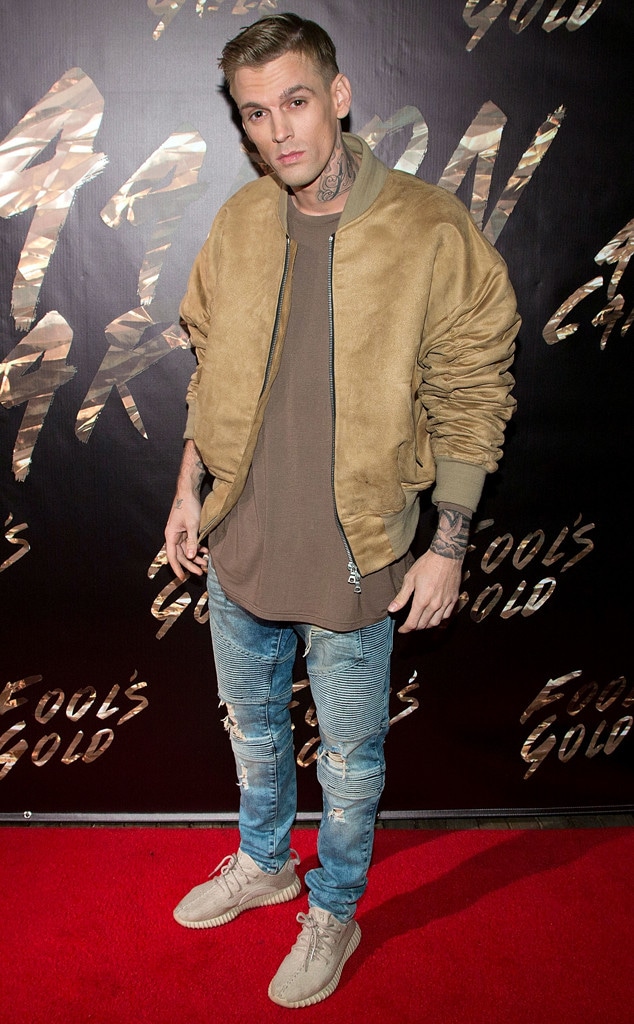 Gabriel Olsen/Getty Images
Aaron Carter is speaking out and clarifying comments he made about Michael Jackson's alleged "inappropriate" behavior.
On Monday, news broke about the 31-year-old singer after a video clip of Marriage Boot Camp: Reality Stars Family Edition released. Carter, who is on the reality TV series, brought up an alleged experience with the "Thriller" star.
In the short clip, the "Fool's Gold" singer briefly talks about Jackson once being "a little bit inappropriate." While he didn't share the context of his encounter or further explain his experience (at least not in the video footage that was released), Carter took to Twitter to clarify his remarks.
"everyone having my back I appreciate you," he tweeted on May 21. "My reasoning for even speaking on this subject is to tell my truth, be real and to also have his back based on my experiences with Michael. he was an amazing guy, I stand by that. So I ask u not to turn this into something it isn't."
The 31-year-old star explained that people took his comments to a level he didn't intend, despite still saying Jackson was "inappropriate."
"In my opinion it WAS a Little inappropriate what's the problem with that? What I achieved?," he shared on Twitter. "I'm not trying to achieve anything except telling my story to validate he didn't f--king do anything sexual! Are you all this stupid? Honestly?"
Bruce Glikas/Bruce Glikas/FilmMagic, Koichi Kamoshida/Getty Images
He continued, "It's like people want to find someone to f--k with when what I'm speaking about ACTUALLY VALIDATES HE DIDNT DO ANYTHING! We can do this all day if you want I'm good with that."
In response to a Michael fan account, the "I Want Candy" star said he felt that his "story HAD to be told in order to protect a man and friend."
"AS IVE SAID. my story VALIDATES in MY OPINION that Michael didn't do anything sexual to others. (My story HAD to be told in order to protect a man and friend I ACTUALLY KNEW) unlike you. And FYI applehead was my nickname he called me NOT YOURS, don't be phony."
Carter's comments come a little over a month after telling TMZ he was going to "tell my truth."
"I actually have my own experience that happened with Michael, so I'm going to be talking about that in the future," he alleged to the publication, without further explaining the incident. He also had a message for the Jackson estate: "Stay strong. I love you guys and even if I say something that you don't like, it's still my truth and you're just going to have to accept it."
At the time, the 31-year-old singer shared that he was working on a memoir and planned to include his unexplained encounter with Jackson.
It's unclear when Carter's book is expected to release, but for now, he has everything laid out on Twitter. "Can y'all read my tweets cause I'm not going to continue repeating myself," he closed his statements. "Thank you."