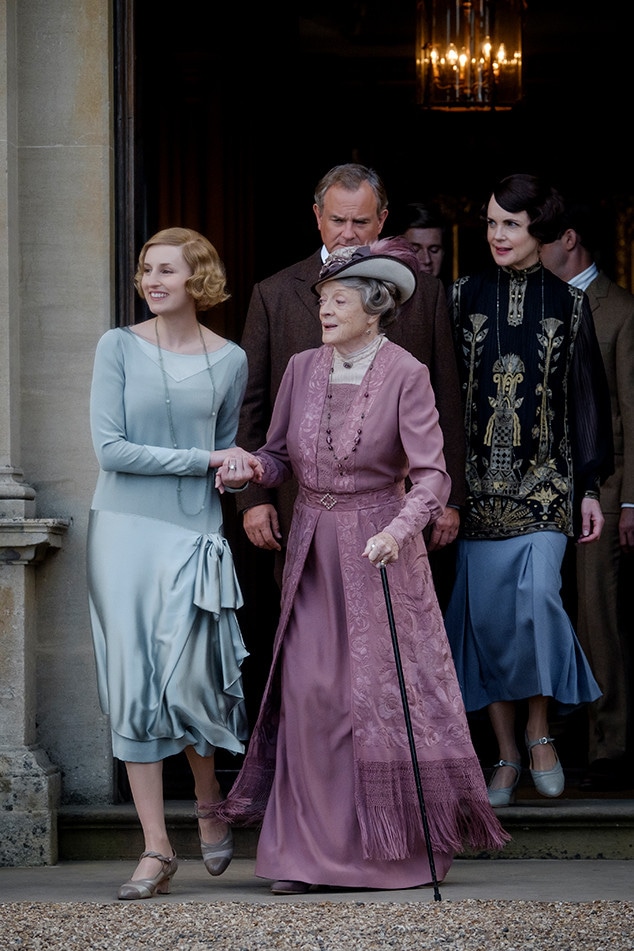 Focus Features
You haven't seen the last of the dowager countess. In the trailer for the new Downton Abbey movie, the Crawley family, including Maggie Smith's Violet, the dowager countess, make their triumphant return to life.
The movie picks up several years in the future from where the series ended. It's 1927, things are changing! Edith (Laura Carmichael) travels without a maid, nanny and valet. But the more things change, the more they stay the same. Violet and Isobel (Penelope Wilton) are still walking and talking, Mrs. Patmore (Lesley Nicol) is still overwhelmed by all the tasks ahead and Mr. Carson (Jim Carter) is there to help out Lady Mary (Michelle Dockery) prepare for the guest of all guest: the king and queen are coming to Downton Abbey.
"Should we really go on with this?" Mary asks Anna (Joanne Froggatt).
"You mean leave Downton?" Anna says. "Downton Abbey is the heart of this community and you're keeping it beating."
There's plenty of romance—including some for Thomas (Rob James-Collier)!—and sass.
"Remember to pray for us," Robert (Hugh Bonneville) says.
"I'll put in a word," Violet snaps back.
In case you're not up on your history, the king and queen visiting in 1927 are King George V, the grandfather of Queen Elizabeth II, and Queen Mary.
The cast also includes Raquel Cassidy, Brendan Coyle, Kevin Doyle, Michael C. Fox, Matthew Goode, Harry Hadden-Paton, Allen Leech, Phyllis Logan, Elizabeth McGovern, Sophie McShera, Douglas Reith, Max Brown, David Haig, Geraldine James, Simon Jones, Tuppence Middleton, Stephen Campbell Moore, Kate Phillips and Imelda Staunton.
Downton Abbey hits theaters September 20.