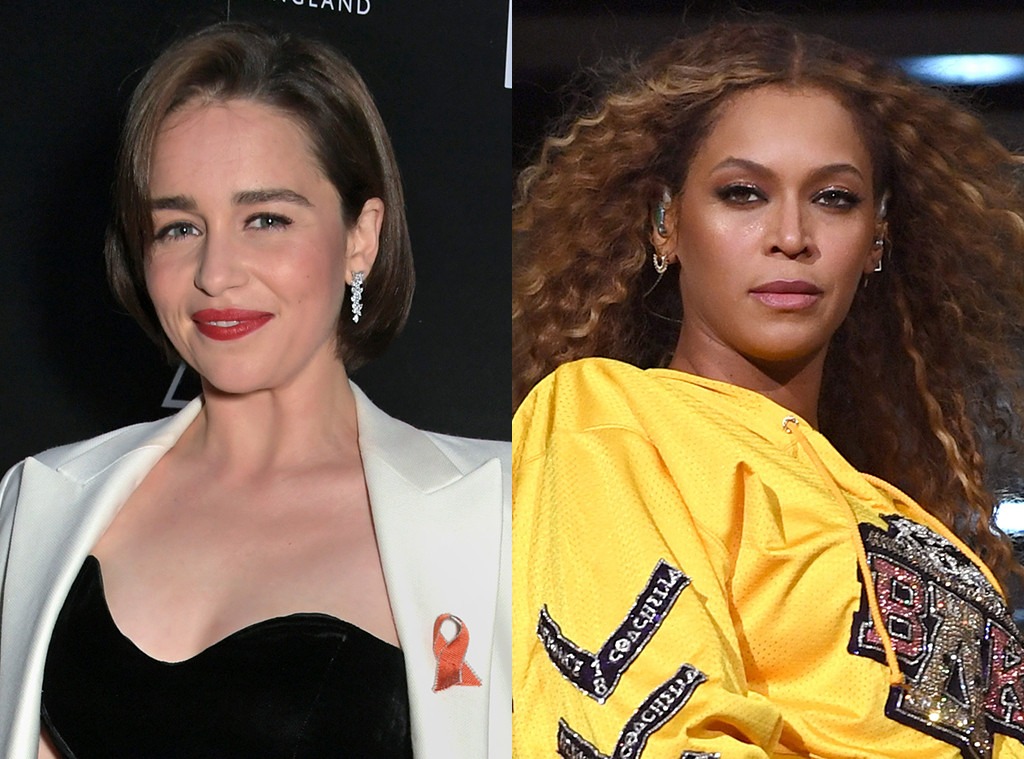 David M. Benett/Dave Benett/Getty Images for The MS Society, Larry Busacca/Getty Images for Coachella
Game of Thrones is officially over.
While Sunday's series finale drew mixed reviews from critics and fans, one reaction could weigh particularly heavy on Emilia Clarke's heart—Beyonce's. 
In a recent interview with The New Yorker, the Daenerys Targaryen star recalled meeting Queen Bey at the singer's Oscars after-party and worrying about the Grammy winner's reaction to her character's evolution.
"I see this vision, this angel, this incredible woman float towards me," Clarke told the publication. "I can't quite control myself. And Beyoncé says to me, 'Oh, my goodness, it's so wonderful to meet you. I think you're brilliant.' I just couldn't handle it! I was on the verge of tears. I could see myself reflected in her eyes. I could see her go, 'Oh, no. I misjudged this. This girl is crazy and I'm not going to have a real conversation with another celebrity. I'm having a conversation with a crazed fan who's looking at me like a rabbit in the headlights.' Which is exactly what I was. I said, 'I've seen you live in concert and I think you're amazing and wonderful! Wonderful!' And all I wanted to scream was 'Please, please still like me even though my character turns into a mass-killing dictator! Please still think that I'm representing women in a really fabulous way.' "
In fact, Clarke feared the absolute worst.
"I was just, like, Oh, my God, my absolute idol in life is saying that she likes me, and I know for a fact that by the end of this season she's going to hate me," she said.
For those who haven't watched the finale (warning: spoilers ahead), Daenerys' journey came to an end after she was stabbed by Jon Snow (played by Kit Harington). The killing came after the Mother of Dragons had destroyed King's Landing—leaving many innocent civilians dead—and had announced her plans to liberate the rest of the world.
While the evolution of Clarke's character and final fate left many surprised, perhaps nobody was more surprised than the actress herself. While Clarke told The New Yorker she was hoping for "some juicy things to get into" this season, she "didn't see this coming." 
 "Throughout the show, there have been these glorious moments of Daenerys taking on a very strong role in a battle or in a decision to be made. There were these wonderful moments when she takes control, and it's really liberating and beautiful," she explained. "She frees people, she kills the baddies, and it feels good. And, I must admit, I was sitting tentatively on that chair thinking, How long is this going to last? Everyone was saying, 'Isn't she great? She's our savior, Mhysa.' It's been beautiful and amazing, but I've been looking over my shoulder the entire time while everyone else gets a more human—for want of a better word—story line. They do good things. They do bad things. They do silly things. They do brilliant things. They fall in love. They break hearts. Daenerys has quite consistently had this road to salvation, and she's been sitting atop a very safe mountain."
Clarke said the writers and show-runners likened Daenerys' storyline to Lawrence of Arabia's.
"I didn't quite put those two things together," she said. "Or maybe I didn't want to see it coming because I care about Daenerys too much."
Even though Beyoncé hasn't publicly reacted to the show's ending, Clarke knows the finale can't satisfy everyone. Still, she suggested the ending was inevitable.
"The show is, in a certain way, divisive: 'Whose side are you on?'" she said. "Also, if you're pleasing everyone, then it's probably quite tepid. But to me it seemed like the only way it could end."
To read Clarke's full interview, check out The New Yorker.