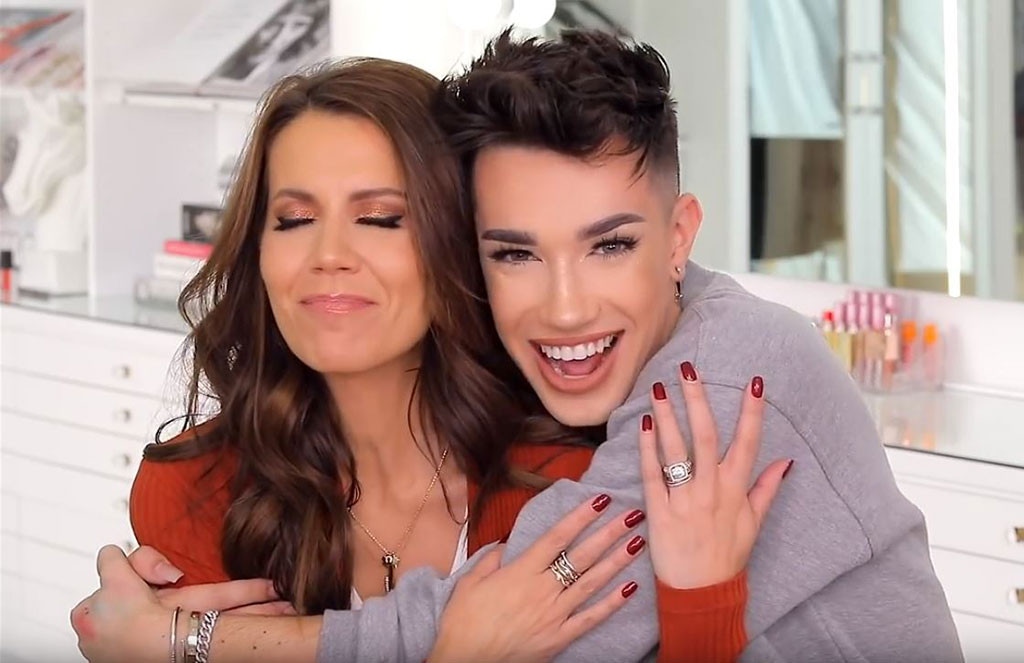 YouTube
Tati Westbrook wants to close the chapter in her life regarding her ongoing feud with James Charles.
On Sunday, the Halo Beauty owner posted a long note on Twitter about the events that have transpired over the past few days and how her breakup with James has led to too much "toxicity and chaos."
"I have been in contact with James Charles through an intermediary over the last week, and we believe that it is the best interest of our community, our viewers and our own mental health to put this matter to a rest," she began.
She continued, "For that reason, I will not be making any further public comments and I hope and pray that no one else will make anymore hurtful statements on my behalf. In my original video, I felt the need to publicly breakup with James with a warning call loud enough for him to hear. I was attempting to explain my upset and concerns so that everyone would understand my position and end the speculation that it was all over vitamins."
On May 10, Tati posted a 43-minute long video on YouTube titled "BYE SISTER" where she called out James over recent events that transpired, including his ad for Sugarbear Hair rather than her own Halo Beauty. 
Tati's note went on to talk about her career and her personal values.
"Over the last eight years, I built my career based on honesty, integrity and trying my best to do what I thought was right," she said. "The toxicity and chaos that ensued over the last 10 days was absolutely not my goal, as it was a fight I was almost certain to lose."
Eugene Gologursky/Getty Images
She noted that she wished it went about in a different way, although she does not have any regrets about certain parts of her video about James.
"Although I do not regret raising my concerns, I completely regret the way I went about saying them, I could have and should have found a better way. Even in this moment, I still have so many things I'd like to clear up, however the continued call for 'receipts' is nothing more than a call for never-ending bloodshed," she wrote.
Tati added, "As such, I'm setting aside my overwhelming need to be understood and will continue my conversations with everyone in private."
She even heeded a call to the YouTube universe and hopes "that our community is somehow strengthened from all of this madness and that we will strive to hold ourselves and each other to a higher standard." 
The note concluded, "To my audience, I need you to know that I'm blessed to have your support and love making videos for you guys. I'm truly sorry for all of the hate it brought to our doorstep. I love you and look forward to returning to my regular content soon."
Just minutes after Tati tweeted her note, James did the same and called for a detente. He thanked Tati and Jeffree Star for their "sentiments."
James tweeted, "I am on board to move on, will not speak about this further, but do hope to speak in the future when we're all ready. This week was awful for all of us and I ask that the community focuses on positivity moving forward."
Their feud all came to a head on Saturday when James posted a 41-minute long video where he also said this was the last time he would be talking about the situation.
"It is very important to me that this video has all the information, all the facts, all the receipts, and is current and present because I will not be addressing it again," he said.
The 19-year-old mentioned at another point in the video, "There have been allegations made against me and I don't feel comfortable really 'moving on' from those. There's a lot of misinformation going around."
Over the past few days, both James and Tati have been calling for others to make positive comments on the internet. 
"I'm literally begging all of you. The internet has seen enough negativity in the last few weeks. Text your friends and tell them you love them," James tweeted Saturday. "Give someone a compliment (but don't be too forward)! Appreciate what you have and those around you."
From the looks of it, the War of YouTube Stars has finally reached a ceasefire.