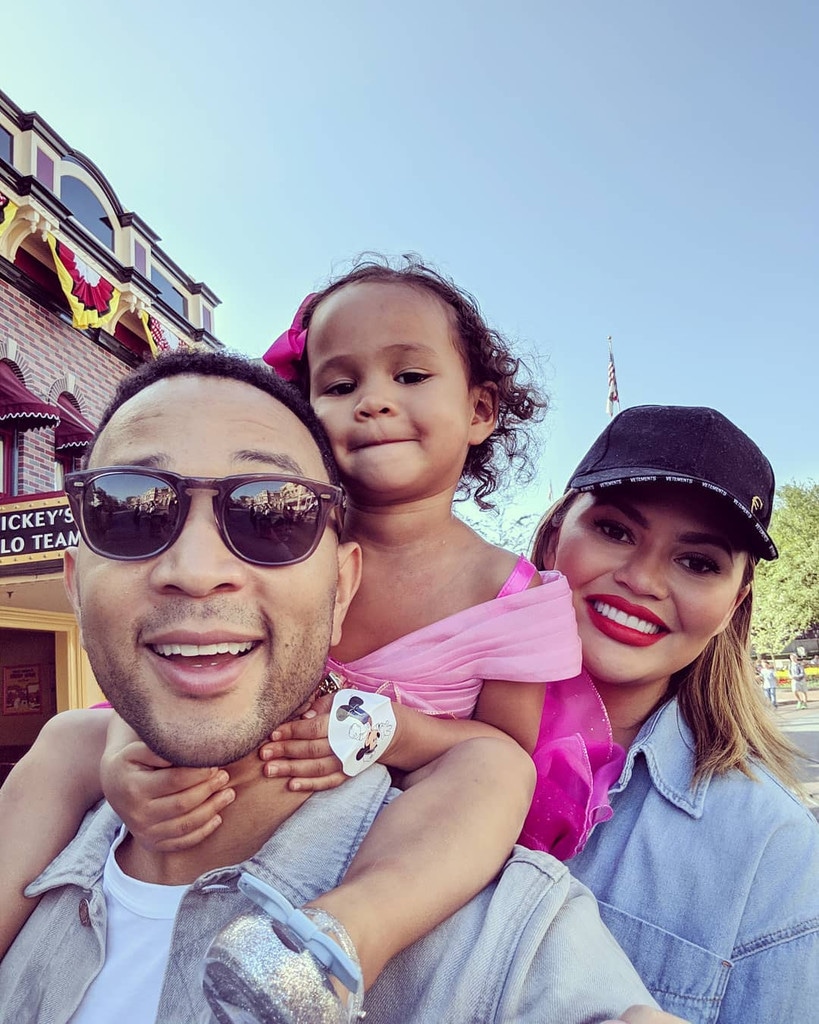 Instagram
Live from New York...it's Luna Stephens!
Chrissy Teigen and John Legend's daughter Luna made her Saturday Night Live debut (sort of) and she's already a star in the making. Legend made a cameo oh the SNL season 44 finale with Paul Rudd hosting and DJ Khaled taking the stage as the musical guest.
At the end of the show, Khaled readied for "another one" and brought out SZA, Meek Mill and the "All of Me" singer where they sang a mash-up of "Just Us," "Weather the Storm" and "Higher" as a tribute to Nipsey Hussle.
As it turns out, Legend wasn't the only member of his family to grace the stage and capture the hearts of all the viewers. Teigen posted a few videos on social media of Luna walking out of the famous wood-paneled door on the Saturday Night Live stage and gracefully hopping down the steps.  She looked absolutely adorable in a white nununu dress with black stars and a tulle skirt. Her hair was tied up in a bun with a pink ribbon.
Towards the end of the video, she repeated her cues out loud and said, "Live from New York it's Saturday night."
She captioned it, "an emotional moment for me. my baby doing the dream!! #snl."
Teigen shared a second up-close video of Luna uttering the famous seven words and once again, the 3-year-old looks as if she could take the stage during the season 45 premiere as the show's next big thing.
Teigen and Legend's friends were absolutely loving the videos and even showed some jealousy. 
"My baby," the proud father wrote.
David Spade chimed in, "I never got to say live from new york. And she does!"
Sophia Bush commented, "Lunaaaaaa!"
Even Teigen herself had a chance to stand up at the microphone and practice her own comedy skills. Her tweets are proof enough that she has the chops to do it.
Luna has already proven that she takes after her parents in a number of ways. On May 8, the Cravings cookbook author posted a side-by-side image of Luna perfectly imitating Teigen's cringe face that instantly became a meme after the 2015 Golden Globes.
"She didn't even know she was doing it," Teigen told E! News recently. "She was just disappointed with the final results of The Voice is what we're saying."
The Sports Illustrated swimsuit model called her daughter a "spitfire" whereas their son Miles Stephens takes after Legend and has a more laid back vibe. He just turned one, so perhaps that personality trait might change.
In any case, we're more than ready to cheer on Luna when she makes her big SNL debut, whenever that may be.