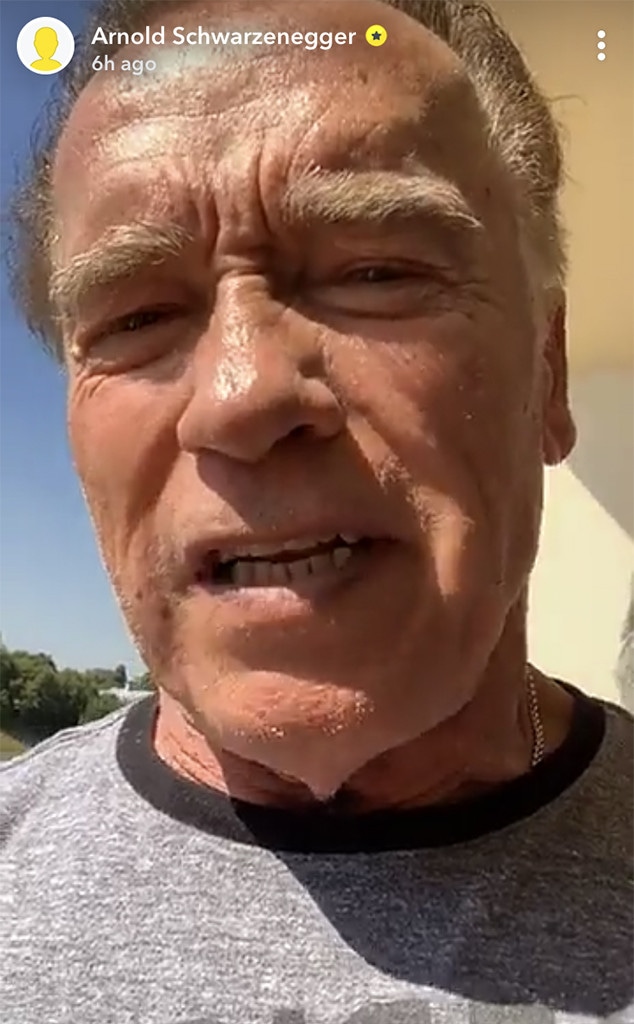 Snapchat / Arnold Schwarzenegger
Arnold Schwarzenegger was attacked by a man he later called an "idiot" while on a trip to South Africa on Saturday, but he didn't even know it until he went online.
A viral video shows the unidentified assailant coming up behind the 71-year-old action film legend, ex-bodybuilding champion and the former Governor of California as he records a video at the Arnold Classic Africa sporting event in Johannesburg. He then jumps and dropkicks him in the back, sending him crashing to the floor. 
A security officer then apprehends the person, while the Terminator star recovers quickly. Meanwhile, a man is heard shouting, off-camera, "Help me! I need a Lamborghini!" repeatedly.
"Thanks for your concerns, but there is nothing to worry about," Schwarzenegger tweeted after the incident. "I thought I was just jostled by the crowd, which happens a lot. I only realized I was kicked when I saw the video like all of you. I'm just glad the idiot didn't interrupt my Snapchat."
"Arnold Schwarzenegger, who is in Johannesburg South Africa to attend and promote the annual Arnold Classic Africa, was sadly and unexpectedly attacked by a crazed fan as he was doing a walk-through to support athletes participating in the various sporting codes at the Sandton Convention Centre," read statement posted on the event's Twitter page.
"The incident happened while Mr. Schwarzenegger was taking a Snapchat video of a gymnastics competition, when an unknown person breached security and proceeded to kick him in the back, in full view of everyone who was both competing and watching," the statement said. "Sandton Convention Centre security responded swiftly by apprehending the offender and handing him over to the police."
The statement said that the event's organizer "believes this incident was carefully planned by the offender, as he is known to the police for orchestrating similar incidents in the past."
"Mr. Schwarzenegger is fine and still in good spirits," it said. "He still carried on with the activities as planned and is fully taking this in his stride. He even joked that some people clearly got more excited than others. He will still carry on with his planned activities...Mr. Schwarzenegger has confirmed that he has no intentions of laying charges. He views this as an unfortunate incident by a mischievous fan."
Hours earlier, Schwarzenegger posted several videos from the event on his Snapchat and Instagram Story.
Instagram / Arnold Schwarzenegger
Later in the day, he spent time petting cheetahs, lions and other large cats at an animal sanctuary.