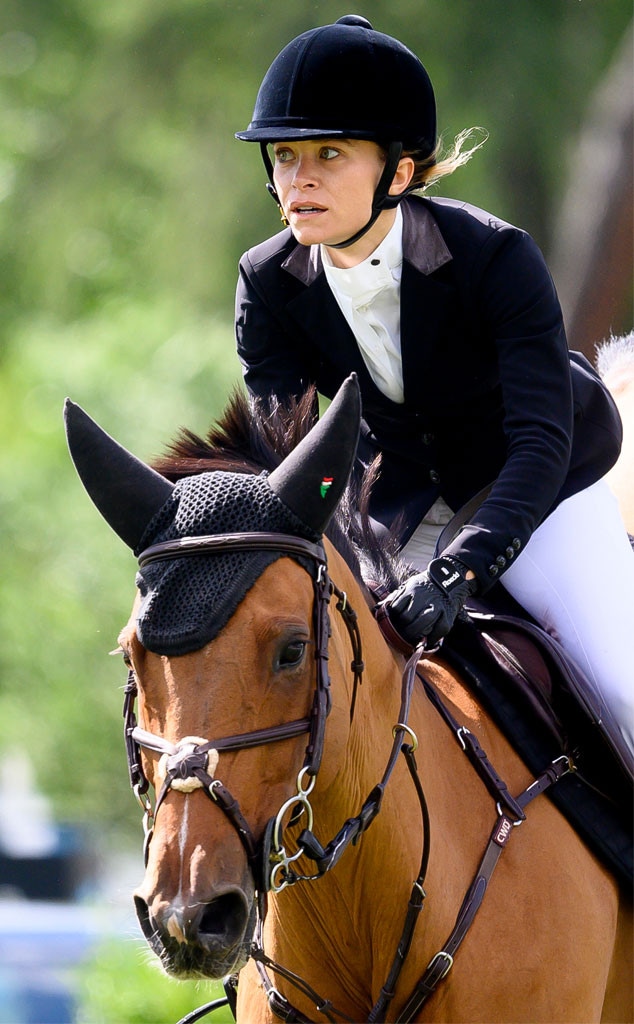 Samuel de Roman/Getty Image
You're invited to...witness a whole new side of Mary-Kate Olsen.
The Row designer showcased her impressive equestrian skills yesterday during the International Global Champions Tour circuit at the Club de Campo Villa de Madrid. Husband Olivier Sarkozy and twin sister Ashley Olsen supported her from the crowd as the mogul—clad in white pants, black riding boots and a chic black jacket—masterfully jumped over a series of fences with her horse Fatum.
"I was six when I first fell in love and it was with a pony named 4x4," Mary-Kate revealed in her HITS rider profile. "Having horseback riding as an outlet was super important because it allowed me to have another life and outlet outside of work and school."
She was also able to bring her passion onto the screen. Several of the twins' beloved movies—including How the West Was Fun and It Takes Two—feature the duo riding horseback. (We'll just pretend Michelle Tanner never fell off that horse in Full House.)
And though she briefly stopped riding after high school, the 32-year-old admitted she could not hold herself back for long. "I missed it every day that I wasn't riding," the star continued. "It was the hardest thing to leave and the hardest thing to come back to." 
Today, she not only uses the activity as an escape, but also credits it for her success. "It allows me to exist in another world," Mary-Kate added. "[Riding] allows me to practice being accepting, patient, disciplined, compassionate, competitive, and all of those other emotions that are very important to have in your everyday life. Horses teach you a lot about yourself."
Horses also influence her style. "One of The Row's first blazers was inspired by one of my first show jumping coats," she concluded. "My sister and I always think about fit and comfort when designing anything which is important in equestrian clothing as well."
Mary-Kate and her mare Fatum certainly prove it takes two to win(ning London. Er, Madrid).