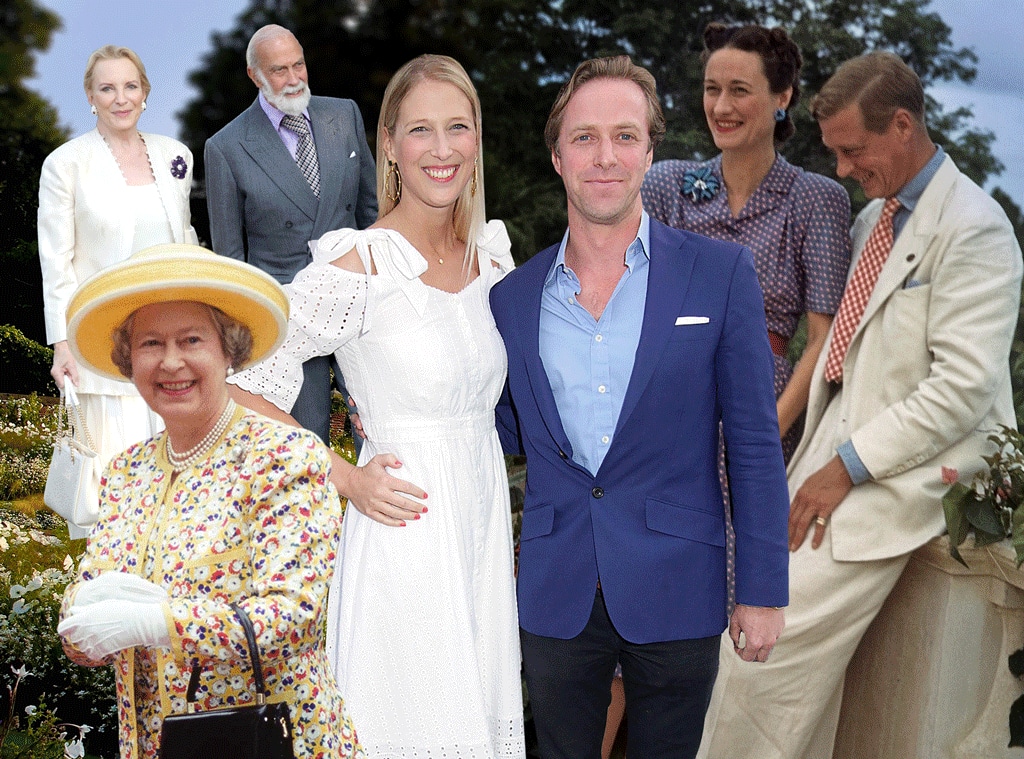 Getty Images; Shutterstock; Melissa Herwitt/E! Illustration
The royal family excels especially in two areas: weddings and scandals. And sometimes, those two go hand in hand.
Lady Gabriella Windsor, the daughter of Queen Elizabeth II's first cousin Prince Michael of Kent, was set to marry financier Thomas Kingston at noon at St. George's Chapel on the grounds of Windsor Castle, almost a year to the day after Prince Harry and Meghan Markle took their vows at the same altar.
And in a bit of a surprise for those expecting him to stay home with barely 2-week-old Archie Harrison Mountbatten-Windsor (and because Gabriella, who familiarly goes by Ella, and her brother Lord Frederick Windsor were not at Harry and Meghan's wedding), Harry was at the wedding Saturday, a day shy of his own first anniversary.
Also seen arriving at the chapel were the queen and Prince Philip; Princess Anne and husband Timothy Laurence; Prince Edward; and Prince Andrew, his ex-wife Sarah, Duchess of York, their daughter Princess Beatrice and her boyfriend Edoardo Mapelli Mozzi.
Gabriella and Kingston and Freddie and his wife, Sophie Winkleman—of course in attendance today—were at Princess Eugenie and her husband Jack Brooksbank's October nuptials, also held at St. George's—in fact, Freddie and Sophie's daughter Maude was one of Eugenie's bridesmaids.
But according to Hello!, Eugenie and Jack are on vacation and simply couldn't make it to the wedding today.
In addition to being the scene of the third royal wedding in a year, St. George's is also where Edward married Sophie, Countess of Wessex and where Anne's son Peter Phillips married his wife Autumn in 2008. Prince Charles and Duchess Camilla also received their wedding blessing there after a civil ceremony in 2005.
Not in attendance Saturday, but invited, were Prince William and Kate Middleton, who had Gabriella and Freddie at their wedding in 2011, along with the rest of the Kent line. This year the Duke of Cambridge was out of town attending the FA Cup Final in his official capacity as President of the Football Association—a regular appearance for him but one he missed last year to be best man at his brother's wedding. 
Right up royals alley, meanwhile, was the appearance of Pippa Middleton and husband James Matthews on Saturday, as well as Carole and Michael Middleton and Pippa's brother James with his girlfriend Alizee Thevenet.
Pippa is said to have briefly dated Kingston around 2011, and these folks tend to remain chummy with their exes, and he and Gabriella attended Pippa and James' wedding two years ago. (The couple will celebrate their second anniversary on Monday.)
What a tangled web, and there's been no mention even of the mother of the bride yet.
Princess Michael of Kent (née Baroness Marie Christine von Reibnitz) has made a healthy share of her own headlines over the years with her apparent lack of concern about sharing too much with the press—one of the royal family's pet peeves, especially if the loose-lipped family member has a flair for the dramatic.
She married Prince Michael, her second husband, in 1978, so despite marrying into the queen's generation, she's only four years older than Prince Charles and only preceded Princess Diana joining the royal family by a few years. But enough time to become an expert, apparently.
First, though: The disturbing heritage. Princess Michael was born Marie Christine in Sudetenland, a German-speaking part of what is now the Czech Republic, and her father, Baron Günther von Reibnitz, was a member of the Nazi party and a ranking SS officer during World War II. He and his wife, Princess Michael's mother—Countess Maria Anna Carolina Franziska Walburga Bernadette of Hungary—divorced in 1946 and the countess moved her year-old daughter and 4-year-old son Baron Friedrich von Reibnitz, to Australia.
The future princess and her mother opened a beauty salon in Australia, and her brother continued to live there, but eventually Marie Christine moved to London to study interior design at the Victoria & Albert Museum.
"My shoulders are broad. I shall have to carry it," she said years later in an interview. "I wasn't alive when all this happened, so I hope people will judge me on my performance, on what I am."
Meanwhile, she's hardly alone in having heritage that she'd prefer be scrubbed from her biography. Coming in the wake of WWII's end, and with Elizabeth's gown patriotically paid for with ration coupons, none of Prince Philip's three surviving sisters were invited to his and the future queen's wedding in 1947 because they were (or in widow Sophie's case, had been) married to Germans with Nazi ties. Philip even attended a school in Salem, Germany, founded by his brother-in-law Prince Max of Baden.
Philip himself passed muster with the British press and the people at large due to both their support of the royal family, particularly King George VI and his eldest daughter; the excitement of a royal romance and the prospect of a wedding (some things never change) after the dreary years of war, death and hardship they'd just lived through; and because the groom-to-be was actually relatively politically progressive himself, thanks to the guidance of his beloved Uncle Dickie, or Prince Louis of Brandbenberg, 1st Earl Mountbatten.
On the day of the wedding, however, the Duke of Edinburgh signed the official register with a gold fountain pen engraved with his sisters' names that they'd given him as a wedding present—a fact duly reported back to them by their mother, Princess Alice.
Moreover, there are still questions about just how cozy the queen's uncle the Duke of Windsor—the erstwhile King Edward VIII—and the bride he abdicated for, two-time American divorcée Wallis Simpson, got with the Germans before the war. The newlyweds met with Hitler in Germany in 1937, after which the chancellor was said to have remarked, "She would have made a good queen."
But the Duke and Duchess of Windsor, who were living in France when war broke out, fled to Spain and then Portugal, only to return after the war ended in Europe in 1944. Still, Wallis was the subject of politically minded rumors, such as that she was a German agent (she scoffed at the notion in letters to her husband) and that she kept a photo of a former lover who was a German officer on her nightstand.
Nevertheless, the couple weren't invited to Philip and Elizabeth's wedding, either, and the bride's aunt Mary, Princess Royal, refused to come because of what she saw was the continued unfair treatment of the Duke of Windsor.
Running in the same circles even as children, a 13-year-old Philip and 7-year-old Elizabeth were both at the wedding of George, Duke of Kent, and his bride Princess Marina of Greece and Denmark—Prince Michael of Kent's parents.
When Philip and Elizabeth married, Prince Michael was a 5-year-old pageboy, as was another cousin, 5-year-old Prince William of Gloucester. The latter died when he was only 30 years old in a crash while piloting his own plane in an air competition in 1972 and was said to be on Charles' mind when he and Diana named their firstborn son William a decade later.
Prince and Princess Michael have resided at Kensington Palace for decades and young William and Harry would ride bikes with Lord Freddie and Lady Ella through the palace gardens. The older couple remain neighbors of William and Kate to this day.
With both Philip and Charles having served in the Royal Navy, in 2005 Harry was the first senior royal (William followed in 2006) to join the British army since Prince Michael enrolled at the Royal Military Academy in 1960.
Julian Parker/UK Press via Getty Images
Princess Michael of Kent, meanwhile, has authored three biographies on royal history and a novel set in the 15th century. 
"The greatest possible time, the only time you would understand the sweetness of life," she described the era.
Writing was also a career taken up by the Duchess of York, who has written books about Queen Victoria as well as a children's book series and several memoirs. Incidentally, Princess Michael called Sarah Ferguson, before she married Prince Andrew, "very sharp and clever, and she has made very great friends with the queen."
But as both a participant and a close observer of royal tradition, Princess Michael—dubbed "Princess Pushy" over the years due to her aggressive publicity- (and paycheck-) courting soundbites—formed some extremely strong opinions about the sprawling House of Windsor. (Britain's Telegraph says the nickname may have been coined by Princess Anne, who ironically has lived with the alternate title "Her Royal Rudeness" for some time.)
Talking to interviewer Conrad Black (the Canadian-born newspaper publisher who coincidentally was just pardoned by President Donald Trump after serving prison time for fraud and obstruction of justice, and writing the complimentary Donald J. Trump: A President Like No Other) in a televised sit-down in 2014, Princess Michael reflected on the state of the royal family and offered her take on Princess Diana, who died in 1997.
David Bagnall/REX/Shutterstock
"She was my next door neighbor at Kensington Palace and I must say I was very fond of her, very attached to her," the princess told Black. "She had an enormous amount of goodness in her."
She had previously called Diana, while she was alive, a "time bomb" for the royal family, so the years had seemingly softened her perspective, to an extent.
"Like probably many people of little education who find themselves, like pop stars or film stars, suddenly lauded by the whole world, it is very difficult if you have not had a mother bringing you up who was quite stern and strict. She did not have a mother bring her up and she did not have much education, so it is much harder to cope... She had her two sisters but they were doing their own thing and she was the youngest and on her own, and her mother went to Australia when she was 10 years old or something and that is tough. Sarah Ferguson had the same thing. Her mother went off to Buenos Aires when she was very young."
At the time, Prince George was about 7 months old, and Princess Michael said, referring to William and Kate, "Of course we're thrilled to have a beautiful young married couple with a baby. Let's hope there are more marriages soon because I think to have that young generation is terribly good for the people. The people love to see happy young people and I think the older generation are a bit boring for most people."
Well, how dare she?
"She is talking rubbish," royal biographer Lady Colin Campbell, who has written books on Diana and the Queen Mother, told the Express in response to the interview. "The queen and Prince Philip have led fascinating lives and are great company. In private they both have a wonderful sense of humor and so do Charles and Camilla."
Princess Michael of Kent probably just meant that younger people might find the younger generation more interesting, but the older royals' problematic backgrounds and their missteps are pretty darn fascinating.
When he was born, Prince Michael of Kent was seventh in line to the throne—a long shot for the top job in any case and only destined to grow longer, but he relinquished his spot in the succession in any case to marry Marie Christine, a Catholic divorcée.
She was only married to London banker Tom Troubridge for a couple of years in the early 1970s but it took five years for her to secure an annulment from the pope, a month before she married Michael in a civil ceremony in Vienna. (For the record, she has the unusual title of Princess Michael of Kent because her husband, while a Royal Highness, is not a peer of the realm—meaning, he's not also a duke or earl. If Prince Edward hadn't been made the Earl of Wessex upon marrying, his wife Sophie would have been HRH Princess Edward.)
They welcomed Frederick in 1979 and Gabriella in 1981, and controversy off and on for decades.
Tim Rooke/REX/Shutterstock
While perhaps the biggest local criticism lodged at the royal family, from top to bottom, is that they're a leech on Britain's finances (£30 million for Kate and William's wedding day security, for instance), Princess Michael has said in the past that life isn't all tiaras and Rolls Royces.
"I am in very austere economic times, too, thank you very much," she told an interviewer in 2013. "We've cut back dramatically. I mean, we never go out to dinner unless it's to someone else's house. We never go to restaurants. That's too expensive."
The prince and her husband moved into the 16-room Apartment 10 at Kensington Palace when they were newlyweds in 1978 and it caused quite the stir in 2002 when it was reported that the couple were living there rent-free, courtesy of the queen, and only paying about £70 a week toward upkeep. The revelation that the queen had promised them, in writing, a free residence for life resulted in pressure, both public and from the queen's senior aides, for them to leave or take over the roughly £120,000 a year market-rate payment themselves. 
"I am sure Prince and Princess Michael are very nice and Prince Michael does a lot of charitable work," Edward Leigh, chairman of the Public Accounts Committee, told the Daily Mail at the time. "I understand a commitment was given to him but that was quite a long time ago and time moves on. "I wouldn't be surprised if some time over the next few months or the next couple of years, there is a little polite tea party with Prince Michael and maybe a hint is dropped."
At the time the Duke of Gloucester's mother, Princess Alice, was 100 and still living there (she died in 2004), as were Princess Margaret's children, Lady Sarah Linley (now Chatto) and her brother, David, 2nd Earl of Snowden and his family. They've long since moved out, but everyone else is still there.
Interestingly, Kensington Palace is now a haven for young families and for enjoying one's golden years—or "the aunt heap," as Edward VIII used to call it. Kate and William live with their three children in the grand four-floor and 21-room Apartment 1A; Eugenie and Jack reside in the three-bedroom Ivy Cottage; and Harry and Meghan did live at the two-bedroom Nottingham Cottage before decamping for Frogmore Cottage in Windsor.
At the same time, Prince Michael's brother, Edward—the 83-year-old current Duke of Kent—and his wife Duchess Katherine, 86, live in Wren House, just north of the main palace; and another of the queen's first cousins, Prince Richard, Duke of Gloucester, lives with his wife, Duchess Birgitte, in Apartment 1, adjacent to the Duke and Duchess of Cambridge. 
The Kents and Gloucesters also live there rent-free, though they were given more of a pass when the heat was on the Michaels in prior years because they performed more royal duties on behalf of the queen. (As president of the All England Lawn Tennis and Croquet Club, the Duke of Kent is the one who hands out the trophies at Wimbledon every year, for instance.)
Pascal Le Segretain/Getty Images
But Princess Michael has had a habit of keeping the tabloids in ink when there have been lulls in the news made by more prominent royals.
She piqued royal watchers' ire early on when, in an interview with Carol Thatcher (Margaret's daughter) in 1986, she said that she had a "better background than anyone else who's married into the royal family since the war, excepting Prince Philip."
In 2004, the New York Post reported, with the headline "ROYAL BIGOT," that, while dining at an upscale Greenwich Village restaurant, she told five black diners sitting together to "go back to the colonies," annoyed that they were supposedly being quite loud. She claimed afterward to the Post that she had told them "you should remember the colonies."
"It's kind of a funny attitude,'' Mario Buatta, an interior decorator who socialized with the princess when she was in town, told the New York Times after the incident was reported. ''I wouldn't go over there pushing my title. You come over to this country and you have to deal with us on our terms." Another friend, Sibilla Clark, whose Park Avenue home the princess stayed at, added, "They must have heard the word 'colonies' and taken it the wrong way."
Doing damage control back in the U.K., Princess Michael insisted how very not racist she was to ITV.
"I even pretended years ago to be an African, a half-caste African, but because of my light eyes I did not get away with it, but I dyed my hair black," she said. "I traveled on African buses. I wanted to be a writer. I wanted experiences from Cape Town to right up in northern Mozambique. I had this adventure with these absolutely adorable, special people and to call me racist: it's a knife through the heart because I really love these people." 
The princess said that she had asked if her party could move to another table and was informed the only available table was in Siberia, to which she said she replied, "'Siberia?' I said, 'At this point I would be ready to go back to the colonies.' I was unaware, and I probably should have been aware, that 'colonies' is a pejorative term in America."'
Mark Cuthbert/UK Press via Getty Images
Again, while Gabriella and brother Freddie were guests at William and Kate's 2011 nuptials, it's hard to say why they weren't among the 600 people in attendance at Harry and Meghan's ceremony, a crowd that even included the groom's ex-girlfriends Chelsy Davy and Cressida Bonas. If anything, you'd think Princess Michael would've been left off the list, since she's the one who mindlessly wore a brooch with a racist pedigree to a lunch at Buckingham Palace that Meghan, who's biracial, attended with Harry.
Rarely does one of the auxiliary royals trend on Twitter.
"The brooch was a gift and had been worn many times before. Princess Michael is very sorry and distressed that it has caused offense," a spokesperson said in a statement afterward. The brooch featured a blackamoor-style figure, an art form dating back to the Middle Ages that's now in the dictionary as a "dated, now often offensive" term for a dark-skinned person.
But if you're married to one of the queen's first cousins, seemingly you automatically make the cut.
Other notable family members who didn't receive invitations to Harry and Meghan's wedding (but who were at William and Kate's) included the Duke of Kent's daughter, Lady Helen Taylor, and her husband Timothy Taylor; the duke's granddaughters Lady Amelia Windsor and her sister Lady Marina; and the Duke of Gloucester's daughter Lady Davina Windsor and her husband Gary Lewis (it turned out they were in the middle of a divorce).
Joanne Davidson/REX/Shutterstock
Gabriella, 38, has been living an almost normal life, minus her proximity to all this royalty and the "excitement" of having a tabloid magnet for a mother. The Brown University graduate, who also has a Master of Philosophy degree in Social Anthropology from Oxford, is a freelance writer and works as a senior director at communications agency Branding Latin America. She and Kingston, 40, a director at market investment firm Devonport Capital, live in the ever-trendy Notting Hill neighborhood of London.
Kingston proposed last August while they were vacationing on the Channel Island of Sark, off the coast of Normandy, France; Buckingham Palace shared the news the following month in a statement reading, "Prince and Princess Michael of Kent are delighted to announced the engagement of their daughter Lady Gabriella Windsor to Mr Thomas Kingston."
Still, even being only 52nd in line to the throne didn't shield the bride-to-be from getting the tell-all treatment—though a tell-all that was mainly a poignant commentary on how her family's colonial history can't help but still haunt the whole enterprise, including the younger generations, especially in the middle of the Brexit debacle.
"For three surreal years, Ella and I hung about Kensington Palace," ex-boyfriend Aatish Taseer, the son of a Pakistani businessman who grew up in India and met Gabriella in New York when he was a reporter at Time, wrote in a story for Vanity Fair a year ago. "[W]e swam naked in the Queen's pool in Buckingham Palace; we did MDMA in Windsor Castle; and we had scrapes with the British press, who, due to a misadventure of mine as a peer health educator at Amherst College, reported the story of our relationship with the mortifying headline: PRINCESS PUSHY 'DELIGHTED' OVER HER DAUGHTER'S ROMANCE WITH INDIA'S CAPTAIN CONDOM."
While Prince Michael did most of the royal work on behalf of the family, he continued, "Even Ella was not spared, here breaking a bottle of champagne on the bow of a boat, there opening the Newbury horse races. I have happy memories of KP—Burmese cats in window seats and wooden commodes, deep bathtubs and walled gardens—but the truth is that until Will and Kate arrived to liven up the place, Kensington Palace was wildly depressing."
Tim Rooke/REX/Shutterstock
Recalling the particulars of Princess Michael's 2004 restaurant incident, Taseer wrote, "Most everybody thought she was 'perfectly ghastly,' but I saw a nice side of Princess Michael. She could be funny, intelligent, generous, and she was a lot more industrious than the other royals—she wrote books and decorated houses! Her tragedy was she never understood that element of understatement that is so much the secret of survival for the royal family."
Alas, he continued, the princess wasn't "cozy" like her husband, Prince Charles or the queen, "a tea cozy." Rather, Princess Michael was 'about as cozy as a yellow jacket on speed."
With her intelligence, quick wit and propensity for (mostly) staying out of the headlines, Gabriella, or Ella as she's familiarly known, is said to have always been a favorite of the queen. Maybe the VF article was just a final rite of passage. Nevertheless, Her Majesty was in attendance on Saturday—even though she didn't attend Freddie Windsor's wedding in 2009, when he married actress Sophie Winkleman (though the monarch readily gave her consent to the couple).
Also like Harry and Meghan's big day, a reception at Frogmore House followed the ceremony at St. George's Chapel—but very much unlike last year's affair, Gabriella and Thomas' wedding was private. No BBC cameras televising the whole ceremony and no thousands of people lining the streets of Windsor, though the well-wishes poured in from the public all the same and photographers happily strained to capture every angle.
Because everyone, in any era, loves a royal wedding.