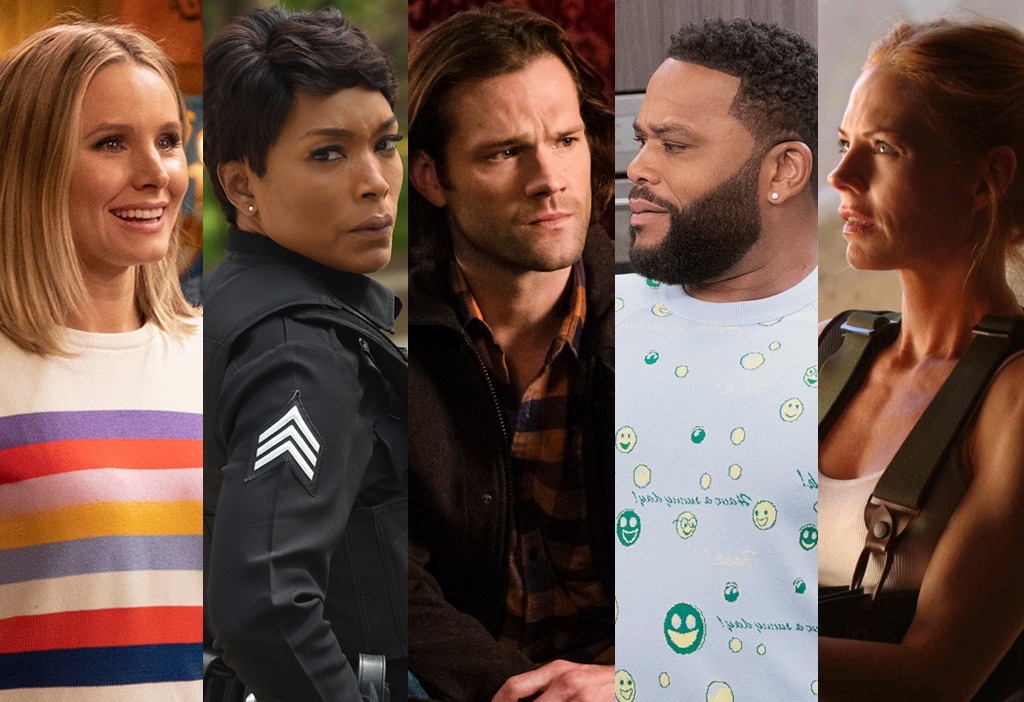 NBC; FOX; CW; ABC; CBS
Start planning accordingly, every major broadcast network has announced its 2019 fall TV schedule. There will be DVR conflicts, people. This is not a drill!
Below, get a breakdown on what NBC, ABC, Fox, CBS and The CW have planned for the fall of 2019. Please note: There are several shows slated for midseason debut, so don't fret if you don't see your favorite series on the schedule below. New shows are indicated below.
Monday
8 p.m.
The Voice (NBC)
9-1-1 (Fox)
Dancing With the Stars (ABC)
The Neighborhood (CBS)
All American (CW)
8:30 p.m.
Bob Hearts Abishola (CBS, new series)
9 p.m.
Prodigal Son (Fox, new series)
All Rise (CBS, new series)
Black Lightning (CW)
10 p.m.
Bluff City Law (NBC, new series)
The Good Doctor (ABC)
Bull (CBS)
Tuesday
8 p.m.
The Voice (NBC)
The Resident (Fox)
The Conners (ABC)
NCIS (CBS)
The Flash (CW)
8:30 p.m.
Bless This Mess (ABC)
9 p.m.
This Is Us (NBC)
Empire (Fox)
Mixed-ish (ABC, new series)
FBI (CBS)
Arrow (CW)
9:30 p.m.
Black-ish (ABC)
10 p.m.
New Amsterdam (NBC)
Emergence (ABC, new series)
NCIS: New Orleans (CBS)
Wednesday
8 p.m.
Chicago Med (NBC)
The Masked Singer (Fox)
The Goldbergs (ABC)
Survivor (CBS)
Riverdale (CW)
8:30 p.m.
Schooled (ABC)
9 p.m.
Chicago Fire (NBC)
Not Just Me (Fox, new series)
Modern Family (ABC)
SEAL Team (CBS)
Nancy Drew (CW, new series)
10 p.m.
Chicago PD (NBC)
Stumptown (ABC, new series)
S.W.A.T. (CBS)
Thursday
8 p.m.
Superstore (NBC)
Thursday Night Football (Fox)
Grey's Anatomy (ABC)
Young Sheldon (CBS)
Supernatural (CW)
8:30 p.m.
Perfect Harmony (NBC, new series)
The Unicorn (CBS, new series)
9 p.m.
The Good Place (NBC)
A Million Little Things (ABC)
Mom (CBS)
9:30 p.m.
Sunnyside (NBC, new series)
Carol's Second Act (CBS, new series)
10 p.m.
Law & Order: SVU (NBC)
How to Get Away With Murder (ABC)
Evil (CBS, new series)
Friday
8 p.m.
The Blacklist (NBC)
WWE Smackdown Live (Fox)
American Housewife (ABC)
Hawaii Five-0 (CBS)
Charmed (CW)
8:30 p.m.
Fresh Off the Boat (ABC)
9 p.m.
Dateline (NBC)
20/20 (ABC)
Magnum P.I. (CBS)
Dynasty (CW)
10 p.m.
Blue Bloods (CBS)
Saturday
7 p.m.
College Football (Fox)
8 p.m.
Saturday Night Football (ABC)
Crimetime Saturday CBS)
Dateline Saturday Night Mystery (NBC)
10 p.m.
48 Hours (CBS)
Saturday Night Live reruns (NBC)
Sunday
7 p.m.
America's Funniest Home Videos (ABC)
60 Minutes (CBS)
NFL (Fox)
Football Night in America (NBC)
8 p.m.
Kids Say the Darndest Things (ABC)
God Friended Me (CBS)
The Simpsons (Fox)
Batwoman (CW, new series)
8:30 p.m.
Bless the Harts (Fox, new series)
9 p.m.
Shark Tank (ABC)
NCIS: Los Angeles (CBS)
Bob's Burgers (Fox)
Supergirl (CW)
9:30 p.m.
Family Guy (Fox)
10 p.m.
The Rookie (ABC)
Madam Secretary (CBS)